(Minghui.org) The New Taipei City Teachers' Association held a grand awards ceremony at the Tucheng Elementary School in New Taipei City, Taiwan on April 10, 2021.
The "Super Teacher Award" showcases excellent teachers who not only guide students to learn independently but to also grow professionally. The winners are dedicated and are willing to share their knowledge and skills with others.
Zhu Jiawei, who teaches biology at the Xinzhuang Junior High School, New Taipei City, won the "110 New Taipei City Super Teacher Award". He will represent New Taipei City to compete for the "Super Teacher Award" in Taiwan along with seven other teachers.
Jiawei graduated from the Department of Biology, National Taiwan Normal University, and obtained a master's degree from the National Taiwan University. Jiawei has been a teacher for twenty years. In addition to teaching, he also helped promote various school activities. He took the initiative to build a campus ecological network and encouraged the entire school's teachers and students to pay attention to the campus environment.
Zhu Jiawei shared the secret of his success during the awards ceremony. As a Falun Dafa practitioner, Jiawei said he follows the principles of Truthfulness-Compassion-Forbearance to improve his character and morality. He also applies these principles to his career by treating others sincerely, being kind, and contributing selflessly.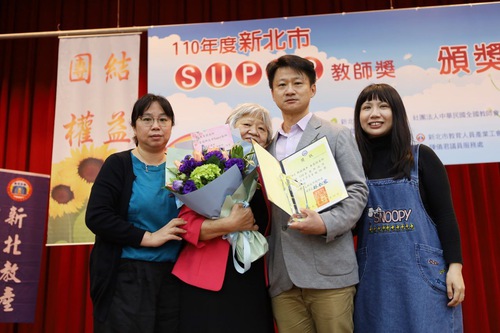 Zhu Jiawei, his family, and the director of his school board.
Encounter with Falun Dafa
Zhu Jiawei said he will never forget the day in 2008 when he had a seemingly chance encounter with Falun Dafa.
In addition to teaching, Jiawei is a volunteer guide at the Taipei Botanical Garden. In 2008, when NTDTV filmed a plant-related program there the Garden asked Jiawei to give them a hand. During the filming, Jiawei saw a display poster next to the staff from NTDTV, which said, "Falun Dafa is good." The message aroused his curiosity about Falun Dafa. The staff told him about Falun Dafa's principles of Truthfulness-Compassion-Forbearance. He also learned how Falun Dafa is practiced around the world, about the persecution of Falun Dafa in China, and the Chinese Communist Party (CCP)'s forced live organ harvesting.
The practitioner lent him a copy of Zhuan Falun, and Jiawei read the book in one week. The book explains profound principles in plain language. It answered all the questions Jiawei had about life and the true meaning of life. Jiawei started practicing Falun Dafa after he read Zhuan Falun.
The True Meaning of Life
Jiawei said, "After reading Zhuan Falun, I found the true meaning of life. Before I began practicing I only believed in science. I thought that plants and fungi were just "things" and had no consciousness. In Zhuan Falun, Master mentioned that trees have spirits and have a very high level of thinking activity, which is impressive.
"I have a strong interest in biology and ecology, and I've been exploring the nature of life for years. I never thought plants had spirits. After I read Master's Fa about all things having consciousness, I knew that spirits were the essence of life. I also understood a being without spiritual connotation is meaningless. So from then on, I understood the meaning of real life."
A Loving Heart
Jiawei started to observe and take care of the plants with his heart, instead of just his hands. He found that everything seemed to understand his wish to help and echoed him.
Jiawei and his students wanted to collect seeds for several "Swietenia macrophylla" trees on the campus. To their disappointment, these trees had not produced fruit for more than ten years. This year, a large-leaf mahogany tree that Jiawei has been taken special care of seemed to feel his heart and produced fruit. One weekend, Jiawei had a feeling that the fruit was about to open, so he went to school. The fruit was indeed ripe and cracked open. Under the tree, Jiawei collected all peeled fruit, petals, and scattered seeds.
Another time, Jiawei was making a film about how the butterfly emerged from its pupa. One day, he finally found a pupa. According to his experience, the emergence time is usually in the early morning. He did not want to miss the butterfly's emergence, so he was ready to stay up late to wait. But around nine o'clock in the evening, Jiawei happened to go to the room and noticed the pupa was opening. He was able to record the entire process successfully.
Jiawei used these two stories to tell his students how precious lives are. He guided his students to respect every life, cherish life and cultivate compassion and kindness.
In today's society some students are arrogant and thus do not cooperate in class. Jiawei always teaches his students to be sincere, honest, kind-hearted, and patient.
Jiawei said his students listen to him when he is in a good cultivation state. Before he began practicing and lost his temper, they did not cooperate.
Jiawei became an even more patient teacher after he married a practitioner. His wife reminds him to do better and be a better person. His students say, "Thank you for being so patient and nice to us." He was very touched and told his students. "This is what my teacher, the founder of Falun Dafa, Mr. Li Hongzhi taught me."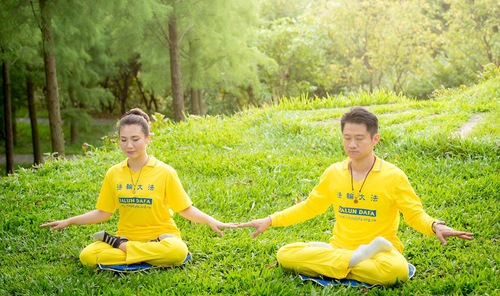 Zhu Jiawei and his wife
Jiawei also established a platform for parent-teacher interaction. Because of the open communication between parents, there have been no barriers between him and his students' parents. They all supported the rules he implemented in his class. Some parents' requests are troublesome in the eyes of other teachers. Still, as long as they are helpful to students, Jiawei implements them.
Under his teaching and guidance, his students like his class and thus achieved academic achievement. In July 2015, one of Jiawei's students won first place in life and applied sciences in the national science exhibition.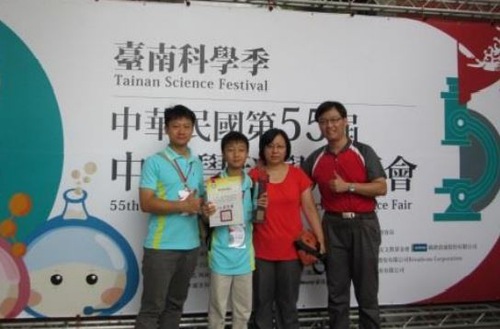 Zhujia Wei and his student's family
Put Others First
Cultivation opened Jiawei's wisdom professionally and made him a person who always thinks of others first. He used to fight for his self-interest, but now he always considers other people first and does not complain. He said, "After I began practicing Falun Dafa, I want to be a good person from the depths of my heart."
"Before practicing, If I felt a request from the directors or the team lead was unreasonable, I would complain and even speak up against it at the meeting. But now, I learned to put myself in other people's shoes. When I began thinking of others, I became more cooperative. I no longer complain about work or my colleagues. I am willing to do anything for the school and the students, even if it is out of my usual job scope. I regretted that I did not do well before I began practicing Falun Dafa."
Jiawei helps as much as he can in school. For example, a director once asked if he could help the gifted class with their ecological observation. Jiawei immediately agreed, even though it's a time-consuming task and not within his responsibilities.
"I feel my colleagues recommend me for the award because of my positive and cooperative attitude," Jiawei said.
The director of the school board, Mr. Lin Yinchun, was deeply impressed by Jiawei. He once taught the same grade Jiawei does and said, "Jiawei used his heart to know each student. He used vivid language to do the students' evaluation. His dedication is touching. The school board recognizes his dedication, enthusiasm, and professionalism, so we recommended that he participate in this contest."
Zhu Jiawei is grateful to Master Li Hongzhi for introducing Falun Dafa to the world. He said living up to the principles of Truthfulness-Compassion-Forbearance is the secret of his success in life and in his career.