Erlangen, Germany: Exposing the Communist Regime's Persecution
June 26, 2021
|
By a Falun Dafa practitioner in Germany
(Minghui.org) Falun Dafa practitioners from the Franconia region of Bavaria held activities in Erlangen to promote the practice on June 19, 2021. They also exposed the Chinese Communist Party's (CCP) cruel persecution of the spiritual practice, which has gone on for more than 20 years, as well as collected signatures on a petition to condemn the crackdown. 
Erlangen has a population of around 110,000 people. Many work for the Siemens Company, the University of Erlangen-Nuremberg and its University Hospital. Local residents are well-educated and are financially well-off. Erlangen ranks fourth among the economically competitive cities in Germany. 
The day was warm and sunny. Practitioners setup an information booth at the Schlossplatz in Erlangen where there was an endless stream of people. Some started to read the poster boards while others came directly to the information booth and inquired about the ongoing persecution in China. Many were surprised that the persecution was still happening and asked to sign the practitioners' petition.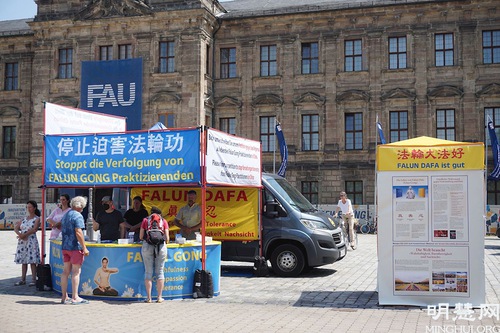 Falun Dafa practitioners setup an information booth at the Schlossplatz in Erlangen on June 19, 2021.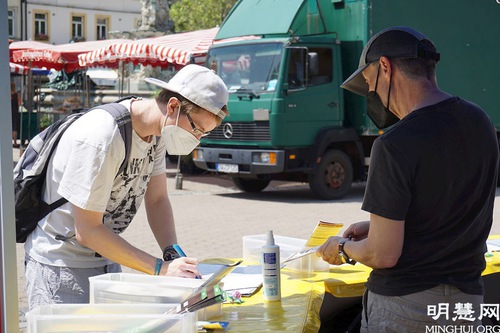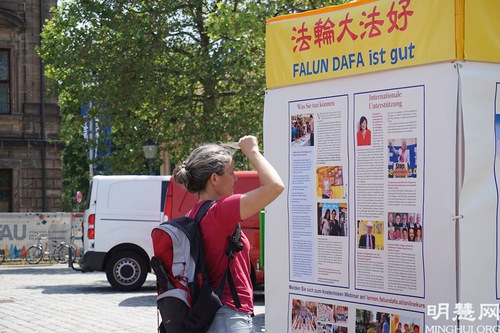 Local residents show their support by signing a petition to end the persecution. 
A young German man was chatting with a Falun Dafa practitioner for a long time and said that he was a writer for Wikipedia. He has been following events about Falun Dafa for a while and was well aware of the persecution. He stated that he once wrote articles about Falun Dafa and was surprised to actually encounter practitioners at the information booth. He inquired more about Falun Dafa and signed two petitions calling for an end to forced organ harvesting. 
Two young Germans brisked past the information booth while reading the banners. They came back again and said, "This is terrible. We can't believe that organ harvesting actually exists. Please allow us to sign the petition and help end the persecution." After signing, they took informational flyers and left hurriedly.
A German lady passed by the information booth with her child to inquire about Falun Dafa. After learning of the ongoing persecution, she signed the petition and said, "Forced organ harvesting is very inhumane and I can't believe something like this is happening. This needs to end. I hope that our politicians and media outlets take responsibility and stop these evil crimes. The CCP is so evil. It will bring disaster to the whole world. You are doing a great thing by raising awareness. Keep up the good work!"