After Enduring Brutal Torture, Former Nurse Sentenced to Four Years for Her Faith
May 4, 2021 | By a Minghui correspondent in Liaoning Province, China
(Minghui.org) A 58-year-old resident of Dalian City, Liaoning Province was sentenced to four years in prison in March 2021 for her faith in Falun Gong, a spiritual and meditation discipline that has been persecuted by the Chinese communist regime since 1999. She is currently detained at Yaojia Detention Center.
Ms. Zhou Yanbo, a former nurse at the Dalian Development Zone Hospital, was arrested on September 17, 2019, while at the home of Ms. Sun Guifang, also a Falun Gong practitioner. Ms. Zhou was interrogated and her home was ransacked. Ms. Sun was also arrested.
Ms. Zhou was taken to Dalian City Detention Center on September 18, 2019. Shortly after she was admitted, she was in serious condition with a heart problem, kidney failure, high blood pressure, and a liver condition, among other health issues. She was released on October 12 and put under house arrest.
Her health recovered after she resumed doing the Falun Gong exercises. On April 3 and 7, 2020, Ms. Zhou was twice summoned by the Jinzhou District Court to pick up her indictment. When she refused to comply, the police harassed her at home. She then lived away from home to avoid harassment.
Ms. Zhou was at a food store on November 12, 2020, when plainclothes policemen arrested her. She was detained at Yaojia Detention Center and subsequently sentenced to four years' imprisonment via a video trial.
Previous Arrests and Detention
Ms. Zhou started practicing Falun Gong in 1996. She used to be emaciated and ill, but after practicing Falun Gong for two months, all her illnesses disappeared.
Ms. Zhou always performed her duties according to the principles of Truthfulness-Compassion-Forbearance and earned high praise from colleagues and supervisors. She received many awards, including "outstanding mentor," "outstanding nurse," and "worker of the year."
After the persecution of Falun Gong started in July 1999, she was arrested several times and detained at Masanjia Forced Labor Camp, Zhangshi Forced Labor Camp, and Shenxin Forced Labor Camp, where she was subjected to brutal torture. The hospital officials at her workplace also talked to her many times, trying to force her to give up practicing Falun Gong.
On October 15, 2000, Ms. Zhou went to Beijing to appeal and was arrested three days later. She was held at Dongba Police Station for two days before being taken to Dalian Drug Rehab Center on October 20. There, she was beaten, forced to stand and squat, and shocked with electric batons. She was transferred to the Dalian Detention Center on November 11.
Two Years' Detention at Masanjia Labor Camp
Ms. Zhou was give two years of forced labor without any due process on December 21, 2000, and taken to Masanjia Forced Labor Camp.
When she first arrived, four people surrounded her and started talking to her for two to three days without allowing her to close her eyes. They tried to force her to write guarantee statements to renounce her faith when her mind was in a confused state. As Ms. Zhou refused to comply, she was beaten and forced to stand and squat without moving. At night, she was made to stand or squat while others went to sleep. She couldn't walk after she squatted for a day.
Ms. Zhou told these inmates that it is illegal to treat her this way. They then surrounded her, pulled her shirt collar and pinned her to the ground before starting to beat her.
Ms. Zhou was also forced to do unpaid labor such as knitting sweaters. The work made her exhausted and her fingers extremely swollen until she couldn't straighten them.
Ms. Zhou was not allowed to call or write letters to her family after being transferred to Masanjia Labor Camp. Her family was also kept in the dark about her whereabouts after her arrest. When they finally found out the details, they traveled from Dalian to Shenyang to visit her on January 5, 2001. To their disappointment, they were not allowed to see her. As her son couldn't visit her, he often cried at home.
Held at Zhangshi Labor Camp
Two male and ten female practitioners, including Ms. Zhou, were taken to the Zhangshi Forced Labor Camp, a men's labor camp, on April 19, 2001, when they refused to be "transformed."
When they arrived, two policemen read out the regulations to them and said that the rule that "beating deaths of Falun Gong practitioners [who refuse to transform] count as suicide" came from former dictator Jiang Zemin. The practitioners were then taken to a building.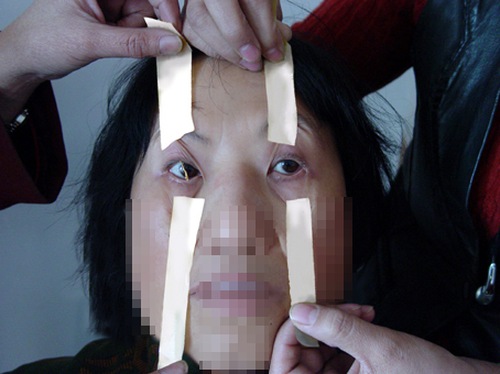 Torture re-enactment: Prohibited from closing the eyes
The practitioners were separated, and each was taken to a room. There were two males and a female waiting for Ms. Zhou in the room. They refused to let her close her eyes. She was also forced to sit on the ground for six days without sleep while enduring extensive brainwashing.
On the seventh day, Ms. Zhou was allowed to sleep. When she was about to sleep, two men came and sat opposite her. She asked them to leave. They refused and said that they couldn't leave as they were assigned to monitor her.
Tortured at Shenxin Labor Camp
Ms. Zhou and the practitioners were transferred to the Shenxin Forced Labor Camp on May 10, 2001, where they were subjected to more rounds of intense brainwashing. They were also forced to walk, do aerobics, and pull weeds despite being weak. For food, they were given cabbage soup with dirt and half-cooked corn bread with spots of mold.
While being forced to watch videos slandering Falun Gong one day, the physically weak Ms. Zhou stood up, staggered to the TV, and pulled the plug. A team of guards rushed into the room and dragged her to a solitary confinement cell.
The guards beat her and hung her up by her handcuffed wrists. Four guards stood around, mocking her and laughing, "She looks really comfortable." Three days later, she was released from the room for a talk with the head of the labor camp. During the talk, Ms. Zhou expressed her determination to uphold her faith.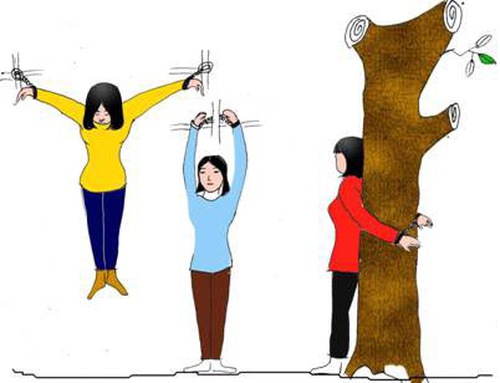 Torture illustrations: hung up and tied to a tree
Three days later, Ms. Zhou was taken to Dabei Prison and held at an underground hospital. The place holds death-row prisoners, those sentenced to life, and drug addicts.
The guards refused to allow Ms. Zhou and other practitioners, who refused to be transformed, to see their families; their families were also forbidden to send money to them. Without any money to buy daily necessities, the practitioners could only rely on kind-hearted people to provide them with toilet papers and soap. When Ms. Zhou's husband took their son to visit her, the guards extorted 500 yuan from him with the excuse that she was unwell and they wanted to buy food for her.
Due to the torture in Masanjia Labor Camp and Zhangshi Labor Camp, she was very weak when she was transferred to Dabei Prison. The guards there tied her to a bed in a spread-eagle position as she refused to renounce her faith. She and other practitioners started a hunger strike to protest the torture, only to be force-fed by the guards.
During the force-feedings, chunks of her hair were pulled out and she began to vomit blood. A nurse secretly brought Ms. Zhou some milk the day after the force-feeding. She told Ms. Zhou that she was heartbroken to see her plight, and that she cried for a long time and couldn't fall asleep at night.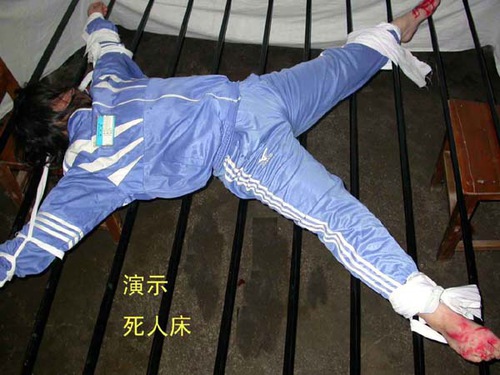 Torture re-enactment: Tied to a "death bed"
As she continued the hunger strike, Ms. Zhou became severely malnourished and her heart and kidneys were failing.
The authorities finally released her on August 10, 2001, to avoid being held responsible should she die in custody. As she couldn't walk, an inmate carried her out from the prison's underground hospital. Although it was summer, her feet were covered in frostbite.
Fired from Work
Ms. Zhou went back to the hospital where she worked and asked for her job to be reinstated. The hospital's president Li Xuezhong told her to write a statement to renounce Falun Gong before she could go back to work.
She looked for him several times. Sometimes, he told her to look for Li Meng from the Human Resources department, and at other times, he said, "You no longer belong to this hospital; you are dismissed."
When Ms. Zhou asked him why she wasn't informed, he said that there would be no procedure, as this was an oral dismissal.
Arrested Again
Ms. Zhou was distributing materials about the persecution of Falun Gong on October 31, 2001, when she was reported to the police and arrested again. She was taken to Yongzheng Police Station.
A police officer beat her and tied her to a tiger bench overnight when she refused to answer the officer's question. The torture caused both of her hands to become bruised and swollen.
The next morning, two plainclothes police officers came and started beating Ms. Zhou while interrogating her. The beatings caused her to see stars in her eyes and become dizzy.
Ms. Zhou was taken to the Jinzhou District Police Department, where she was interrogated and beaten again. Despite this, she refused to answer any questions from the police. The police later wrote something on the statement and told her to sign it, but she refused again.
She was taken to the Jinzhou District Detention Center the next day, where she went on a hunger strike. For this, she was beaten and force-fed. Eleven days later, on November 11, 2001, she was released.
Persecuted at Tieling Detention Center
While visiting a practitioner friend in Tieling City, Liaoning Province, on October 8, 2002, Ms. Zhou and her friend were arrested in the middle of the night. A dozen other practitioners were also arrested at the home that night.
Ms. Zhou and other practitioners were taken to the Tieling Detention Center the next day. At there, the police blasted a loudspeaker at them. Ms. Zhou was tortured for 24 hours; the guards tied her to the ground in a spread-eagle position for a month. It was -30 degrees Celsius (-22 Fahrenheit) outside, so the guards opened the windows to freeze her without allowing her to wear thick clothes. While she was freezing, guards had several inmates step on her to hold her down.
The next month, guards tied her feet to her neck and confined her like this on the ground. Because her blood circulation was blocked, she did not regain feeling in her right leg for six months.
The detention center's doctor, Qian Dapeng, force-fed her with a highly concentrated salt solution. While Ms. Zhou was tied to the ground, Qian kept the feeding tube lodged in her nose for a month. It was not until she had gastric bleeding that he removed it.
Torture illustration: Force-feeding
During this period, the guards sent Ms. Zhou to Masanjia Labor Camp three times. However, since she failed the health examinations all three times and the labor camp refused to accept her.
She once more developed symptoms of heart and kidney failure, and was on the verge of death. The detention center released her on December 9, 2002, but not before extorting 4,000 yuan from her family.
Detained Again at Dalian Detention Center
Ms. Zhou was at a friend's house on January 11, 2003, when she was arrested. She was held in the basement of the police department for two days and one night before being taken to Dalian Detention Center. There, she was deprived of food and water for 20 days, during which time her body grew rigid, thin, and cold.
On January 30, 2003, she was released on the eve of the Chinese New Year.
Related reports:
Three Outstanding Nurses from Dalian Development Zone Hospital Endure Persecution
Former Nurse Recounts 15 Years of Her Shattered Life
Five Liaoning Residents Face Prosecution for Practicing Falun Gong
All articles, graphics, and content published on Minghui.org are copyrighted. Non-commercial reproduction is allowed but requires attribution with the article title and a link to the original article.
Category: Accounts of Persecution