(Minghui.org)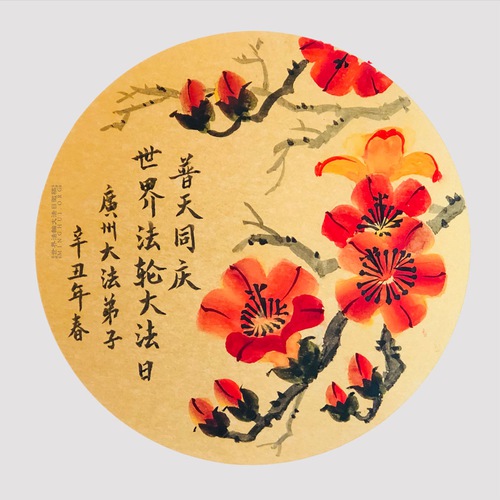 The words read "The Whole World Celebrates World Falun Dafa Day"
Falun Dafa is a meditation system with universal values of Truthfulness-Compassion-Forbearance. Around 100 million practitioners worldwide have benefited from the practice.
In honor of the 29th anniversary of Falun Dafa's public introduction and the  22nd World Falun Dafa Day on May 13, 2021, a Falun Dafa practitioner in Guangzhou City, Guangdong Province, created traditional Chinese painting. The plum usually blossoms in mid-winter. The little plum flowers are soft and glowing despite the freezing wind or snow in the winter. They are often considered a symbol of inner strength and unyielding courage.
Despite the ongoing persecution of Falun Dafa in China, Falun Dafa practitioners have never wavered in their faith and they have persisted in raising awareness of the persecution to the public. Their efforts have touched the hearts of countless people in China. They believe that justice will be upheld and spring will soon arrive.