(Minghui.org) Since Falun Dafa, an ancient spiritual and meditation discipline, was introduced to the public 29 years ago, it has drawn millions of practitioners worldwide. Many of the practitioners recount how practicing Falun Dafa has improved their health and elevated their minds.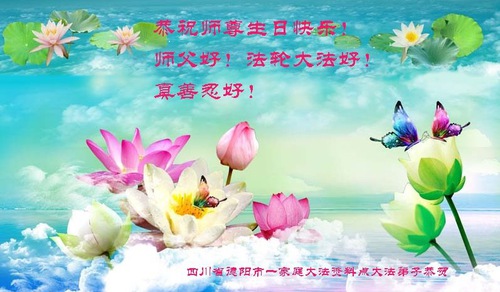 Within seven years of its public introduction, it was estimated that between 70 and 100 million people had taken up Falun Dafa in China alone. In the face of its tremendous popularity, the Chinese communist regime ordered a nationwide persecution in July 1999, in an attempt to eradicate Falun Dafa from China.
Since then, countless practitioners have been arrested, imprisoned and tortured for upholding their faith. But despite the persecution, most practitioners remain steadfast in their faith and peacefully stand up against the tyranny. Some establish informational material printing centers at home. Some form small groups and go to the street to talk to people. Some make phone calls to the public. And some go from door to door from the city to the countryside to distribute pamphlets, rain or shine.
With May 13, 2021, the 29th anniversary of Falun Dafa's public introduction, as well as the 22nd World Falun Dafa Day, these practitioners in China who have been persistent in bringing the facts about Falun Dafa to the public also extended their warmest greetings to Master Li, the founder of the practice. They express their deep gratitude to Master Li for teaching the practice and vow to be more diligent in cultivating themselves.
One practitioner who is running a material printing site in Mianyang City, Sichuan Province said, "Thank you, Master, for saving my life! If I had not practiced Dafa, I would have died a long time ago! Dafa gave me a new life and revealed to me the true meaning of life. In the past 20 years of cultivation, I feel that Master is with me all the time, protecting me and enlightening me."
Several practitioners in Jiujiang City, Jiangxi Province wrote, "We are a Fa study group, mostly of elderly practitioners. We are all grateful for Master's compassionate salvation. We strive to cultivate ourselves better and persist in talking to people face to face about Falun Dafa every day. We hope people can understand the facts and stay safe in this chaotic world.
The practitioners of another family materials production site in Deyang City, Sichuan Province said, "No words can express our gratitude for Master. Our lives have been renewed by Dafa. We are so grateful to be in this world while Master is here. We will cherish the opportunity to cultivate ourselves and spread the facts to the world."
Other greetings hailed from the following region:ShanghaiXinji City, Qinhuangdao City, Handan City, Gaobeidian City and Tangshan City, Hebei ProvinceJiagedaqi District of Daxing'anling Prefecture, Anda City, Jiamusi City and Suileng County, Heilongjiang ProvinceChengdu City and Nanchong City, Sichuan ProvinceRushan City, Gaomi City and Taian City, Shandong ProvinceYingkou City, Anshan City and Liaoyang City, Liaoning ProvinceTonghua City, Jilin ProvinceMeizhou City, Guangdong ProvinceSuizhou City, Hubei ProvinceZhongyuan Oilfield