(Minghui.org) Falun Dafa practitioners held activities on the National Mall in Washington D.C. on May 8, 2021, to celebrate the 22nd World Falun Dafa Day. Members of Congress issued certificates or letters to mark the occasion.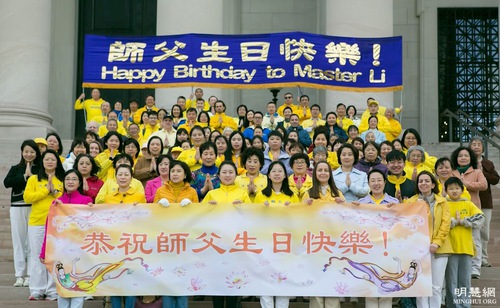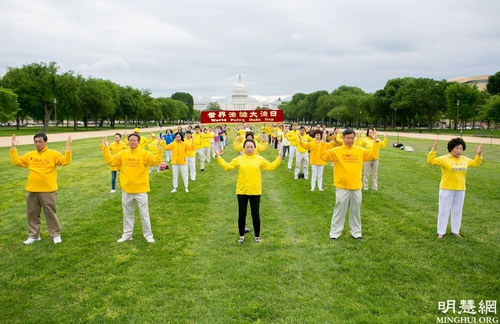 Practitioners did the exercises and took a group photo to celebrate World Falun Dafa Day and wish Master Li a happy birthday.
David Trone, Member of Congress, issued a Certificate of Congressional Recognition to the Falun Dafa Association of Washington DC in celebration of the 22nd World Falun Dafa Day. The certificate reads, "Thank you for your valued contributions through sharing core values of truthfulness, compassion, and forbearance. Your efforts to promote the betterment of humanity through your stories and spiritual education are essential to building a stronger community."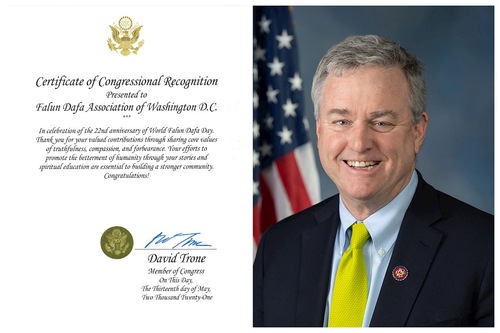 Certificate of Congressional Recognition from Congressman David Trone of Maryland
Letter from Congressman Robert Wittman of Virginia. 
Congressman Robert Wittman of Virginia sent a greeting letter. He stated in his letter, "On this day, we remember the religious persecution that began in 1999 and those who continue to choose to stand up against it with non-violent resistance." 
The County Executive of Anne Arundel County of Maryland proclaimed May 13 as World Falun Dafa Day in the county and supported local residents to practice Falun Dafa. 
May 13 is the 29th anniversary of the public introduction of Falun Dafa. Practitioners held a group practice on the lawn of the National Mall on May 8. Some have practiced Falun Dafa for more than 20 years while others started a year ago. Despite their age differences or how long they've practiced, by following the principles of Truthfulness-Compassion-Forbearance in their daily lives their morals and health have improved. They also tell the people around them how wonderful Falun Dafa is. 
Becoming a Truly Good Person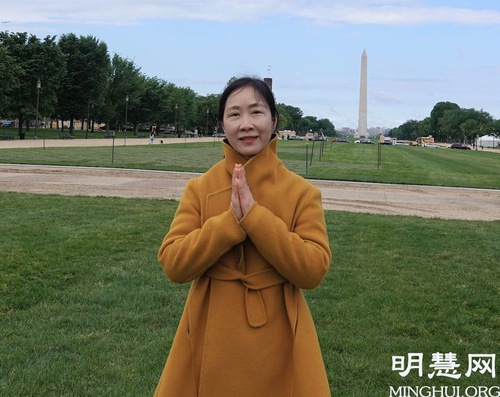 Grace Yao is grateful to Master Li, Falun Dafa's founder. 
Grace Yao said that she was instilled with atheism by the Chinese Communist Party (CCP) since she was a child, and she had no spiritual belief. Seeing her parents struggling to make ends meet, she just wanted to get out of that difficult environment. 
From elementary school to university until finishing her Ph.D., she was busy with her studies. After graduating with her Ph.D., she came to the United States. She realized that her decades of hard work only resulted in a better material life than her parents had, but she still couldn't escape the cycle of birth, old age, sickness, and death.
In 2002, her husband started to practice Falun Dafa. Seeing his positive mental and physical changes, Grace started practicing in 2004 hoping to find a treatment for her child who had eczema and severe allergies. After she began practicing, however, she understood the meaning of life.
Grace said, "After I began practicing I understood what it meant to be a truly good person. I benefited a lot both physically and mentally. As a biomedical researcher, I try to use the principles of Truthfulness-Compassion-Forbearance in my work."
Her supervisor speaks highly of her work. Grace said, "I do several different experiments each day. I also help my colleagues when they need help. Several post-doctoral fellows left the laboratory with unfinished work, so I completed the work for publication. 
"My supervisor often says that I do the workload of three people. Once an administrator from the human resource department came to make an evaluation, my supervisor said that without me, his laboratory would have been closed. The administrator said he never heard such a high evaluation of a research scientist."
Grace wishes Master a happy 70th birthday and said, "Master, I am so grateful from my inner heart. I will continue practicing." 
TV Reporter: Falun Dafa Brings Inner Peace and Clarity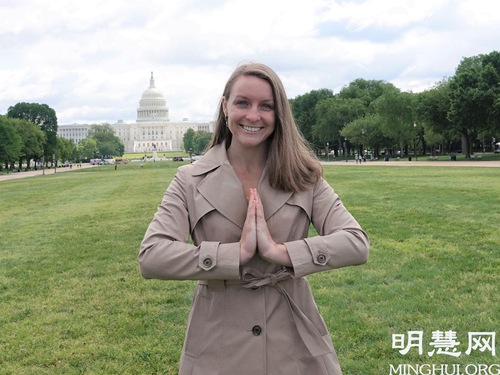 Melina said Falun Dafa brings her inner peace and calm.
Melina said ever since she could remember, she felt in her heart that she had a special mission in this life. For many years, she searched for a cultivation practice that could help fulfill her wish. At the age of eleven, she felt deep in her heart that the world's religions were limited.
"When I found Falun Dafa at age 19, I knew it was what I had been searching for my whole life," she said.
It was 2017. When she was studying at a university in Georgia, a practitioner told her about the CCP's persecution of the spiritual practice and taught her the Falun Dafa exercises. A few months later, she began to read Zhuan Falun, the main book of Falun Dafa. 
She said, "Every word in Lunyu in Zhuan Falun made sense right from the beginning. I knew I had obtained the most precious book in the whole universe."
Melina has been practicing for nearly four years. She said Falun Dafa has completely changed the course of her life. She said, "As a TV reporter, although the work gets difficult sometimes, I feel like I've gained more in these past few years than I've gained in my whole lifetime."
She said, "Practicing Dafa brings me an inner peace that can't be shaken, because Dafa gives me wisdom that can't be matched. Trying to align myself with Truthfulness-Compassion-Forbearance has given me the courage to face hardships with confidence. And it gives me the right goal to work toward every day. This practice has made my life more fulfilling than I could have hoped for, and I hope more of the world's people can come to find the inner wisdom and goodness of the Fa." 
As Master Li Hongzhi's birthday approaches, Melina said she is grateful for his pure compassion. She said, "Thank you, Master for never giving up on your disciples! Through reading Zhuan Falun, I am able to become clear-eyed about any hardship that comes before me. I have truly felt, that through studying your Dafa I am reaching greater and greater spiritual heights and can reach the goal of becoming truly free. Thank you, Master, I will continue to cultivate my heart and mind according to Truthfulness-Compassion-Forbearance."
Positive Changes after Practicing Falun Dafa
Madalina
Madalina is a new practitioner. She said she completely changed after practicing Falun Dafa: her character has improved, she quit smoking, and her body was cleansed. 
Speaking of the positive changes she's experienced she said, "I have become calmer and I can let go of trivial matters much easier. All the relationships with the people in my life improved and I now try my best to concentrate on one thing at a time. Before, I used to be very much distracted and could not focus on one task. I am learning every day how to contain myself and not let my temper flare." 
Before she began practicing, Madalina was ashamed of her past and where she grew up. She resented her parents and her life. Now her heart is filled with gratitude and she has no regrets.
She said, "I cherish this blessed opportunity of being a Fa-rectification cultivator. I want to further improve my xinxing, be more diligent, practice the exercises every day, and to further assist Master in awakening sentient beings' consciences." 
As World Falun Dafa approaches, she said, "I wish Master a Happy Birthday and I am eternally grateful for what He is doing for all the sentient beings. With Master's Dafa I feel like a new being and everything changed since I've obtained the Fa. Cultivation is great! Thank you, Master!"
Grateful to Master and Dafa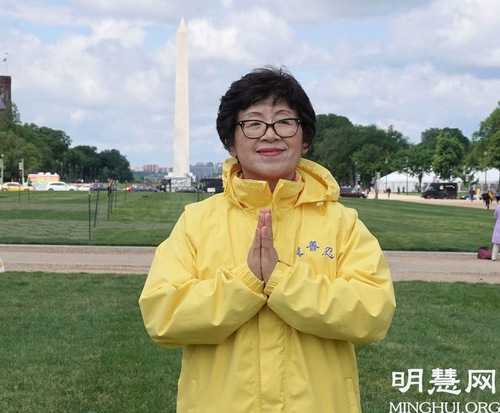 Chunying Wang, 75 years old
Chunying Wang started practicing Falun Dafa in 1998. She said, "I suffered from severe rheumatic heart disease and synovitis in both knees. Just one week after I began practicing, all my chronic illnesses disappeared. Master rescued me from the brink of death."
Ms. Wang said, "I am grateful to Master for giving me a second life and letting me know the meaning of life! I appreciate Master's salvation."