(Minghui.org) A married couple in Jinzhou City, Liaoning Province were secretly sentenced to prison two months after their arrests for telling people about the persecution of their faith in Falun Gong. Their appeals were rejected by the local intermediate court.
Falun Gong, also known as Falun Dafa, is a spiritual and meditation discipline that has been persecuted by the Chinese communist regime since 1999.
Ms. Sun Jiping, 68, and Mr. Zhou Yonglin, 69, were seized by the police at a community fair on January 20, 2021. After nearly a month of quarantine, Ms. Sun was taken to the Jinzhou City Women's Detention Center, and Mr. Zhou was transferred to the Linghai City Detention Center on February 22.
Ms. Sun's blood disorder that had been cured through practicing Falun Gong a few years prior recurred while she was held in custody. She lost consciousness and was hospitalized for a blood transfusion days after being taken to the detention center. Her hemoglobin quickly dropped to 5 g/dL, much lower than the normal level of between 12.0 and 15.5 g/dL, which also caused systemic edema in her.
Despite Ms. Sun's condition, she and her husband were made to stand trial through a video conference at the detention centers on March 15, 2021. Two days later, she was hospitalized again.
Xu Bing, a judge from the Linghai City Court, informed the couple's family on March 22 that the couple's cases had been transferred to the Jinzhou City Intermediate Court after they appealed their verdicts.
The family contacted their lawyer, who said he had not received any information about the couple being sentenced. The lawyer immediately contacted Xu. Although Xu admitted having secretly sentenced the couple, she emphasized that her decision was approved by her superiors. She also refused to provide copies of the couple's verdicts to the lawyer.
The Jinzhou City Intermediate Court ruled on March 26 to uphold the couple's original verdicts of a five-year prison term and a 10,000-yuan fine for each of them.
Past Persecution
Prior to their latest sentencing, both Ms. Sun and Mr. Zhou were subjected to repeated arrests and incarceration for their faith.
Arrested for Appealing for Falun Gong
After the persecution started in July 1999, Ms. Sun was arrested twice, in August and in September 1999, and had all of her Falun Gong books confiscated.
She and her husband were arrested on February 12, 2000, when they went to Beijing to appeal for the right to practice Falun Gong. The Beijing police hit Mr. Zhou on his head and face and kicked him after he was knocked down.
One officer pulled Ms. Sun's left arm over her left shoulder to be cuffed together with her right hand pulled up behind her back. In no time, both of her hands turned purple due to lack of blood circulation, and she lost feeling in her arms.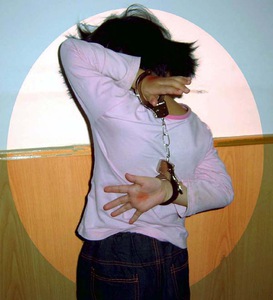 Torture reenactment: Handcuffed behind one's back
The police kept the couple at Linghai City Detention Center after taking them back from Beijing. One officer whipped Mr. Zhou's back with a rubber club, while verbally abusing him. After the officer became exhausted and left, another officer came and picked up the rubber club to beat Mr. Zhou again on his back, arms, and legs. The second officer also beat Ms. Sun with the rubber club. Both of them ended up covered in bruises and unable to walk.
Savage Beating and Two Years of Forced Labor
A few officers broke into the couple's home at around 8 p.m. on September 30, 2000. Their Falun Gong books, and audio and video tapes were confiscated. When the couple tried to persuade the police not to participate in the persecution, the officers beat them and dragged them to the police car. Mr. Zhou protested the beating, but Zhang Bo, the deputy police chief, responded, "What's the big deal with us beating you?"
After taking the couple to the police station, Zhang slapped Ms. Sun in her face and kicked her. Then they forced Ms. Sun to stand with her arms and legs open while an officer lashed her with a thick metal bar on her back. Ms. Sun's face was swollen, and her legs were broken. Her back was covered with stroke wounds and bruises. Mr. Zhou was subjected to a similar beating.
Both were later taken to the detention center then each given two years at the notorious Masanjia Forced Labor Camp.
Force Feeding and Second Labor Camp Term
Ms. Sun was arrested again on September 6, 2004 after being reported for spreading information about Falun Gong. As she held a hunger strike to protest the persecution at the Linghai City Detention Center, the police took her to the hospital for force feeding. One officer said that they wouldn't be responsible for her should she die from the hunger strike.
Fifteen days later, Ms. Sun was secretly transferred to the Masanjia Forced Labor Camp to serve an unknown term. She was again force fed for holding a hunger strike. As she shouted "Falun Dafa is good" to protest the persecution, a guard slapped her face and shocked her mouth with an electric baton.
On the verge of death, Ms. Sun was released on July 27, 2005.
Targeted for Filing Criminal Complaint Against Former Dictator
Ms. Sun was arrested again on the evening of September 17, 2015, because she filed a criminal complaint against Jiang Zemin, the former head of the Chinese communist regime who ordered the persecution of Falun Gong. The police pretended to be community staff who came to check on their household registration, and deceived her son into opening the door.
After taking Ms. Sun to the police station, the police shouted at her, "Who told you to file the criminal complaint? Why did you file it now? You are slandering the government's leader." Ms. Sun tried to explain to the police that there is no law that criminalizes Falun Gong in China, and that it was almost entirely Jiang's personal decision to persecute Falun Gong. She asked the police their names, but none of them responded.
The police ordered Ms. Sun to sign the interrogation record and to write 60 random words on another piece of paper. When she refused to comply, they threatened to harass her and her family every day. They kept her in the police station until early the next morning before releasing her.
Due to the constant arrests and harassment, Ms. Sun gradually stopped practicing Falun Gong. In October 2016, she suddenly felt short of breath. Her face and legs became swollen and the skin on her legs formed pits when pressed. She had no appetite and had trouble falling asleep.
She was diagnosed with Myelodysplastic syndrome in early 2017, a type of cancer caused by abnormal growth of blood-forming cells in the bone marrow. She suffered extreme fatigue and had no energy to change her clothes or brush her teeth. She also had fluid accumulation in her heart and abdomen.
Ms. Sun resumed practicing Falun Gong and gradually regained her health, only to be arrested and sentenced again for raising awareness about her faith.
Related reports:
Authorities Refuse to Release Liaoning Woman on Bail Despite Her Life-Threatening Condition
Woman With Severe Anemia Arrested with Husband, Family Worried About Her Health