New York: Practitioners Hold Candlelight Vigil to Commemorate the 22nd Anniversary of the April 25th Peaceful Appeal
April 23, 2021
|
By a Falun Dafa practitioner in New York
(Minghui.org) Twenty-two years ago, approximately 10,000 Falun Dafa practitioners gathered at the Central Appeals Office in Beijing on April 25, 1999. Falun Dafa practitioners paraded through the streets of Flushing in New York on April 18, 2021, and held a candlelight vigil in front of the Chinese Consulate at night to commemorate practitioners killed during the 22-year long persecution in China.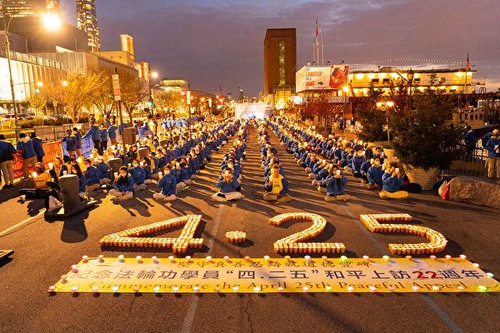 Falun Dafa practitioners hold a candlelight vigil in front of the Chinese Consulate in New York to commemorate practitioners killed in the persecution in China.
Practitioners recited a poem to commemorate the 22nd anniversary of April 25th: "April 25th-Grand Monument"
April 25th-on this day 22 years ago, the whole world witnessed a greater good;April 25th-and every day after, everyone looks forward to this;Falun Dafa-a cultivation practice of high virtue, has become well-known throughout the worldTruthfulness-Compassion-Forbearance, the highest characteristics of the universe, illuminate the world and bring prosperity to the world.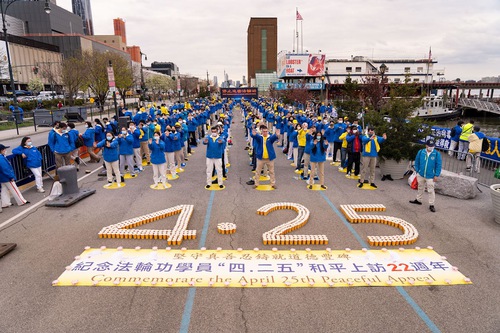 Practitioners demonstrated the exercises and told people about Falun Dafa before the candlelight vigil on April 18, 2021.
Falun Gong (also known as Falun Dafa) was first introduced to the public in May 1992 and is practiced by people throughout the world. Just like practitioners 22 years ago at the Central Appeals Office in Beijing, many practitioners from the greater New York area gathered near the Hudson River to tell people about Falun Dafa. They wanted to spread the beauty of the practice and how they've benefited from it.
Dorian Filip, who works in the jewelry industry in New York, is one of them. Mr. Filip used to have herniated disc problems, which caused half of his body to be paralyzed. After taking a friend's suggestion to try practicing Falun Dafa, he recovered completely. He says that Falun Dafa gave him a second life.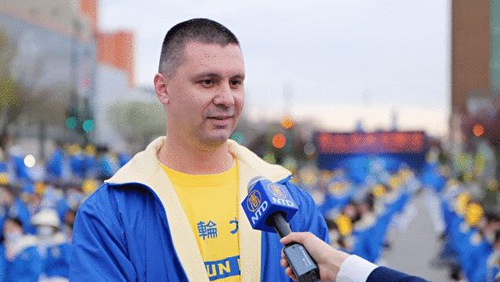 Dorian Filip, a Falun Dafa practitioner, works in New York's jewelry industry.
Dorian Filip said, "Half of my body was paralyzed before I started practicing Falun Dafa. After I began cultivating, I was able to move my hands. I practiced very diligently and realized that Dafa is extraordinary. I've persisted in cultivating and became more patient, and I also feel more energetic and clear-minded. My life, family, and career have all gotten better."
Local Residents Support Falun Dafa
The practitioners' exercise demonstration attracted many passersby. Several people expressed their support after learning what happened on April 25, 1999, and the facts about Falun Dafa.
John, who was riding by on his bike, said that he heard about the persecution of Falun Dafa and how practitioners with banners went to Tiananmen Square to protest. He said, "I support religion and freedom of speech. Falun Dafa practitioners in China did nothing wrong. I understand them."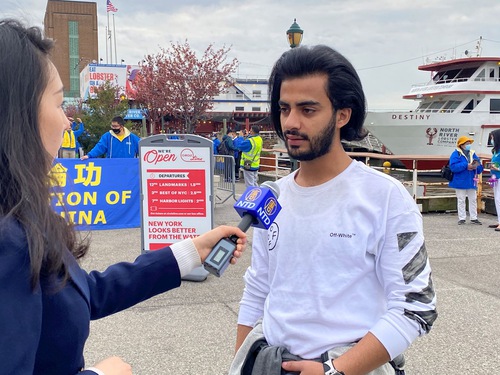 Mohammed Nababteh, an international investor, said, "Everyone should have freedom of religion."
Mohammed Nababteh said, "Everyone should have freedom of religion. This is a basic human right. Humans have the right to pick what is right for them. I support Falun Dafa and I know many people support them too."
Upon learning that Falun Dafa is beneficial and relieves stress on human bodies, Mr. Nababteh stated that he will try practicing Falun Dafa and also introducing the exercises to his mother.
Ellen Davis, a teacher from New York, stopped to watch the exercise demonstration and said, "I can tell that they are peacefully cultivating." She said it's good that practitioners are telling people about the persecution.