Ailing 78-year-old Man Detained Over Fabricated Interrogation Record
April 20, 2021
|
By a Minghui correspondent in Guangdong Province, China
(Minghui.org) The lawyer representing a 78-year-old retired engineer recently discovered that the police had fabricated interrogation records in an attempt to jail his client.
Mr. Zeng Jiageng, a Guangzhou City, Guangdong Province resident, was arrested on July 10, 2019, after the police accused him of using his phone as a hot spot to spread information about Falun Gong, a spiritual discipline that has been persecuted by the Chinese communist regime since 1999. 
Mr. Zeng was taken to Guangzhou City First Detention Center and transferred to Haizhu District Detention Center in February 2020. He began to experience life-threatening high blood pressure and a heart condition two months after his arrest, but the police kept him in custody and refused to release him. 
When his family and lawyer turned to the local procuratorate, their request for him to be released on bail was also denied. His lawyer received a call from the procuratorate on July 23, 2020, and was told that the request was turned down because the local Political and Legal Affairs Committee (PLAC) refused to release Mr. Zeng. 
The PLAC is an extra-judicial agency tasked with carrying out the persecution of Falun Gong practitioners.
Mr. Zeng is now awaiting a verdict following two appearances in the Haizhu District Court, on August 17 and September 23, 2020, respectively. During his first court hearing, he was unable to hear the judge, and he quickly became exhausted. During his second hearing, prosecutor Xu Weiguo smacked the desk and claimed that he was representing the country. He then suggested that Mr. Zeng be sentenced to an eight-year prison term. 
In addition, Xu erroneously wrote in the indictment that Mr. Zeng only had a middle-school education when in fact he graduated from South China University of Technology and was a senior engineer before his retirement.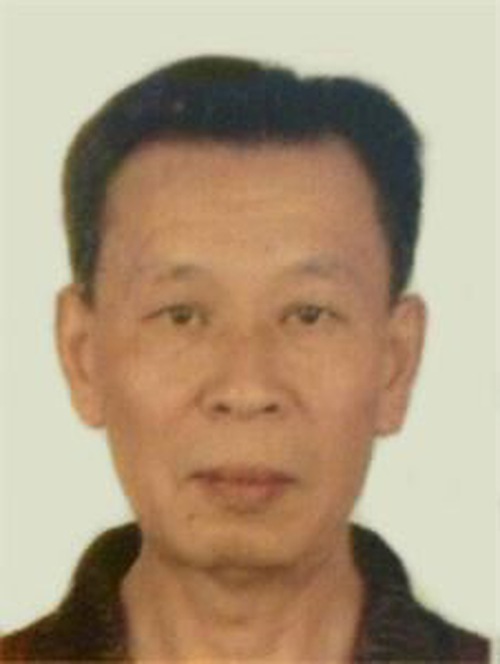 Mr. Zeng Jiageng
Fabricated Interrogation Record
Mr. Zeng's lawyer recently examined the video taken during the interrogation on the day of his arrest and realized that the interrogation record did not match what was shown in the video.
The police were shown in the video asking the following questions: what device Mr. Zeng carried when he was arrested, where he obtained the Wifi hot spot, how he used the hot spot, whether he spread information about Falun Gong with it, and whether the police had found Falun Gong books, materials and a computer at his home. 
Mr. Zeng remained silent throughout the interrogation. The police produced an interrogation record, however, that had answers to all the questions, with Mr. Zeng "admitting" that, "I had a white Wifi hot spot when I was arrested; the device was given to me by a person at a local market; I only used it to promote Falun Gong; I turned on the device when I went out, and the police confiscated Falun Gong books and related materials from me."
The lawyer has filed complaints with the Guangzhou City Procuratorate and Guangzhou City Police Department against the four police officers, Pan Yane, Chen Zhonghao, Li Jinlin and Liu Cimin, who interrogated Mr. Zeng following his arrest. 
When the police investigator followed up with the lawyer, he emphasized that the four officers followed legal procedures with the interrogation, without mentioning anything about their fabricating answers or answering the lawyer's question of whether the four police officers would be punished.
Latest Bail Request Has Yet to Be Granted
Mr. Zeng's lawyer recently filed several applications with the procuratorate and demanded his release on bail due to his declining health condition, but his requests were all turned down. 
The lawyer later filed the bail request with the police and was directed to the Haizhu District Court. When the lawyer contacted Jia Cunjin, the judge in charge of Mr. Zeng's case, Jia never answered his call or responded to his written requests.
With the repeated complaints filed by Mr. Zeng's lawyer and family members, the Haizhu District Court finally accepted their bail request on March 25, 2021, and said a decision would be issued before April 25.
Related reports:
78-Year-Old Seriously Ill Man Faces Eight Years in Prison if Convicted for His Faith
Retired Engineer Still Detained One Year After Arrest for His Faith, Bail Denied Despite Serious Condition
78-Year-Old Retired Engineer Remains in Custody for His Faith, Despite Serious Health Condition
77-year-old Man in Custody Develops Hypertension, Impairing his Eyesight and Hearing
Eight Guangzhou Residents, Including Six in Their 70s and 80s, Arrested for Their Faith in Two Days
Retired Engineer Develops High Blood Pressure in Custody, Family Calls for His Release