(Minghui.org) Since the Chinese Communist Party began to persecute Falun Gong, a spiritual and meditation discipline, in July 1999, Ms. Tang Juzhang, a physician in Hefei City, Anhui Province has been arrested 10 times for upholding her faith. Having served 3 years in prison and two forced labor camp terms, she was sentenced to 14 months in prison again in March 2021.
Dr. Tang, 55, was a doctor in Kangtai Hospital. She was fired by the hospital for refusing to renouncing her faith when she was detained at a brainwashing center in December 2003.
Recently Sentenced to 14 Months
On May 22, 2020, Dr. Tang and her husband, Mr. Yang Shugui, were arrested by officers from Feidong County Police Department and Cuo Town Police Station. Their home was raided. The next day, Mr. Yang was released but Dr. Tang was taken to Heifei City Women's Detention Center.
At the end of October, she was indicted and had her case moved to Shushan District Court. Almost at the same time, Mr. Yang was arrested again on October 27. 
After her family hired a lawyer to represent Dr. Tang, staff members from the Shushan District Court and Feidong County Procuratorate went to the detention center and tried to threaten Dr. Tang to fire her lawyer, otherwise they would give her a heavy sentence and arrest her family members.
To avoid her family's being implicated, Dr. Tang was forced to dismiss the lawyer. While she was planning to act as her own lawyer, the court appointed a legal aid lawyer for her, who was instructed to enter a guilty plea on her behalf.
It was confirmed by Minghui.org in March 2021 that Dr. Tang was sentenced to 14 months. 
Previously 3-year Sentence at Anhui Women's Prison 
Dr. Tang was arrested in April 2004 after being reported for distributing DVDs introducing what Falun Gong is and exposing the Chinese Communist Party's persecution of Falun Gong practitioners. She was held at the Chaohu City Detention Center before being sentenced to three years in Anhui Province Women's Prison.
While Dr. Tang was detained at the 5th division, she was subjected to various torture, including being hung up, handcuffed behind the back, shocked with electric batons and being held in solitary confinement. 
Once when she refused to renounce her belief again during a brainwashing session, the guards put her in a room, instructed four prisoners to pin her to a table and hit her on the head. As the result of the abuse, she was blinded in her left eye and suffered intracranial hemorrhage.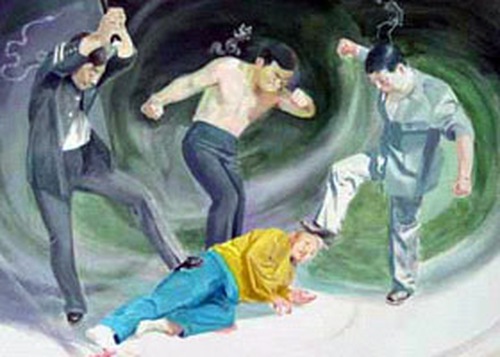 Torture illustration: Beating
In the second half of 2005, Dr. Tang was transferred to the ward designated for the elderly and disabled. She recalled, "The torture was even worse there. Led by Ding Hua, the guards locked me in a dark storage room every day and tried to make me renounce my faith. They also secretly mixed unknown drugs into my food. I was brought to the room at 6 a.m. and was released to my cell after 12 a.m. the next day. In this room, I was hung up, handcuffed, tied up, taped around my head and my mouth and forced to watch videos slandering Falun Gong and Teacher Li. They tried all methods in an attempt to force me to write a statement renouncing my faith."
Torture illustration: Being hung up
Persecuted at Forced Labor Camp Twice
The first time Dr. Tang was sent to a forced labor camp was because of her trying to help a senior. 
Dr. Tang gave an amulet to a senior who was very sick on February 23, 2008. However, the senior reported her to police probably because the senior believed in the government-controlled media propaganda. Police arrested Dr. Tang and sent her to Hefei City No. 1 Detention Center. About a month later, on March 26, 2008, Dr. Tang was sent to Anhui Province Women's Forced Labor Camp to serve a one-year term.
The first day when she entered the forced labor camp, she spoke out loudly, "Falun Dafa is good." Because of this, the guards instructed prisoners to torture her. Dr. Tang said, "They hung me up with ropes and pulled my limbs in all four directions. I went on a hunger strike to protest the torture. Then they force-fed me several times a day, tearing the corners of my mouth. I didn't give in. Then they put me in a "restraint suit." After four or five months of torture, I had a fever, coughed up pus and blood. I became a skeleton and was dying. Only then did the labor camp call my family to bring me home. After I returned home, I did Falun Gong exercises every day. Gradually I recovered, but much of my memory was lost."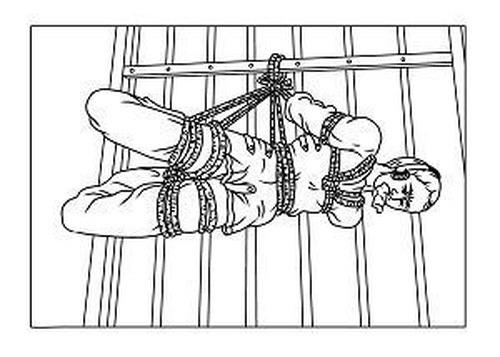 Torture illustration: Restraint suit
The second time when Dr. Tang was sent to a forced labor camp was in 2009. On May 11 that year, she was distributing Falun Gong related materials when she was arrested and taken to Hefei City No. 2 Detention Center, before she was moved to Anhui Province Women's Forced Labor Camp to serve another one-year term. 
Dr. Tang described that, "Prisoners under the instruction of the guards forcibly put me into the 'restraint suit,' taped my head and mouth, dragged me from the cell to the workshop in the morning and dragged me back to the cell at night, up and down four or five floors. I was tortured this way for over a month."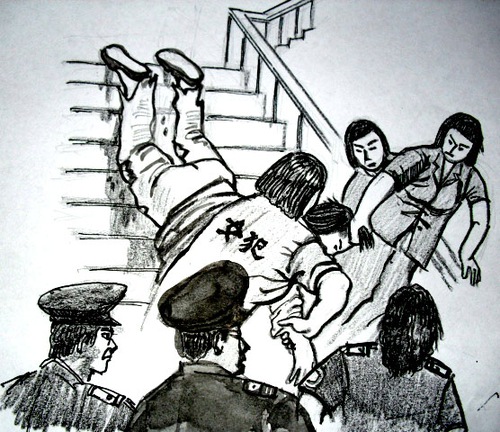 Torture illustration: Dragging
When her forced labor term was expired, she was detained for an additional 18 days and directly taken to a brainwashing center for further persecution afterwards.
More arrests 
Dr. Tang has been arrested about 10 times in total. Besides what was mentioned above, she was also arrested at the beginning of 2012 when she was talking about Falun Gong to people.
Two years later, she was arrested on May 22, 2014 by officers of the Shushan District Police Department and was detained at a hotel for brainwashing. After 10 days of mental torture, Dr. Tang reached her limit and wrote a statement to renounce her faith against her will. Then she was released.
After learning that the police were attempting to submit her case to the procuratorate, Dr. Tang was forced to leave home in February 2015, only to be arrested on September 21, 2015 when she returned home. Her residence was also ransacked.
The nightmare was not over yet. Although Dr. Tang was released shortly after her 2015 arrest, she was again arrested at home on January 15, 2016 and one more time on October 28, 2019. Her family was kept in the dark of her whereabouts for 2 months until the end of December. 
Dr. Tang went to Beijing and tried to display a Falun Gong banner on January 29, 2020, but was arrested while going through the security at Tiananmen Square. She was taken back to Hefei the next day and harassed again in mid-May, days before her latest arrest.