(Minghui.org) A 58-year-old man serving time is now subjected to intensified persecution aimed at forcing him to give up his faith in Falun Gong. As his family isn't allowed to visit him, they are very worried about his safety.
Falun Gong, also known as Falun Dafa, is a spiritual and meditation discipline that has been persecuted by the Chinese communist regime since 1999.
Mr. Li Zhenzhong, the former director of a power station in Qiqihar City, Heilongjiang Province, was stopped by traffic police on April 18, 2020 to check his ID. Upon finding that he is a Falun Gong practitioner in the police's database, the police arrested him. He was first held at the Fuyu County Detention Center and then transferred to the Yian County Detention Center.
Mr. Li was tried by the Jianhua District Court through a video conference on August 31, 2020. His lawyer entered a not guilty plea for him and argued that he didn't do anything wrong in practicing his faith.
Mr. Li was later sentenced to an unknown term. He is currently incarcerated at the eighth ward of Tailai Prison and persecuted for upholding his faith. Due to the information blockade, more details on his current situation aren't clear at the time of writing.
Past Persecution
Mr. Li took up Falun Gong in 1996. He credits the practice for helping him quit his long-term addiction to smoking. His rheumatism, frozen shoulder, cervical spondylosis, stomach cramps, lumbar disc herniation and severe migraine also disappeared.
Mr. Li lives by Falun Gong's principles of "Truthfulness, Compassion, Forbearance." Although many other power station directors took bribes in selecting contracts for their projects, Mr. Li never did so and was commended by his colleagues.
After the communist regime ordered the persecution, Mr. Li was arrested several times and had his ID confiscated for not giving up Falun Gong. He served four years in prison and was subjected to various torture methods. To avoid further persecution, he was forced to live away from home and couldn't take care of or stay with his parents before they passed away.
Arrests and Torture
Mr. Li was first arrested in October 1999. The police locked him in a metal chair and force fed him with two basins of cold water. They called the torture "washing the stomach." Mr. Li was detained at the Qiqihar City Detention Center for two months this time.
Mr. Li was arrested again on February 20, 2001. One hundred yuan in cash and his cellphone were confiscated. At Wenhualu Police Station, more than ten officers tortured him by hanging him up, with his hands pulled up from the back. By the time he was let down, he couldn't move or lift his arms. It took more than six months for his arms to recover.
Late at night, he was transferred to the Qiqihar City No. 2 Detention Center. The guards forced him to stand during the day and memorize prison rules. He was only given a few hours of sleep each day. The torture caused him to be dizzy and he felt his head was covered with a big basin.
About four days later, the police took him to the police department in the middle of the night and locked him in a metal chair for three days for interrogation. Knowing that he didn't smoke anymore, the police put a burning cigarette into his mouth. The torture left him shaking involuntarily and he felt cold from the inside out.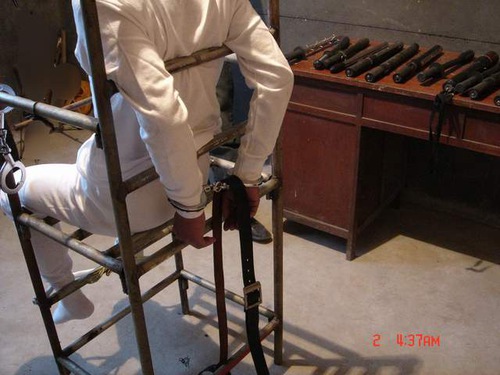 Torture re-enactment: locked in a chair
Four-year Prison Term
Mr. Li was sentenced to four years by the Longsha District Court in October 2002 and taken to the Tailai Prison.
In March 2003, a guard brought him to his office and beat him, after suspecting him of sharing a Falun Gong lecture with another practitioner.
Mr. Li held a hunger strike in October 2003 to protest against the persecution of practitioner Mr. Li Shunjiang. He was put into solitary confinement. The guards locked his limbs to a "H" shaped metal frame, leaving him immobilized. Then they locked the frame to a ring on the floor and caused him to be unable to lie down.
In order to force every imprisoned Falun Gong practitioner to give up their faith, the prison launched a persecution campaign on July 20, 2004. Mr. Li was first forced to do unpaid labor while wearing shackles. Then the guards tied him up to the "H" shaped frame and left him lying facing up in a newly dug pit about three feet deep.
During the torture, a prosecutor happened to stop by and saw him. Instead of punishing the guards for torturing him, he expressed his support for the torture. At noon, the guards set up a four-inch wide metal pole, hung Mr. Li from it, and left him under the scorching sun when the temperature was over 105 °F. He wasn't given any food or water on that day either. In the evening, a few inmates were arranged to watch him and forbade him from sleeping. The torture lasted for two days.
Another Arrest
Mr. Li was arrested one more time in October 2008. The police locked him in a metal chair and subjected him to extreme stretching. He kept twitching. He was released after one day of torture.
Related report:
Falun Gong Practitioners Brutally Persecuted at Tailai Prison in Qiqihar City, Heilongjiang Province