(Minghui.org) The Eighth International Chinese Vocal Competition will be hosted by New Tang Dynasty Television (NTD Television) in Manhattan, New York this October. The event is now open for registration. All professional-level Chinese vocalists (with at least one-fourth Chinese ancestry) are welcome to participate.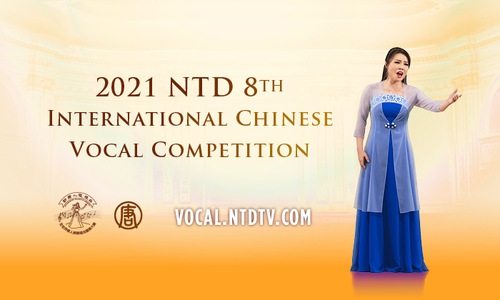 The 8th International Chinese Vocal Competition is open for registration.
Promotional video for the NTD 8th International Chinese Vocal Competition
The NTD Vocal Competition is unique in that it is the only competition specifically for Chinese people in the bel canto technique. It is also the only competition that features Chinese song within the bel canto technique. 
According to NTD, "The aim of this competition is to promote traditional vocal arts of pure authenticity, pure goodness, pure beauty, and provide a world arena for all Chinese vocalists to showcase their talents." World-renowned vocalists have participated in this competition in prior years and highly recommend the event.
Haolan Geng, winner of the Gold Award in the 2009 competition and currently one of the judges, said that she had heard about the event from a well-respected teacher when she was still in college in China. The teacher said that this U.S. competition is very influential, and many of this teacher's students have participated in the competition. Ms. Geng was eager to be a part of this opportunity. It just so happened that she had a chance to further her training in the U.S. "I then saw an advertisement for the competition in New York and was very excited," she recalled.
Upon winning the Gold Award in the 2009 NTD Chinese Vocal Competition, Ms. Geng joined Shen Yun Performing Arts. She has appeared on major stages around the world about 100 times over the course of each touring season. This year, she was also invited to be one of the five judges for the vocal competition. 
Ms. Geng encourages Chinese vocalists to register for this event, as they have very limited opportunities to travel outside of China. She added that this competition is also a great opportunity to visit New York, the world's art center. 
The competition will also allow participants to meet other outstanding vocalists from a variety of backgrounds. According to Ms. Geng, the best part of the competition is that the participants will create new connections with different performance groups. 
The competition welcomes entries from professional vocal instructors, vocal artists, and students, as well as professional-level enthusiasts between 18 and 50 years old.
Hotline: 1-888-477-9228Fax: 1-888-600-1998Email: vocal@globalcompetitions.orgWebsite: https://vocal.ntdtv.com/index-en.html