(Minghui.org) After being separated for nineteen months, seven members from an extended family in Changchun City, Jilin Province finally saw each other on February 26, 2021, the Lantern Festival and the last day of the Chinese New Year holiday season. But it wasn't a happy reunion, as it was the day when all of them were sentenced to prison for their shared faith in Falun Gong.
Falun Gong, also known as Falun Dafa, is a spiritual and meditation discipline that has been persecuted by the Chinese communist regime since 1999.
Mr. Meng Xiangqi, 37, and his mother-in-law, Ms. Fu Guihua, 55, were both sentenced to 7.5 years.
Mr. Meng's father, Mr. Meng Fanjun, 59; his wife's older sister Ms. Yu Jianli, 30; Ms. Yu's husband Mr. Wang Dongji, 40; and Mr. Wang's parents, Mr. Wang Kemin, 69, and Ms. Wang Fengzhi, 69, were all sentenced to 7 years.
The seven family members were arrested on August 15, 2019, in a police sweep in regions near Changchun City, Jilin Province. Hundreds of officers were dispatched and a total of 34 local Falun Gong practitioners were arrested. In addition to the seven family members, another seven practitioners who were targeted in the group arrest were also sentenced on the same day to seven to nine years.
Ms. Yu was convicted for the solemn statement published on the Minghui website indicating her determination to resume practicing Falun Gong and a few articles exposing the persecution against her mother, Ms. Fu. The judge claimed that such articles smeared the reputation of the Chinese Communist Party and its leaders.
Other prosecution evidence against the practitioners included Falun Gong-related materials confiscated from their homes and digital files recovered from their computers. One practitioner noticed that the judge arbitrarily changed a 1,000-minute long audio file to 10,000 minutes in the verdict.
Benefiting from Practicing Falun Gong
Since she was four, Ms. Fu suffered from pneumonia and many complications. She struggled for years with liver cirrhosis, heart disease, asthma, nephritis, diabetes, rheumatoid arthritis, hypotension, and other problems. She couldn't sit up on her own and had to be helped. When she was in middle school, she injured an eye and often had headaches. Sometimes she would suffer sudden blackouts.
After she took up Falun Gong in June 1996, all of her symptoms disappeared and she let go of her resentment and became a happy person. 
Mr. Meng Fanjun also shared similar experiences of seeing his health improved after he took up Falun Gong in 1998. His son, Mr. Meng Xiangqi, who was in the 7th grade when he started learning Falun Gong in 1998, credits the practice for helping him become more focused in his study and winning first place in a final exam in his school.
Mr. Meng Xiangqi said, "Falun Gong is so powerful and virtuous. It elevates my morality, health and my academic performance. I learned to treat others kindly. Such improvement isn't only beneficial to me and my family, but also to society and the general public."
Persecuted for Their Faith
The practitioners' happy times didn't last very long. After the communist regime ordered the persecution in 1999, several of them have suffered repeated persecution before being convicted again. 
Mr. Wang Dongji was arrested in February 2000 for going to Beijing to appeal for Falun Gong. He was given three years of forced labor and subjected to various tortures while in custody.
Mr. Meng Xiangqi was given one year of forced labor in January 2001 when he was 16. 
In September 2001, Mr. Meng escaped from the labor camp. He was too weak to run far before the guards caught him. They hit his face until he bled profusely. His shirt was soaked with blood. He had to walk back on a sandy road for miles barefoot.
To punish him for running away, two officials and several guards took turns beating him. One official beat him with the handle of a shovel. They put him in a cage in an isolated room on the 4th floor. The four cages in the room were 1.8 m (71 in) long, 0.6 m (24 in) wide and 1 m (39 in) tall, which only allowed a person to sit up or lay down. He could only see outside from one side of the cage. A guard watched him around the clock so that he couldn't talk or meditate. He was given only a little food twice a day. He could use the toilet once a day but wasn't allowed to wash or see his family.
The next day, a guard took Mr. Meng to an isolated room and repeatedly banged his head against the ground. They wrapped a rope tightly around his shoulders, arms, and hands and then moved up his arms as high behind his back as possible (see the illustration below). The rope cut into his skin and caused excruciating pain.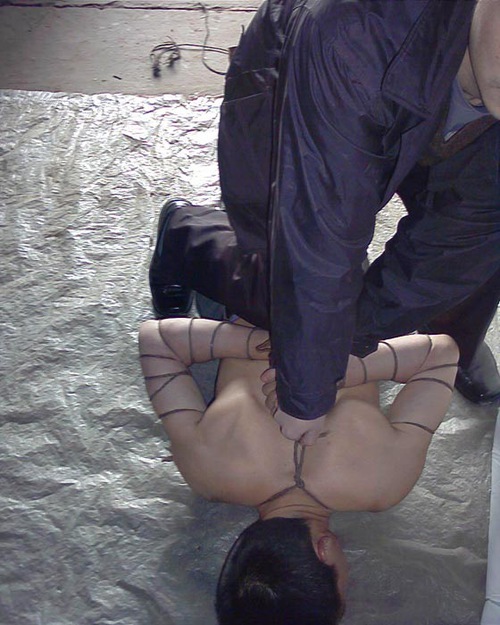 Torture illustration: Wrapping rope tightly
One time a guard grabbed his neck while pinching and pushing his Adam's Apple. The guard did this repeatedly until the flesh around his Adam's Apple was ruptured.
Mr. Meng's sentence was arbitrarily extended for another year on September 22, 2001.
Mr. Meng was arrested again on September 8, 2006, and sentenced to six years in a secret trial on October 12, 2006. In the prison, he was forced to give a blood sample and constantly subjected to brainwashing. Sometimes he was forced to sit on his bed facing a wall for days on end.
The younger Mr. Meng wasn't the only one in his family to have been persecuted for their faith. His father, Mr. Meng Fanjun, 58, was given one year of forced labor on February 23, 2000. Only one year after he was released, he was given another three years at Chaoyanggou Forced Labor Camp on February 4, 2002. He was subjected to intensive brainwashing and forced to do hard labor without pay. 
In 2001, two years after the communist regime ordered the persecution of Falun Gong, Ms. Fu was forced to leave her then eight and ten-year-old daughters, and live away from home for the next ten years to avoid being arrested.
When Ms. Fu was arrested on June 3, 2013, Tang Ke, the head of Nong'an County Domestic Security Division, locked her in a dark room and forced her to sit in a chair with her legs tied to the chair legs. Tang then struck her arms, legs and feet with a metal bar, while guard Lu Ming repeatedly slapped her in the face for about half an hour. Ms. Fu experienced numbness and felt pain whenever she touched something.
Ms. Fu was later sentenced to three years in prison. When her two daughters, Ms. Yu Jianping and Ms. Yu Jianli, filed complaints against Tang for arresting their mother, the police arrested them in retaliation and detained them for ten days.
Ms. Yu Jianli once recounted, "My mother called me once when she was in displacement to avoid the persecution. I recognized her voice. But fearing being implicated, I didn't dare to talk to her and pretended I didn't know her. My soul was twisted."
She said Ms. Fu's arrest in 2013 was a wake-up call to her. "Sometimes I think, maybe I should just forbear a little more. What else can I do? I tried to run away, but I remained helpless and confused. As a daughter, I couldn't take care of my mother or even share my pain with my family or friends. Falun Dafa gives me a healthy mother and a harmonious family. How can I turn my back against my mother when she is now incarcerated for her faith. I have to get back my human nature that has been lost for a long time."
Related reports:
Changchun City, Jilin Province: 14 Falun Gong Practitioners, Including 7 from an Extended Family, Sentenced to 7 to 9 Years
Seven in an Extended Family Detained for 1.5 Years for Their Faith, Still Awaiting Verdicts in Custody
Two Detention Centers in Jilin Province Subject Falun Gong Practitioners to Brainwashing to Make Them Renounce Their Faith
Sixteen Changchun City, Jilin Province Residents Still Await Verdicts Three Months After Court Hearing
After Ten Years of Displacement and Three Years of Incarceration, Jilin Woman Faces Prison Time for Her Faith Again
Sixteen Jilin Residents Tried for Their Faith, Lawyers Barred From Representing Them in Court
Man Incarcerated and Tortured at 16 Again Faces Prosecution for His Belief
Sixteen Falun Gong Practitioners Targeted in a Group Arrest Face Trial for Their Faith
Families Targeted in Mass Arrest in Jilin Province
Siping City, Jilin Province: 34 Arrested in One Day; 15, Including 7 from One Family, Still in Custody
Fifteen Jilin Residents Remain in Detention After Prosecutor Returns Their Cases