Canadian MPs: The Chinese Communist Party (CCP) Has Committed Genocide
March 20, 2021
|
By a Minghui correspondent in Ottawa
(Minghui.org) Over 40 elected officials from various countries recently attended a forum hosted by the International Coalition to End Transplant Abuse in China (ETAC) on February 24, 2021. With participants from 117 agencies and organizations, this event focused on forced organ harvesting by the Chinese Communist Party (CCP). 
Two Canadian Members of Parliament (MPs), Marilou McPhedran and Sameer Zuberi, spoke at the forum. They emphasized that forced organ harvesting by the CCP is a genocide with Falun Gong practitioners as the main victims. Both of them called on the international community to take action and stop the atrocity. 
McPhedran: Genocide Against Falun Gong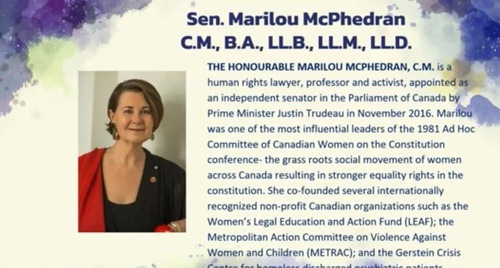 Canadian Senator Marilou McPhedran
Marilou McPhedran, Senator for Manitoba, is also a lawyer and human rights advocate. She said the Canadian House of Commons passed a motion on February 22 with a 266-0 vote that designated the suppression of Uyghurs in Xinjiang, China, and some other minority groups as a genocide. She said at the forum that she would also like to include Falun Gong practitioners in the list of victims since the persecution against them is also qualified to be called a genocide. 
The motion came on the heels of former U.S. Secretary of State Mike Pompeo's statement on January 19 declaring the CCP as having committed "genocide and crimes against humanity." Although the motion is not legally-binding, it does pass on a clear, forceful voice – one that speaks of principles. McPhedran hopes that the executive branch of the Canadian government could act accordingly. 
Salma Ataullahjan, Senator for Ontario and advisor of former Prime Minister Stephen Harper, had proposed legislation to the Senate twice against forced organ harvesting including Bill S-204. 
"This enactment amends the Criminal Code to create new offences in relation to trafficking in human organs," wrote the bill, "It also amends the Immigration and Refugee Protection Act to provide that a permanent resident or foreign national is inadmissible to Canada if the Minister of Citizenship and Immigration is of the opinion that they have engaged in any activities relating to trafficking in human organs."
In her speech, McPhedran also mentioned evidence and political will of designating the persecution of Falun Gong as genocide. She said a large number of witnesses had provided sufficient evidence. They changed her view of this issue and helped realize its severity. 
During this long-term fight against organ harvesting, she wished everyone strength, health, and safety. 
Zuberi: Hope More Countries Can Follow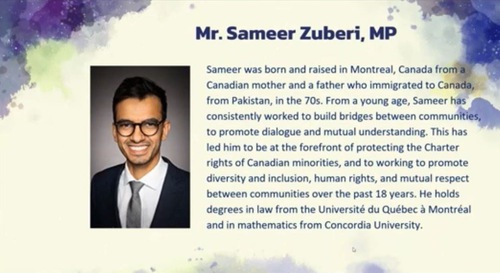 Sameer Zuberi, a member of the Canadian House of Commons
Sameer Zuberi MP said the forced organ harvesting is a nationwide policy from the CCP and it does not represent Chinese people. He emphasized that the Canadian government needs to address such a threat.
On February 22, 2021, Canada's House of Commons passed a resolution designating the CCP's mistreatment of Uyghurs in Xinjiang as genocide. One month earlier, then U.S. Secretary of State Mike Pompeo declared on January 19 that the CCP had committed "genocide and crimes against humanity" by suppressing minority groups such as Uyghurs.
Zuberi hopes other countries could follow suit since it is important for the international community to end the serious crime of organ harvesting. It is beyond partisanship. In Canada, for example, the motion mentioned above passed unanimously with a vote of 266-0. 
The CCP has suppressed its people in many ways including forced labor, concentration camp, forced sterilization, forced abortion, and organ harvesting. The horror is beyond imagination. 
While other governments could acknowledge the existence of forced organ harvesting, Zuberi said the conference attendees could also share the information with others on social media. 
The crime has been identified and it still continues, he added. We must do the right thing and stop the tragedy.