France: Falun Dafa Practitioners Express Their Gratitude to Master
Feb. 16, 2021
|
By Falun Dafa practitioners in France
(Minghui.org) With the arrival of the Chinese New Year, Falun Dafa practitioners from France expressed their upmost gratitude to Master for the positive changes they experienced in their mind and body. They are also grateful for Master's compassionate salvation and Dafa's blessings.
Vietnamese Engineer: Putting Others First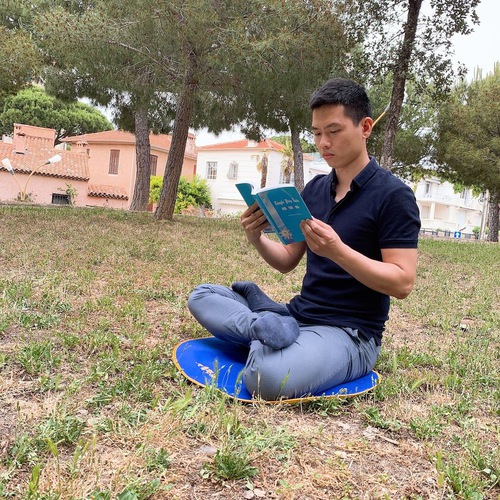 Manh Tuan is a Vietnamese Falun Dafa practitioner who currently resides in France.
Manh Tuan visited his father in 2013 because he'd been diagnosed with terminal cancer and given only a month to live. He witnessed how hopeless human beings are in the face of life-threatening illnesses. After that, Manh Tuan began to think about the meaning of life. He read Buddhist scriptures and listened to Vietnamese Buddhist teachings, but none of them seemed to be what he was looking for.
Manh visited Vietnam in 2015. While driving to the airport on his way back to France, his friend contacted him and told him about Falun Dafa. Manh detoured to his friend's house where he was given the main book of Falun Dafa, Zhuan Falun, and Master Li's exercise instruction videos. Back in France, he read Zhuan Falun several times and realized that this was what he had been looking for. He started cultivating and followed the principles of Truthfulness, Compassion, and Forbearance.
He looked inward for his shortcomings whenever he encountered a tribulation. By doing so, his relationships with his family, colleagues and friends improved, and his wife started practicing Falun Dafa as well.
As the manager of his company's quality inspection department, Manh asked his colleagues to consider their co-worker's needs, regardless of what the company required. He also asked them to think of the needs of their colleagues in other departments, as well as the requirements of their customers. When they started considering each other and resolving problems together, customer satisfaction improved and they were praised for the quality of their products.
Manh also introduced Falun Dafa to his colleagues. Some bought Dafa books, while others practiced the exercises with him during lunch breaks.
When Manh saw Master walking up to the podium at the 2018 Washington D.C Fa Conference, he sensed an enormous and special compassionate field. "I do not know how to express my gratitude to Master for everything I've experienced since I started to cultivate. I am deeply indebted to Master and the only thing I can do is to become more diligent in cultivation. I wish Master a Happy Chinese New Year!"
"Dafa Is My Beacon of Light"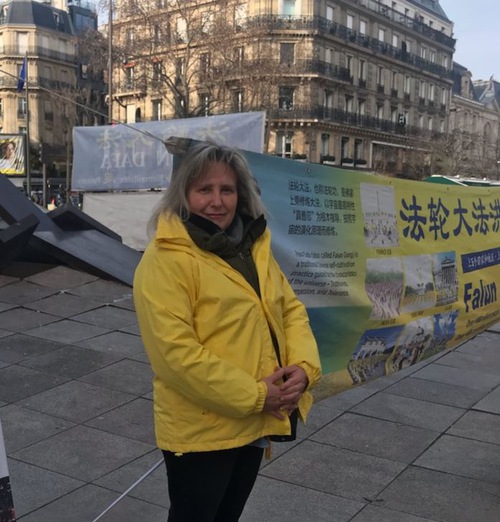 Christina
Christina is a chef who works on a cruise ship that travels to the Caribbean and the Mediterranean. She encountered Falun Dafa practitioners in a park in Paris in 2011, and a practitioner told her about Zhuan Falun.
She finished reading Zhuan Falun in three days and was stunned. She'd been against religions in the past but after reading Zhuan Falun, so many ofher questions about life, religion, and humankind were answered. She was filled with excitement as tears covered her face. These were tears of joy, because Christina had finally found the answer to life and was truly happy.
She was once so depressed that she did not leave home for three months. Dafa was like a beacon of light that saved her. Her body was purified of all negative substances, and Dafa turned her into a different person.
She no longer sounded aggressive and became much calmer. Her family was quite happy to see how she'd changed.
She practices the exercises and studies the Fa every day to improve her character. She knows to abide by Dafa's principles even when she thinks work is dull and hard.
She said, "I don't know how to express my infinite gratitude to Master. I am deeply grateful to Master for protecting and watching over me on my cultivation path. Words cannot describe how I feel." Cultivating Falun Dafa has filled her life with happiness.
Increasing My Knowledge As I Read Zhuan Falun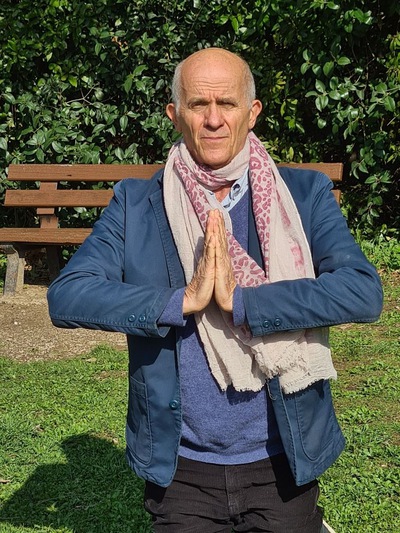 Henri expressed his gratitude to Master.
Henri lives in the Marseille area and was once a director at a health care center. While searching for ancient Chinese literature, he came across Falun Dafa online and found the contact number of a local practitioner in Marseille.
He said, "Reading Zhuan Falun has increased my wisdom and I found what I had always been looking for. I am also changing myself for the better." He feels as if his energy field is increasing and he can see other cultivators' energy columns. He also sees beams of light coming from the heavens as well as golden snowflakes falling onto the practice site. One time, he felt a big vibration and thought it was an earthquake. When he looked out the window, he saw a big golden Buddha. He said it was amazing.
With the arrival of the Chinese New Year, Henri respectfully expressed his gratitude to Master and wishes Master well. He is sincerely grateful for Master's protection and compassionate salvation. "Thank you, Master! Thank you, Dafa!"