(Minghui.org) At the special occasion of the 2021 Chinese New Year, Falun Dafa practitioners are sending their heartfelt wishes to Master Li Hongzhi, the founder of Falun Dafa.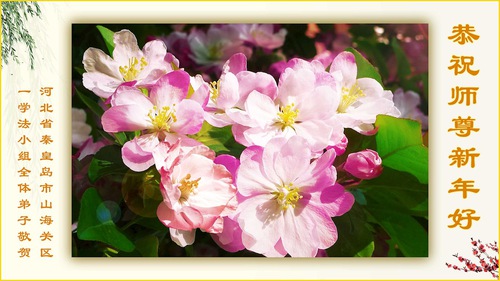 In this article, we present greetings from Falun Dafa study groups in China. Studying the Fa teachings together is a special cultivation format Master Li has left to us. Over the past 22 years, in spite of the persecution in China, practitioners in these groups have been supporting and encouraging each other on their spiritual journeys.
Many of the practitioners have gone through a lot in 2020. In the face of the intensified persecution and surveillance, they continue to cultivate themselves and save sentient beings with compassion.
They thank Master for awakening them, offering hope to sentient beings, and protecting them on every step of their cultivation journey. In the final stage of Fa-rectification, they vow to study the Fa better, look within, not be interfered with by the chaotic events in society, remove their attachments, transcend humanness, and fulfill their mission.
One group in Harbin, Heilongjiang Province, wrote, "In the past decade, we have been studying the Fa and doing the three things together. We believe that this cultivation format Master gave us is the best. No matter what difficulties we encounter, we continued to study the Fa together. Sometimes we also do the exercises together. We have truly benefitted from it."
Five study groups in Hengyang City, Hunan Province, wrote, "Looking back on our cultivation path, we are filled with emotion. It's Master who saved us and compassionately protects us on our spiritual journeys. After all, it's Master's teachings that have enabled us to overcome all the difficulties, maintain our righteous thoughts, elevate ourselves in the Fa, and fulfill our historic vows in saving sentient beings!
"Because of Master and Dafa, countless lives are saved and renewed. Together with these sentient beings, we are wishing benevolent Master a Happy New Year! Master, you've been working hard!"
One group in Zhengzhou City, Henan Province, said, "It's our greatest honor and happiness to have obtained Dafa. Without cultivation, our lives would have been meaningless. Cultivation has elevated our hearts and enabled us to view life anew. We feel the inner peace and beauty of transcending the conflicts and competition between people.
"During the past over 20 years, we have been following Master closely in our cultivation. We also know how much Master has done for us. In the remaining time left, we will cherish even more the unprecedented opportunity to practice Dafa, maintain our righteous thoughts and rationality, cultivate ourselves based on the Fa, eliminate our attachments, and do the three things better."
A group in Jianping County, Liaoning Province, said, "Thank you, Master, for bestowing upon us such a sacred mission and giving us everything in our cultivation. It's been our greatest honor to assist Master in Fa-rectification over the past 20 years. Dafa purifies our hearts and tempers our wills. On this glorious path of cultivation, we will cherish everything Master has given us and walk the remaining path well."
Practitioners in Shijiazhuang City, Hebei Province, wrote, "As the pandemic has intensified, many areas were locked down. But we didn't stop our study groups. We will cherish the time and use all channels possible to clarify the truth, save people and stay unmoved despite the chaotic situation."
Other practitioners in Wuhan, Hubei Province wrote, "As winter turns to spring, a new year is ushered in. It has been 29 years since Master taught Dafa to the world. The beauty and magnificence of Falun Dafa has brought light to all sentient beings and created a new world for everything. The light of Truthfulness, Compassion, and Forbearance has illuminated the universe's multitudes of beings. We have witnessed the greatness of Dafa and its glory of being spread throughout the world. Master has endured so much for all sentient beings. We Dafa disciples cannot express in words our gratitude for Master!"
Other greetings hailed from study groups in the following regions:
Luannan County, Baoding City, and Qinhuangdao City, Hebei ProvinceTianjinBeijingSuihua City, Heilongjiang ProvinceDatong City, Shanxi ProvinceHebei ProvinceRushan City, Shandong ProvinceChengdu City, Sichuan ProvinceChongqingKunshan City and Yangzhou City, Jiangsu ProvinceBaoji City, Shaanxi ProvinceNingbo City, Zhejiang ProvinceBaicheng City, Jilin ProvinceDangshan County, Anhui ProvinceYinchuan City, Ningxia ProvinceChifeng City, Inner MongoliaGuiyang City, Guizhou ProvinceFuzhou City, Fujian ProvinceHainan ProvinceKunming City, Yunnan Province