(Minghui.org) In the past week, 14 people died from a volcanic eruption in Indonesia. A Japanese village was shaken by 91 earthquakes within a span of two days. Australian farmers are devastated by unprecedented rainfall that dimmed their hope for a bumper harvest.
Indonesia Volcano Erupts, Killing 14 People
The Semeru volcano, the highest peak on the Indonesian island of Java, erupted again at 3 p.m. on December 4, 2021.
According to a video released by the Indonesian Bureau of Meteorology, Climate and Geophysics (BMKG), after the eruption of Mount Semeru at an altitude of 3,676 meters, the smoke shot up to 12,000 meters high and the lava flowed down to 500 meters away from the crater.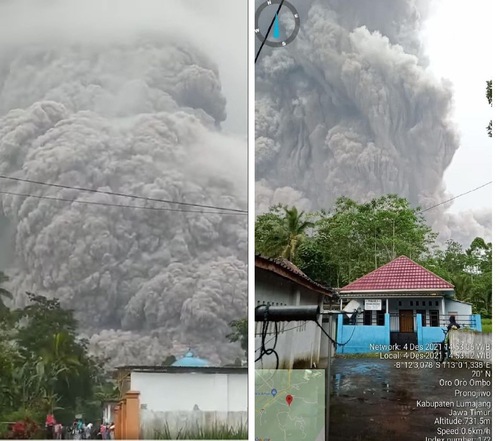 Figure 1: Mount Semeru volcano in East Java, Indonesia erupted in the afternoon of December 4, killing at least 14 people
An official of the Indonesian National Agency for Disaster Management (BNPB) said at a press conference late on Sunday (December 5) that at least 14 people were killed and 56 people were injured in the disaster (mostly burns). A total of 1,300 people were evacuated.
Semeru volcano is located in East Java Province. It is the highest volcano on Java Island and a well-known mountain climbing area. It is also one of about 130 active volcanoes in Indonesia. It erupted earlier this year on January 16, but no casualties were reported at that time.
According to a Reuters report, the volcanic ash, gravel and natural gas erupted from Semeru volcano on December 4 formed a towering volcanic cloud. At least eleven villages in Lumajang County were covered with a layer of volcanic ash, which buried the houses and suffocated livestock.
The volcanic eruption damaged the bridge connecting Lumajan County and Malang City (Malang), and many buildings.
A resident and volunteer in Lumajiang said that the rescue work was very difficult due to the cutting off of the bridge and the volunteers' lack of experience.
In addition, the island of Halmahera, located about 2,000 kilometers northeast of Semeru volcano, was hit by a magnitude 6 earthquake on December 5, according to the European Mediterranean Seismic Center (EMSC).
At Least 91 Earthquakes Hit Oshijima, Japan in Two Days
At least 91 earthquakes of magnitude between 1 and 4 were observed in Oshijima, Toshima Village, Kagoshima Prefecture, Japan, between December 4th and 5th, causing concern.
The Japan Broadcasting Corporation (NHK) reported that an estimated magnitude 4.8 earthquake occurred at about 11:14 a.m. on December 5 in the Tukara Islands in Kagoshima Prefecture. The maximum magnitude of the earthquake occurred at Eshidao Island and had a depth of 20 kilometers.
Earthquakes have been continuously observed on Eshi Island since noon on December 4. As of 11:30 a.m. on December 5, a total of at least 91 earthquakes were recorded.
November Rainfall in NSW, Australia Broke 100-Year Record
New South Wales (NSW), Australia has just experienced the wettest November in more than 100 years, with rainfall three times the average. Some farmers complained about the timing of this round of rainfall, which occurred when the planting industry needed rain the least.
According to data from the Australian Bureau of Meteorology, the total rainfall in NSW in November this year has broken the record since 1917, and it was also the coolest November in NSW on record.
The Bathurst area of NSW recorded 241.6 mm of rainfall in November this year, breaking the record of 195.7 mm 113 years ago.
Rainfall in the capital Canberra, Orange and Wagga Wagga in NSW all broke records.
The continuous rain in November caused flooding in many areas of NSW, especially the northwest, midwest, hunter and north coast areas of NSW.
Heavy rains have destroyed large areas of summer crops in Queensland, Australia. Bundaberg, the growing area of Queensland, had record rainfall in the past two weeks. The head of the local planting association, Bree Grima, told the Australian Broadcasting Corporation, "We have been hoping for rain for many years, but we have received too much rainfall. Some farmers have reported that the rainfall in the past two weeks was well over 600 mm. Those with crops in the field reported that crop losses are as high as 85%."
Some farmers with decades of planting experience said that this was the worst natural disaster they had ever seen.