(Minghui.org) The 6th NTD International Figure Painting Competition (NIFPC) – renowned for its commitment to promoting the pure beauty, pure goodness, and pure authenticity of the realistic oil painting – is now open for registration and submissions.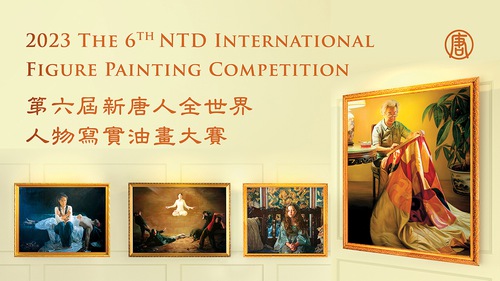 The 6th NTD International Figure Painting Competition is now open for registration and submissions.
The objective of NIFPC is to provide a platform for artists to showcase their talents and exchange understandings of traditional arts, thereby achieving artistic excellence. Realistic artists worldwide are invited to submit works that convey traditional values, and positive ideals such as beauty, compassion, and righteousness. The competition is open to all professional realistic artists, as well as fine art teachers and students, regardless of nationality.
In the NIFPC of 2019, 258 artists from 46 countries made over 400 submissions, and 103 works were selected for exhibition at the Salmagundi Club in New York.
Key Dates
Application deadline: January 15, 2023Finalists announced on January 31, 2023Finalists to submit original work(s) by March 1, 2023Finalist Exhibition & Award Ceremony: June 2023 (New York, USA)
Competition Awards (in US$)
Gold $10,000 (One)Silver $3,000 (Two)Bronze $1,500 (Three)Outstanding Technique $1,000 (Multiple)Profound Humanities $1,000 (Multiple)Outstanding Youth $1,000 (Multiple)Honorable Mention (Multiple)
For more information on the competition, please visit https://oilpainting.ntdtv.com
Eternal Value of Classical Works
Throughout the history of art, traditional oil paintings that sustained the test of time advocate objective, realistic skills and the inner meanings of pure goodness and pure beauty. The value of such artworks does not diminish, and their influence transcends both cultural and geographic boundaries. They extol the magnificence of the divine, praise human's noble values, and touch people's hearts powerfully and deeply. 
The classic works passed down to us capture our forefather's wisdom, intelligence, and painstaking effort as well as the lasting value of honesty, kindness, and beauty. Humankind has for centuries been inspired and uplifted by these masterpieces. Especially in current days of much uncertainty, such inspiration and visual legacies are more sought out by modern people.
Moral and Spiritual Connotation
Good realistic artworks not only objectively depict nature, but also pursue the perfection of both tangible and intangible elements, which include the shapes, forms, and most importantly, the spiritual values. 
As Nicholas Poussin, a 17th-century French painter emphasized, "A painting must incorporate the highest moral connotation, which is illustrated through the structure that can convey the cognitive contents."
Social Responsibility of Realistic Artists
Although the fine arts influence human society subtly, its impact is deep and profound. The works of the oil painting artists direct the aesthetic values and moral standards of mankind. Only by continuously improving their own integrity and inner beauty, can the artists create masterpieces that will uplift the spirit of their viewers, and accordingly make a positive impact on society.
Bright Future
The world is at a crossroads, and true artists are naturally empowered with their gifted talents to choose the direction and take the lead in society. The NIFPC looks forward to working with artists around the world, to restore traditional and upright moral values, and to create purely authentic, compassionate, and beautiful artworks that will inspire generations for many years to come.
For public information, phone +1-888-477-9228, oilpainting@globalcompetitions.org or visit https://oilpainting.ntdtv.com
For further press information and interviews, please contact Richard Yin, the Managing Director of the NTD International Figure Painting Competition, at Richard.Yin@NTDTV.com
A selection of high-resolution images and digital content from previous NTD International Figure Painting Competitions are available on request.