(Minghui.org) Due to continuous rainfall for more than ten days, the rapidly rising Luohe River has caused severe floods in Shaanxi Province. The flooding destroyed two dams in Zhaodu Township, Dali County on October 9, 2021, resulting in severe losses to the winter jujube industry and the animal husbandry.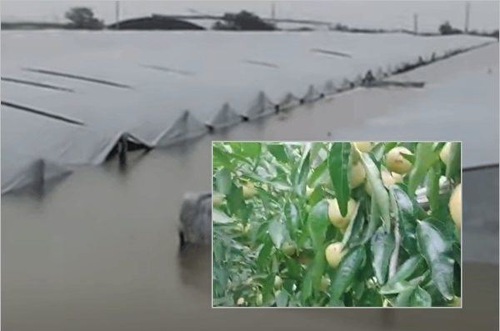 The flood destroyed two dams in Zhaodu Town on October 9, 2021. The winter jujube plantation industry in Dali, Shaanxi Province, and the animal husbandry suffered severe losses.
It was also reported that northern China has encountered a cold spell starting on October 14, 2021. A large area of the mainland has experienced a "cliff-like" temperature drop of more than ten degrees Celsius, as if winter arrived overnight. There were strong winds, rain, and snow in the central and eastern regions. In the morning of October 15, the temperature in central and eastern Inner Mongolia, Heilongjiang Province and other places dropped by 6°-10°C, and in some parts of Heilongjiang Province, the temperature dropped by 15°-17°C.
The Famous Winter Jujube Town Suffered Great Losses from Flooding
Dali County, famous for its winter dates, is located in the eastern part of Weibei Plain in Guanzhong, Shaanxi Province. It is at the confluence area of the Yellow, Luo and Wei Rivers. According to reports, as of 10 p.m. on October 9, flooding had impacted a total of 239,000 people and 491,000 acres of farmland. The flood also damaged roads, water conservancy, electricity, and other infrastructure. According to preliminary statistics, direct economic losses amounted to 461 million yuan.
Winter jujube is a specialty of Dali County, and most local villagers make a living by planting winter jujube. It is currently the harvesting season, but floods have ruined this year's harvest. The villagers said that the winter jujube in the fields as well in greenhouses was almost completely submerged. Some plastics in the greenhouses were collapsed by the flood and fell on the jujube trees. Some greenhouses collapsed.
A villager in Chaoyi Town, Dali suspected that the local government discharged the reservoir during the rain. He said the villagers tried to rescue themselves, but failed. So everyone evacuated. Tens of thousands of pounds of fish in a fish pond were washed away by the flood, and nearly one million yuan was lost.
Mudslide Flooded a Gold Mine in Shaanxi
In addition to the floods, a mudslide struck a gold mine in Taibaihe Town, Taibai County, Shaanxi Province on October 8, 2021. At present, four people are known to have been killed. As of October 15, the government has not announced the results of the investigation.
Rare Flooding in Shanxi Province Villages
To the east part of Shaanxi Province, nearby Shanxi Province was also hit by heavy rain, and many villages were flooded. As of October 15, the stagnant water in Xiaogeda Village, Daxiaobao Township, Xiaoyi, Shanxi Province was still more than one meter deep. A large number of dead pigs were floating on the water, giving off a foul smell.
There are more than 240 households in Xiaogeda Village, and three rivers around the village, including the Wenyu River, Fen River, and Ciyao River. All three rivers rushed into the village when the water rose. Lijia village, about two kilometers away from Xiaogeda Village, was also flooded.
According to reports, many flooded houses have cracks and may have become unsafe to occupy. A merchant in Beiqiaotou Village, Daxiaobao Township said that the accumulated water that was originally more than three meters deep is now less than one meter deep. Some corn fields in the village have not yet been harvested, and the crops and vegetables soaked in water have been destroyed.
Torrential rains fell in Shanxi Province for several days, between October 2 and October 7. The rainfall was almost three times the normal rainfall for October each year. Located in the Loess Plateau, Shanxi Province rarely experiences floods.
According to current statistics, at least 15 people in the province were killed in the disaster caused by the flood, and the whereabouts of three others are currently unknown. A total of 1,757,100 people in 76 counties in 11 cities across the province were affected by the disaster, and at least 120,000 people were evacuated. The affected area of crops reached 3.5769 million acres, and nearly 20,000 houses collapsed. The cold current came almost at the same time as the flood, and worsened an already dire situation for the victims.
Earthquake in Inner Mongolia
A 4.7-magnitude earthquake struck Aluhorqin Banner, Chifeng City, Inner Mongolia, at 5:10 a.m. on October 15, 2021, with a focal depth of 10 kilometers. People were awakened, and the earthquake was felt in many places in the city, and also in Jinzhou, Liaoning Province, about 150 miles from Chifeng.
An online video shows that during the earthquake, the shelves of the local supermarket shook violently and goods loudly crashed to the floor. The herdsmen's cattle quickly got up from the ground and ran out due to fright.
According to reports, as of now, there have been minor cracks in some houses in Xinmin Township, Kundu Town, Saihan Tala Sum and other places in Alu Horqin Banner, and no casualties have yet been reported.