Having Been Incarcerated for Over a Decade, Older Man Detained Again Despite Medical Condition
Oct. 10, 2021
|
By a Minghui correspondent in Heilongjiang Province, China
(Minghui.org) A 72-year-old Mudanjiang City, Heilongjiang Province resident has been detained for four months for his faith in Falun Gong. The authorities have refused to release Mr. Wang Xinmin despite his serious medical condition.
Falun Gong, also known as Falun Dafa, is a spiritual discipline that has been persecuted by the Chinese communist regime since 1999.
Mr. Wang is among the 28 local practitioners arrested on June 10, 2021. The authorities claimed that the purpose of the group arrest was to "maintain security" in light of the upcoming July 1 centennial celebration of the Chinese Communist Party.
Mr. Wang was visiting another practitioner, Mr. Zhang Tao, at around 6 a.m. on June 10 when the police came knocking on the door. When Mr. Zhang refused to open the door for the police, they pried it open and sprayed pepper water onto his eyes through the slight opening of the door. While Mr. Zhang stepped back due to the pain, the police barged in, held him on the ground and handcuffed him. They punched him in the ribs. The police initially refused to allow Mr. Zhang to wash his eyes, but relented as he struggled with the pain. His Falun Gong books, computer and cellphone were confiscated.
Mr. Zhang's two family members, as well as Mr. Wang, were all arrested and taken to the Xiangyang Police Station. The two family members were released the same day. Mr. Zhang was released after 15 days of detention, while Mr. Wang was put on criminal detention and has been held at the Mudanjiang Detention Center since. It's reported that he is suffering from extremely high blood sugar, but the authorities refuse to release him. 
Mr. Wang, a retired senior agronomist for the Heilongjiang Tobacco Research Institute, has been repeatedly targeted for his faith over the past two decades.
He was arrested on October 22, 2003 and sentenced to 14 years in Mudanjiang Prison. He developed severe pancreatitis in early 2014 and was released on medical parole in June 2014. Before he fully recovered, he was taken back to the prison on June 4, 2015. He was released in 2016.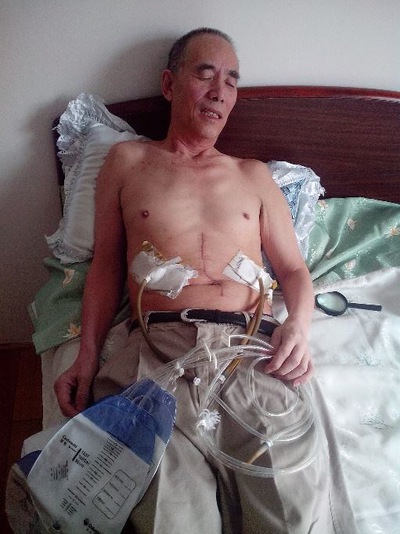 Mr. Wang Xinming at the time he was released on medical parole in June 2014
Prior to his latest arrest, Mr. Wang was arrested one more time on October 13, 2020, after being reported for talking to people about Falun Gong. His home was also ransacked.
Related report:
Mudanjiang City, Heilongjiang Province: 28 Falun Gong Practitioners Arrested in One Day