Japan: Falun Gong Practitioners Protest in Front of Chinese Consulate on New Year's Eve
Jan. 3, 2021
|
By a Falun Gong practitioner in Japan
(Minghui.org) Before the 2021 New Year rang in, Falun Gong practitioners in the Kanto Region of Japan continued their peaceful protest in front of the Chinese Consulate against the Chinese Communist Party's two-decades-long persecution of their faith.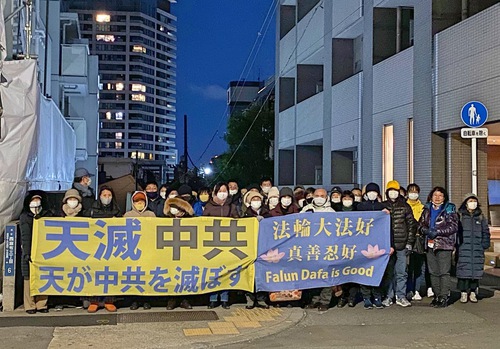 Falun Gong practitioners protesting in front of the Chinese Consulate in Kanto, Japan on December 31, 2020
The practitioners who attended the protest said that since Falun Gong's public introduction in May 1992, the practice has been embraced in over 100 countries and regions in the world. Millions of people of all ethnicities have benefited from Falun Gong, in both mind and body.
Yet while people around the world were celebrating the New Year with family and friends, there are tens of thousands of Falun Gong practitioners in China who are separated from their families, imprisoned or tortured in this persecution started by the Chinese communist regime in 1999. Some were even killed for their organs to fuel the lucrative transplant industry in China. 
Japanese practitioners often stage peaceful protests at the Chinese Consulate, and said that by protesting on New Year's Eve, they hope to let practitioners inside China know that they are not forgotten and they will continue to speak out for them until the persecution ends. 
Many Vietnamese practitioners living in Japan took part in the protest this year. During the three-hour peaceful protest, some practitioners held banners that said "Falun Dafa is good; Truthfulness, Compassion, Forbearance is good" and "Heaven eliminates the Chinese Communist Party," while most others did the Falun Gong exercises in a nearby park. 
Upon the special occasion of the New Year, some practitioners also wanted to take this opportunity to express their deep gratitude towards Master Li Hongzhi, the founder of Falun Gong, for the blessings they have received from the practice.
Ms. Yoshiko Mochizuki: Late-stage Bowel Cancer Disappeared
Ms. Yoshiko Mochizuki is a 68-year-old resident of Edogawa, Tokyo. She was diagnosed with late-stage bowel cancer in 1997. While her life was hanging by a thread, a friend recommended Falun Gong to her.
As she was watching Master Li's exercise instruction videos, she learned some simple arm movements. That night, she enjoyed a very deep sleep, which she hadn't had for a long time. As she continued to practice, her cancer disappeared and she regained her health. Ms. Mochizuki attended an experience sharing conference in Singapore in August 1998 and saw Master Li in person. She was very encouraged and felt more determined to cultivate herself well. 
Mr. Li Kai: Congenital Heart Disease Cured
Mr. Li Kai, 50, is originally from Kaifeng City, Henan Province, China. He used to have congenital heart disease. After an operation in his 20s, he still suffered much discomfort, which caused him to have a bad temper. 
In 1997, he was invited by a friend to attend a Falun Gong seminar. He saw many Faluns in the sky, bright and sparkling. 
After taking up Falun Gong later on, Mr. Li's physical discomfort disappeared. He became much more considerate of others, and was able to handle everything with a calm mind.