California: Practitioners Hold Rally Outside Chinese Consulate to Protest Intensified Persecution
Sept. 9, 2020
|
By Falun Dafa practitioners in Los Angeles
(Minghui.org) Falun Dafa practitioners held a rally outside the Chinese consulate in Los Angeles on September 3, 2020, to protest the Chinese Communist regime's recent "zero-out" campaign, an intensified effort to force all practitioners to renounce their faith. They called for the immediate release of all illegally detained practitioners.
In recent months, the Political and Legal Affairs Committee (PLAC), an extrajudicial agency that oversees state security and judiciary branches that is mainly responsible for carrying out persecution policies, began to implement a so-called "zero-out" campaign nationwide. Community workers, PLAC and 610 Office officials go to practitioners' homes and try to force practitioners who haven't done so to sign on prepared documents promising to renounce the spiritual discipline. If the practitioners refuse, the officials threaten to arrest them and send them to brainwashing centers and detention centers or sentence them to prison.
According to reports on Minghui.org, in the first half of 2020 alone, more than 5300 practitioners were illegally arrested and harassed in 238 cities in China. Even the elderly in their 70s and 80s were not spared. Thirty-nine were tortured to death while hundreds were sentenced to heavy prison terms.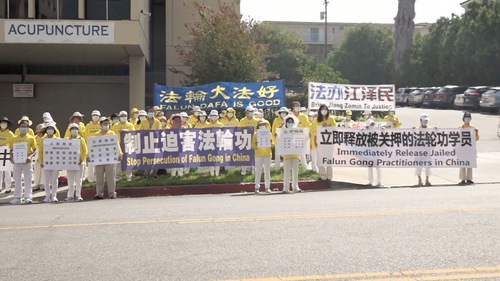 Practitioners held a rally outside the Chinese consulate in Los Angeles on September 3 to protest against the regime's intensified "zero-out" campaign of persecution.
Helen Li who organized the rally said that the CCP has been persecuting Falun Dafa practitioners since 1999. The recent "zero-out" campaign is an exacerbation of the suppression and shows the regime's ruthless nature. However, in spite of this, the mind and body practice has grown in popularity, spreading to over 100 countries and regions worldwide.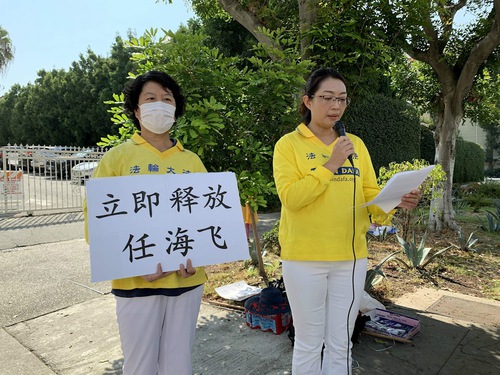 Wang Jing (on the right) calls for the immediate release of her husband Ren Haifei who is currently detained for refusing to give up the practice.
Wang Jing whose husband Ren Haifei was arrested in June 2020 for practicing Falun Dafa spoke at the rally.
She said, "Ren Haifei was brutally beaten after he was taken to the Ganjin street police station in Dalian City. His heart and kidneys became very weak consequently and he was sent to the hospital for emergency treatment. We don't know what his condition is. I'm extremely worried for his safety."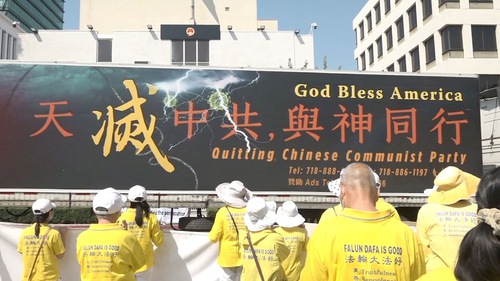 A large truck with information about Falun Dafa and the persecution circled around the Chinese consulate building.
Practitioners displayed messages of, "Falun Dafa is good, Truthfulness, Compassion, Tolerance is good, and God bless America" on both sides of a large truck that drove around the Chinese consulate building.
Helen pointed out that over 80 million Chinese citizens have been killed since the CCP took over China. Due to the regime's cover-up of the coronavirus, more than 860,000 have died from the disease. She urged Chinese people to renounce their membership in the Party and its affiliated organizations. To date, the number of people who have quit the CCP has already surpassed 360 million.
She also called on CCP officials and police officers who participated in the persecution to stop committing such crimes against humanity. She hopes more people will come forward to uphold justice and human rights.