Nine-Day Falun Dafa Seminar Attendee: "I Didn't Expect My Son to Change So Quickly"
Aug. 23, 2020
|
By Li Wei-an, a Minghui correspondent in Taiwan
(Minghui.org) In the Taiwanese city of Yunlin, nine-day Falun Dafa seminars have been held every other month for several years. The most recent one was August 3-11, 2020. From college professors to botanists, schoolteachers, and government clerks to students and business owners, everyone who attended said after the seminar that they felt reinvigorated.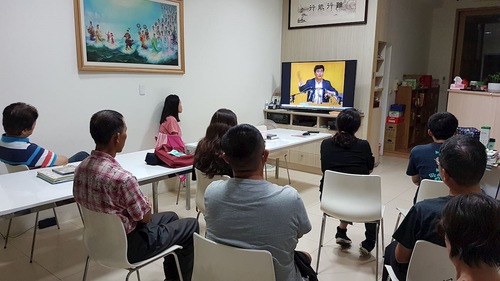 Students watch a video of Master Li Hongzhi lecturing on the principles of Falun Dafa.
Cilun, a practitioner who teaches video and media at a technology college in the city, brought several friends to the seminar. She had several interesting encounters before it began.
One morning, a teenage boy passed a Falun Dafa group exercise site and took note of the banner. Without thinking, he said aloud, "The king of Falun is the highest god of the universe!" 
The practitioners were surprised that a young student had such an understanding and immediately told him about the upcoming lecture series.
The boy spoke to his mother about learning Falun Dafa that night. Surprised by his idea, both mother and son came to the practice site the following morning. Cilun, the practitioner, recognized the boy's mother was Mrs. Liu, who is the owner of a beverage store that she often visits.
Mrs. Liu had been troubled by her son's depression for four years, so they decided to attend the seminar together.
At the end of the nine days, Mrs. Liu was very happy to see how much her son had changed. "I didn't expect him to change so quickly," said Mrs. Liu. "He has become very considerate and obedient and often takes the initiative to help at the store and take care of his grandmother at home who has dementia." 
Seeing how focused he was listening to the lectures and how quickly he improved, she is happier and less worried about him.
Mr. Sun, one of Cilun's colleagues at college, came to the seminar for a different reason. Last year, Mr. Wang, the chairman of the board of a real estate corporation, bought many tickets to the Shen Yun Performing Arts show and invited Mr. Sun and others to watch the show together. Mr. Wang also told them about some amazing things that he had experienced recently. Mr. Sun wondered how Falun Gong could have made the real estate mogul so generous and kindhearted. 
Cilun later gave Mr. Sun the Falun Dafa book The Great Way of Spiritual Perfection. He read it and thought that it was a treasure, so he decided to attend the seminar.
Frank, a biologist, used to practice Falun Gong with his parents when he was young. Now that he's graduated and working, he reconnected with Falun Gong. After the seminar, he said that he'd gained a lot of insights and came to the conclusion that many matters appear to be complicated on the surface but are easy to solve if one doesn't get attached to them.
A woman named Li accompanied her husband to the seminar. She said she felt energized as she listened to Master Li speak and was less fatigued. 
She also noticed a strange phenomenon: "When I really concentrated on the teachings, I saw that Master Li had a golden halo and every object around him emitted golden light. But when I turned to look at the light, it disappeared. It was amazing!"