(Minghui.org) On July 21, 2020, Falun Gong practitioners in New Zealand held activities in the nation's capital of Wellington to mark the 21st year of the Chinese Communist Party (CCP)'s persecution of their faith, which started 21 years ago on July 20, 1999.
Starting at noon, practitioners marched from Cuba street in downtown Wellington and passed through the most popular commercial streets, Willis Street and Lambton Quay.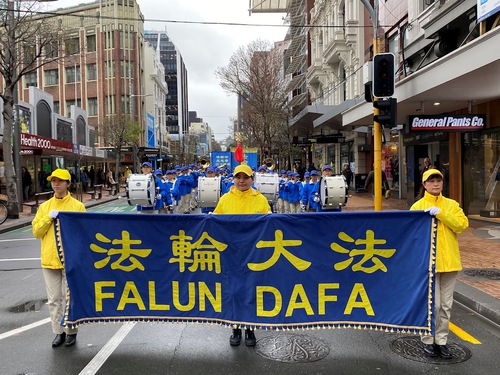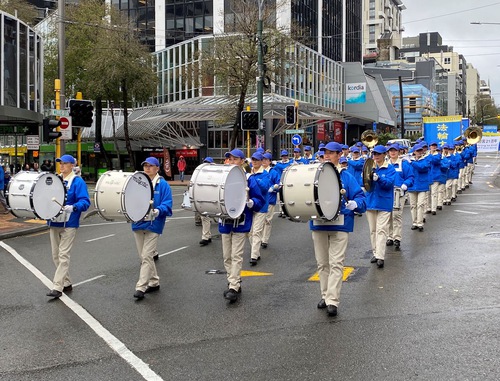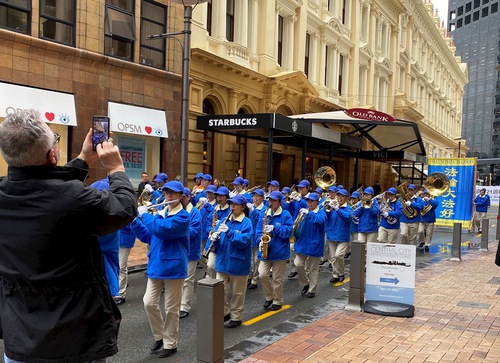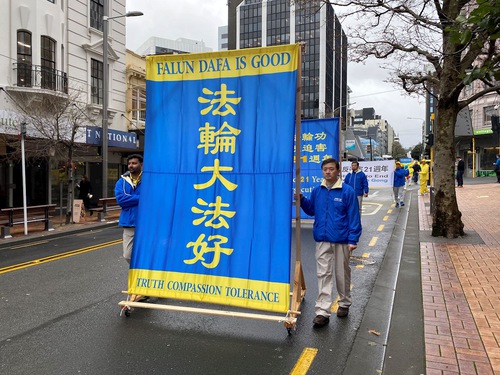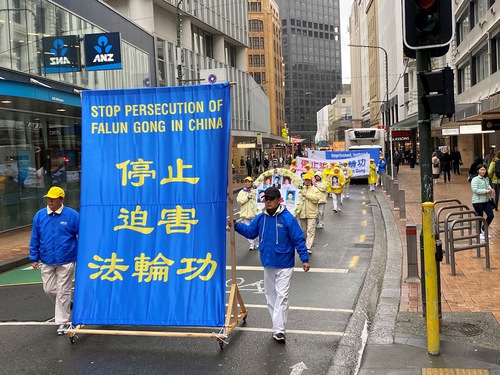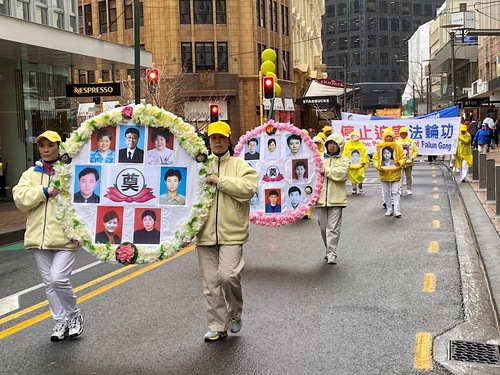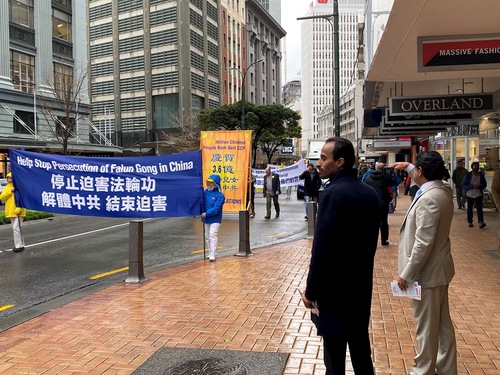 Falun Gong practitioners hold a parade through New Zealand's capital, Wellington.
The Tian Guo Marching Band led the parade. People on the street were drawn by its majestic music, and many happily took flyers to learn more about Falun Gong and the persecution.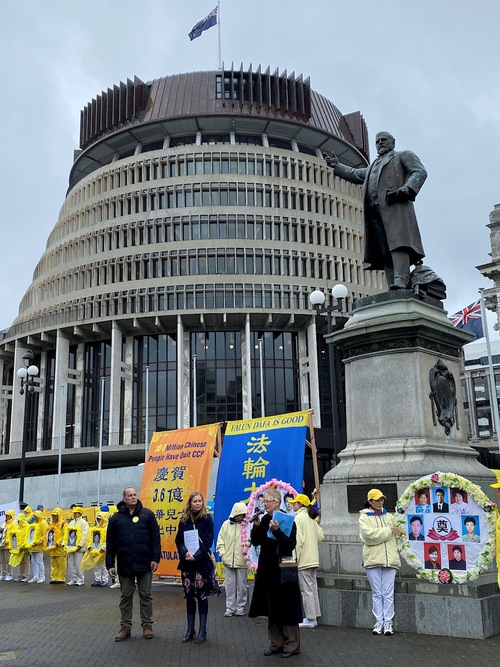 Practitioners hold a peaceful rally in front of Parliament House.
The parade ended in a rally at Parliament House in the afternoon. Two Members of Parliament delivered speeches supporting practitioners' efforts to counter the persecution. Four practitioners spoke about the persecution they had suffered in China, and they called on the government and the public to uphold justice and help to end the persecution in China.
Green Party MP: "It is time we stood up for the suffering Falun Gong practitioners"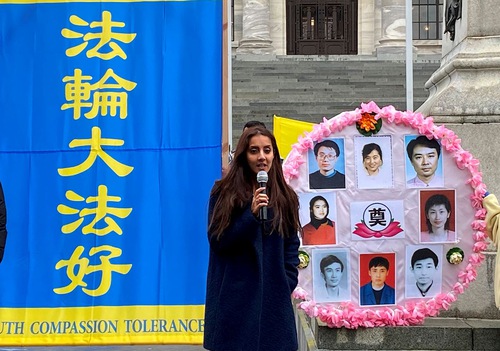 Green Party MP Golriz Ghahraman
Green Party Member of Parliament Golriz Ghahraman said, "Today I accept this petition with a heavy heart, because we all know the situation of Falun Gong persecution in China has not improved and is still terrible. Thousands of people have lost their lives, and thousands of people live in fear.
"We have received Committee Reports on organ donation or organ harvesting. We know the situation is very serious. We also know as a basic human right and legal right in the world, people should practice their belief in peace without being persecuted... but this is exactly what [the government of] China violates.
"Therefore, it is time for the New Zealand government to safeguard peace, humanity and human rights in the Asia-Pacific region, and strongly oppose [the government of] China, a country that is sometimes our ally and trading partner. It is time we stood up for the suffering Falun Gong practitioners.
"Today, I thank you for raising this issue to the Parliament. I thank you for your perseverance. I know this is something the community has been working on under a strong covenant, and I thank you all for being here.
"This is your Parliament. It is an absolute honor for me to be able to submit this petition to the Parliament as a representative today. No matter in our Foreign Affairs Committee, on the street, in front of the media, in China or anywhere else, I will continue to tell the Parliament. Because we know that unless all of us are free, no one can be free. So thank you."
Labor Party MP: Belief Is a Basic Human Right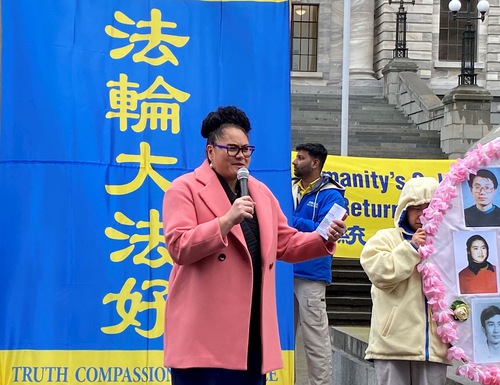 Labor Party MP Louisa Hareruia
Labor Party MP Louisa Hareruia addressed the rally and said, "We all have the right to be human beings. These rights include freedom of expression and freedom of religion. Therefore, the systematic abuse experienced by Falun Gong practitioners is wrong, whether from the perspective of human rights or from the perspective of democracy.
"I want to pay tribute to those of you who upheld your faith in China. Now you live in New Zealand and can practice Falun Gong without being persecuted. Therefore, I thank you for your courage of coming forward and speaking up for Falun Gong practitioners in other parts of the world who do not enjoy the same rights.
"For me, human rights have two basic principles, namely, respect and rights. We all have the right to do what we want to do in a respectful and peaceful way. But it also means that we have a responsibility. Therefore, if we see other groups being persecuted, imprisoned, and their rights violated, we also have a responsibility to stand up for them.
"This is also an opportunity for us to collectively pray and support the human rights of all people and all human beings. We all have the right to be ourselves, to live in this world in our own way, to practice our religion, meditation, philosophy, and protest against the government in our own way.
"Finally, I want to declare, in a democratic system, protests are healthy. This means that they are involved; it means that they know what is happening and they want to have a say. We are not silent. Therefore I regard what you are doing today as a huge force. You have stood out and spoken up, thank you for allowing me to participate in this process."
Linguist: I Support Falun Gong Practitioners' Fight for Belief and Principles
Paul Raynr is a linguist and has served as an adviser to the New Zealand Parliament. When he lived near the Chinese Embassy, he often saw practitioners protesting there. He began paying attention to Falun Gong and China affairs over the years.
He said, "Recently, some videos about Chinese concentration camps were circulated. After watching them, I was very worried. The CCP is doing some of the things the Nazis did during World War II.
"Falun Gong practitioners have not harmed anyone. They should have freedom of belief. It's really cruel that the CCP harvests their organs for profit. Practitioners fight for their beliefs and principles. I came here to express my support.
"I hope that all countries and international organizations will pressure the CCP and send investigators to investigate what is happening in China. These crimes absolutely cannot be tolerated in this world. So many pieces of evidence have surfaced, which I absolutely don't believe could be fabricated, and the evil is still ongoing."
Raynr continued, "I think the New Zealand government should do what they are supposed to do. Although all countries are putting pressure on the CCP in trade, as a totalitarian government, they [the CCP] will not play a good role on the international stage. They follow no rules and are unscrupulous. Terrible!"
Wellington Resident: Persecution Has Persisted for Too Long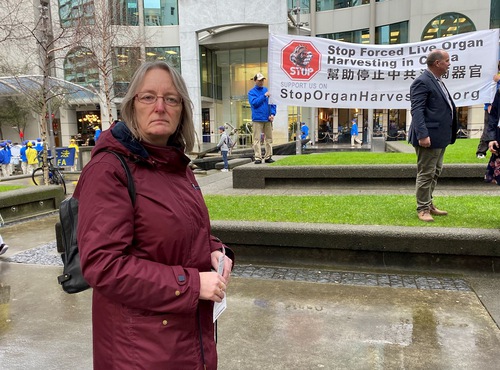 Wellington resident Alison Smith hopes she can help end the persecution as soon as possible.
Alison Smith, a local resident, listened to the speeches at the rally. She said she has lived in New Zealand for fifteen years and always sees Falun Gong practitioners giving out flyers at Wellington Train Station.
She said people must not be persecuted for following their faiths and that Falun Gong practitioners have been persecuted for too long.
She said she had learned about the persecution a long time ago and had seen the documentary Hard to Believe, which reveals the CCP's harvesting of organs from Falun Gong practitioners. She was shocked upon learning of the crime.
Alison said she worked in the government and had discussed the persecution of Falun Gong with her relatives and friends, but nothing has changed. She said she wants to help practitioners spread the message and end the persecution as soon as possible.
Chinese New Zealander: The Communist Party Is the Real Cult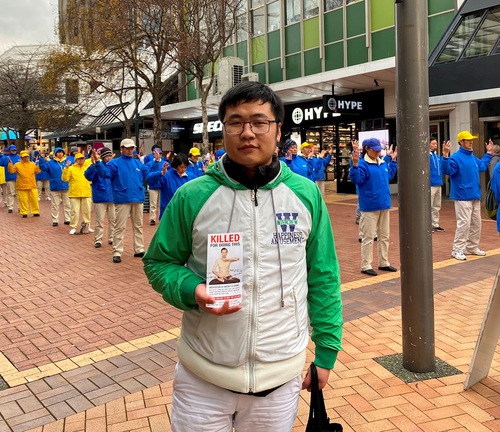 Chinese New Zealander Xing Jian praised Falun Gong practitioners for their contributions to society.
Chinese New Zealander Mr. Xing Jian signed the practitioners' petition to condemn the persecution. He said, "Falun Gong practitioners meditate and live by the principles of Truthfulness, Compassion and Forbearance. How can it be a cult [as labeled by the Chinese Communist Party]? The CCP is the real cult. It forces people in other religions to sing songs praising the Party, bends people's will, enslaves them, and never treats people like human beings. It's very evil," he said.
"Look at the coronavirus pandemic and the floods in southern China, many people have lost their homes. Under the CCP and its Internet blockade, people have no access to real information."
He also said all overseas Chinese should resist the CCP and have the world's people see its true face.
Mr. Xing said Falun Gong practitioners have made great contributions to society. He praised the media outlets run by practitioners outside China and said, "It provides real information for Chinese people and lets the world see what China is really like and the real conditions Chinese people are living in."