Slovakia: Public Figures Speak at Event Marking Falun Gong's 21 Years of Peaceful Resistance
July 24, 2020
|
By practitioners in Slovakia
(Minghui.org) On Monday, July 20, 2020, a memorial event marking 21 years of Falun Gong's peaceful resistance to the persecution in China took place in Hviezdoslav Square, in central Bratislava, Slovakia. Falun Gong practitioners from all over Slovakia held a vigil and peaceful meditation to commemorate the victims of the persecution in China.
Special guests Frantisek Miklosko, dissident and former chairman of the Slovak National Council; Miriam Lexmann, member of the European Parliament; Ondrej Dostal, member of the National Council of the Slovak Republic; and Zuzana Aufrichtova, mayor of Bratislava-Old Town, attended the event in the afternoon.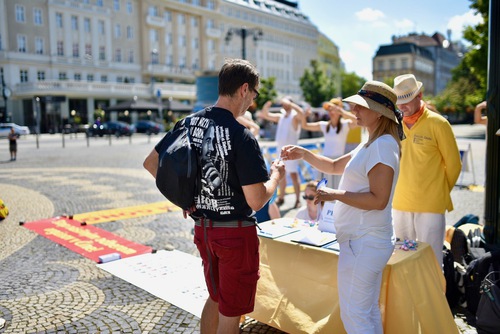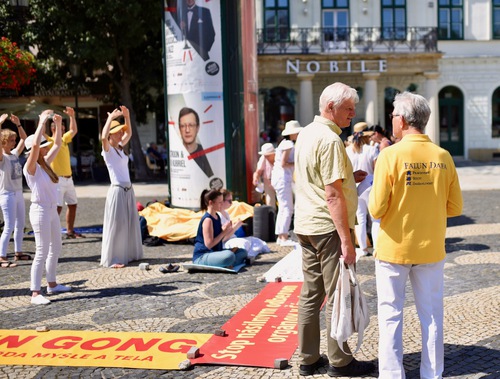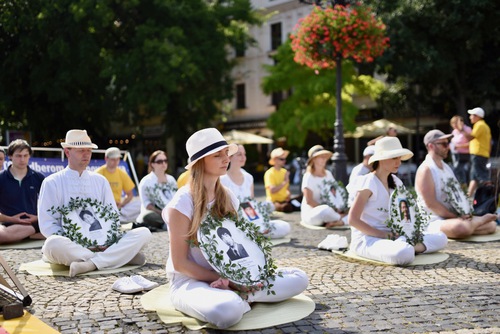 Marek Tatarko, chairman of the Slovak Falun Gong Association, said in his introduction that since 1999, approximately 100 million people in China have been persecuted for practicing Falun Gong, a cultivation practice based on the traditional principles of Truthfulness, Compassion, and Forbearance. Practitioners in China have been arrested, tortured, imprisoned, and even lost their lives, clear evidence of the evilness of the communist regime.
Frantisek Miklosko, dissident and former chairman of the Slovak National Council
Frantisek Miklosko, dissident and former chairman of the Slovak National Council, reflected on the 1988 candlelight demonstration, which took place on that spot and was the first mass demonstration since 1969 against the communist regime in former Czechoslovakia. He said, "I am glad and grateful to these people sitting here, meditating and testifying for their fellow practitioners in China who are being persecuted. And I thank you all for being so heroic and giving your testimony. I am convinced that one day history will prove you are right."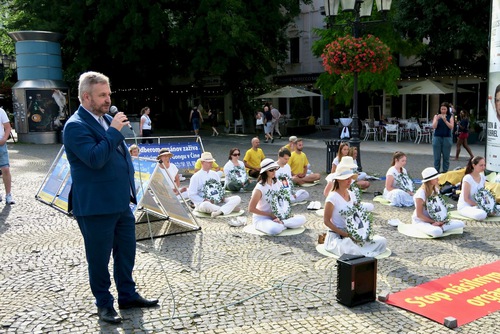 Ondrej Dostal, member of the National Council of the Slovak Republic
Ondrej Dostal, a member of the National Council of the Slovak Republic, said, "Today, especially, we are here because of Falun Gong, which faces an extremely abominable and reprehensible form of persecution, a form that all democratically-minded people around the world must oppose—that is why we are here today. Falun Gong is based on the values of Truthfulness, Compassion, and Forbearance. One of the slogans of our gentle revolution more than 30 years ago was Vaclav Havel's slogan that truth and love will triumph over evil, over lies and hatred. It happened in communist Czechoslovakia, it happened in the whole Eastern bloc, which suffered under the boots of the Soviet empire. And I believe that there will come a day when truth, compassion, forbearance, and love will prevail over the lies and hatred of the communist regime in China, the persecution will end, and all innocent victims and even the people of China will be able to live their lives in freedom. We must do everything in our power to get that day to come as soon as possible. Thank you for being here."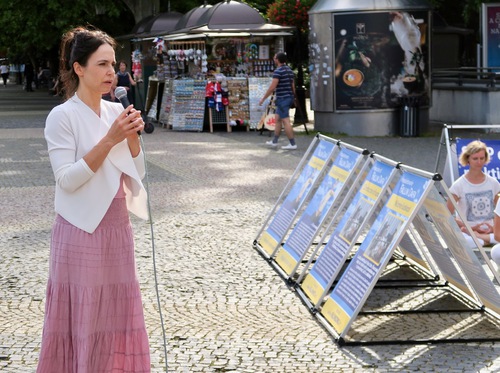 Miriam Lexmann, member of the European Parliament
In her speech, Miriam Lexman, Member of the European Parliament, said, "Thirty years ago we succeeded in opening up our country to the truth. The truth is in us and it is truly stronger and greater. But it depends on us whether this truth will remain dominant in our world and whether we will be able to transform the world beyond our borders, beyond the borders of the European Union, according to this truth that we believe and which gives us freedom. In this global world, it is our duty, it is the duty of every person, even here in Slovakia, to think of people who are being persecuted in another corner of the world precisely—because we live in a global world, where we are much closer to each other than we were under the communist regime. That is why I want to address our fellow citizens, to express our kinship and our compassion… to people who are persecuted and who are fighting for the truth. Because if we don't help them in their struggle, maybe one time the truth will lose again in our country."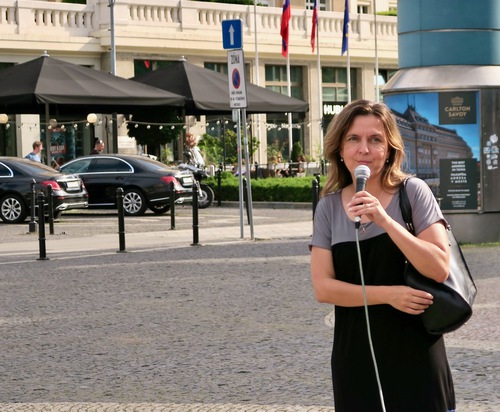 Zuzana Aufrichtová, mayor of Bratislava-Old Town
Zuzana Aufrichtová, mayor of Bratislava-Old Town, concluded, "Freedom must be constantly defended and we should constantly stand up to any pressure that is not based on respect for the values of democracy, respect for the human being, and the fundamental rights and freedoms that belong to man. So, for the Old Town, I want to express my support for you. We keep our fingers crossed for this fight for truthfulness, compassion, and forbearance."