Minnesota: Two Members of Congress Write Letters to Support Falun Gong
July 23, 2020
|
By a Falun Gong practitioner in Minnesota
(Minghui.org) July 20, 2020 is the 21st anniversary of Falun Gong practitioners' peaceful protest of the Chinese Communist Party's (CCP) persecution. Two members of Congress from Minnesota wrote letters to express their support of practitioners' efforts to clarify the truth and expose the persecution.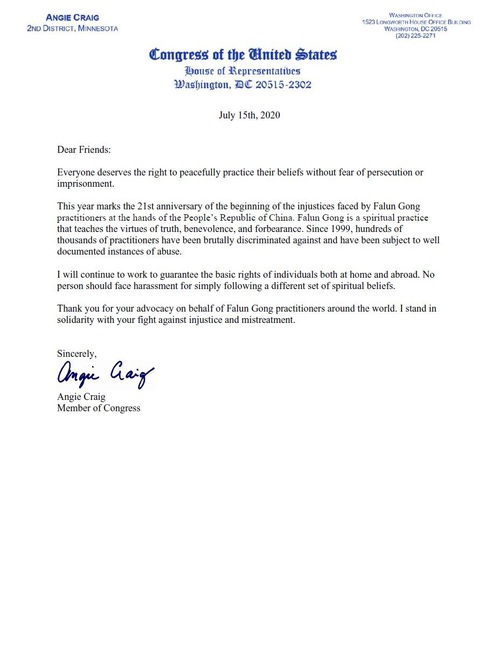 Letter from Representative Angie Craig
"Everyone deserves the right to peacefully practice their beliefs without fear of persecution or imprisonment," Representative Angie Craig stated in her letter.
"This year marks the 21st anniversary of the beginning of the injustices faced by Falun Gong practitioners at the hands of the People's Republic of China. Falun Gong is a spiritual practice that teaches the virtues of truth, benevolence and forbearance. Since 1999, hundreds of thousands of practitioners have been brutally discriminated against and have been subject to well documented instances of abuse."
Representative Craig stated, "I stand in solidarity with your fight against injustices and mistreatment."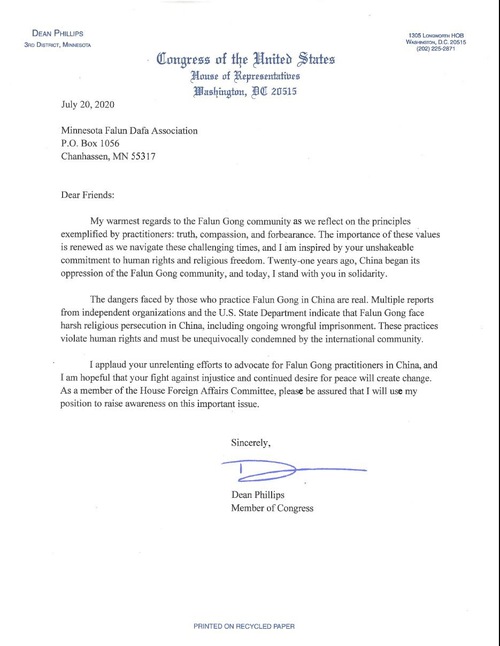 Letter from Representative Dean Phillips
"My warmest regards to the Falun Gong community as we reflect on the principles exemplified by practitioners: truth, compassion, and forbearance," Representative Dean Phillips stated in his letter.
"The dangers faced by those who practice Falun Gong in China are real. Multiple reports from independent organizations and the U.S. State Department indicate that Falun Gong face harsh religious persecution in China, including ongoing wrongful imprisonment. These practices violate human rights and must be unequivocally condemned by the international community."
He commends the practitioners' unrelenting efforts to advocate for fellow practitioners in China. He was hopeful that the efforts against the persecution would create change.