People in Stockholm, Sweden Support Falun Dafa
July 13, 2020
|
By He Ping, a Minghui correspondent in Sweden
(Minghui.org) Falun Gong practitioners in Sweden held truth clarification activities at Mynttorget in Stockholm on Tuesday, June 30, 2020. They demonstrated the Falun Gong exercises, introduced the practice, and exposed the Chinese Communist Party's (CCP) persecution of practitioners in China. Passersby stopped at the display to learn more. Many were appalled to learn of the CCP's atrocities of harvesting organs from living practitioners.
Falun Gong practitioners hold truth-clarification activities every Tuesday and Saturday at Mynttorget in Stockholm during the summer.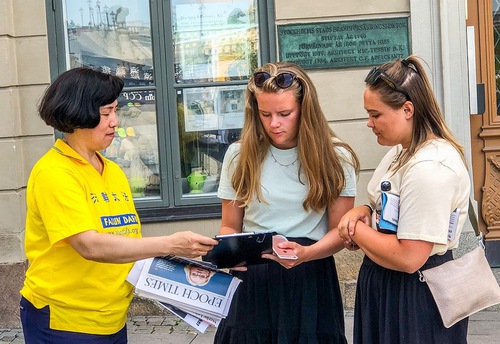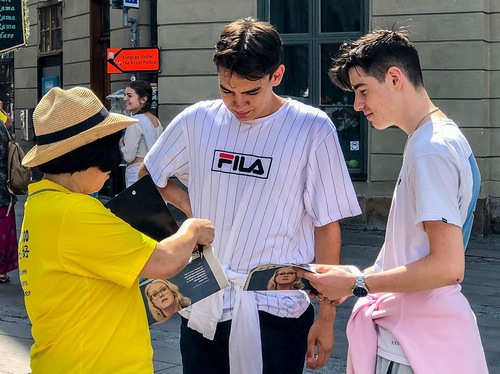 People in Stockholm learn about Falun Gong.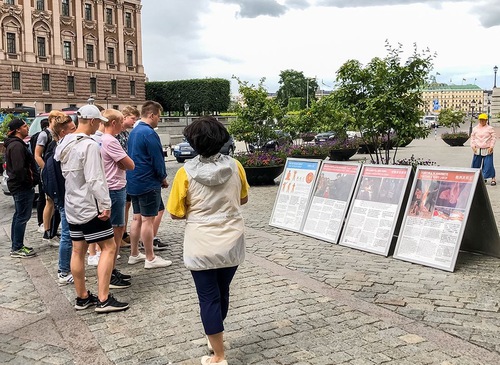 People read informational displays about Falun Gong.
Cerina from Spain works in the human rights field. Tears came to her eyes as she listened to a practitioners recount the CCP's persecution over the past 21 years. She signed a petition calling for an end to the persecution and said, "It's a terrible collaborated crime between the regime and gangs! It's unacceptable!" She admired practitioners' persistent work and encouraged them to keep it up.
A man told a practitioner that he heard about the persecution when he was working at a Swedish consulate. He mentioned that the actions of the former Chinese ambassadors to Sweden were awful. The man said he would continue to follow news about Falun Gong.
Marie, a newspaper editor, talked to a practitioner about the CCP's crime of harvesting organs from living Falun Gong practitioners. She said she's wanted to write about Falun Gong for a long time and the information she received from them would enrich her article. She signed the petition and planned to keep in touch with practitioners.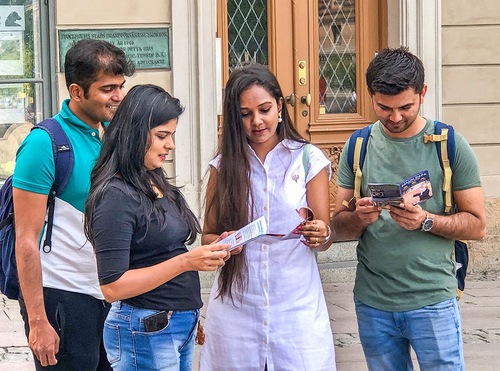 Four people from India read Falun Gong flyers.