(Minghui.org) "My business was affected quite a lot by the coronavirus pandemic, but Falun Dafa has given me determination, wisdom, and peace of mind, which have helped me through this difficult time. My business has not only survived but also expanded. All that I've experienced has given me stronger faith in the power of Truthfulness-Compassion-Forbearance," said Ms. Mai Pham, a Falun Dafa practitioner in Melbourne, Australia, who owns a comprehensive care clinic.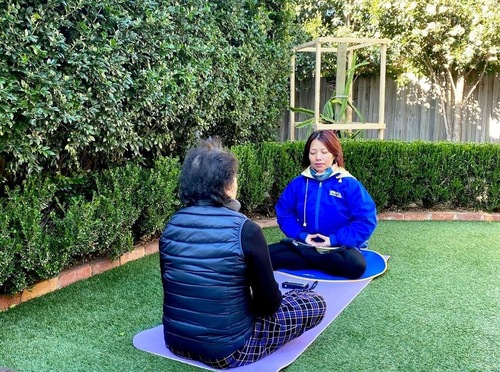 Ms. Mai Pham and her mother practicing Falun Dafa (also called Falun Gong) meditation.
Mai Pham, an immigrant from Vietnam, is a remedial massage therapist. She opened her own clinic five years ago, and it has been very successful. As the government ordered people to stay home during the coronavirus outbreak, however, many clinics like hers had to close. Her clinic had no patients at one point, but Mai didn't lay off any employees.
As time went by, the number of patients bounced back to 80% of her normal operation. She hired an additional therapist even though her business didn't qualify for an employer subsidy from the Australian government.
"I practice Falun Dafa and follow Truthfulness-Compassion-Forbearance. I believe I will get what I deserve. If I don't deserve to have it, I won't get it. I never worry about money. My thought is simple: just continue as normal," said Mai. "Throughout the whole team in my company, no one has panicked or worried about the pandemic. They are happy to come to work with me to overcome this tough situation. We are a very strong team."
Operations Manager: "I'll Be Happy to Work Here for the Rest of My Life!"
Tina, the Operations Manager in Mai's clinic and Mai's right-hand person, personally experienced the changes in Mai's management style after her boss began practicing Falun Dafa. Tina had previously resigned from the clinic in late 2017 because of her unhappiness with Mai's self-centered management.
Mai's loss of her operations manager, as well as her computer system being hacked into, left Mai in despair for an entire month. When she was on the verge of mental collapse, she remembered Falun Dafa. "One of my relatives in Vietnam recommended Falun Dafa to me. I had read a few pages from the book but didn't treat self-cultivation seriously," Mai recalled.
In February 2018, Mai started carefully reading the main book of Falun Dafa's teachings, Zhuan Falun. It finally dawned on her why she experienced so much trouble in life. "Falun Dafa has completely changed the way I treat others. I became calm and patient and made improvements to my shortcomings. My daughter's health has also improved, and she's learned to be mindful of others since she began practicing Dafa with me."
Mai found Tina and had a sincere conversation with her. She shared the changes she'd experienced after learning Falun Dafa. Tina agreed to come back to the clinic and give it another try. After a year of seeing how patient, thoughtful and happy Mai was, Tina said, "I've decided to work for you for the rest of my life!"
Mai puts her customers' health at the center of her clinic. She never hesitates to recommend her competitors if they have more experience with the client's health problem. As Tina puts it, "If anyone works here for the money, they've come to the wrong place; but if you want to do something for the community, this is the right place to do it." Mai's compassion and sincerity have won her a great reputation among her customers.
A Decision Becomes Her Solution
Although she had an abundance of customers for her specialty therapies, a year ago Mai decided to start to offer occupational therapy services for the disabled. Her husband didn't understand her decision because occupational therapy requires special equipment and it was hard to find such therapists. It ended up taking six months to hire the right one.
After the pandemic got underway, most customers stayed in their homes. Mai made up her mind not to lay off any employees and decided to cover the losses herself. "While I was browsing social media one evening, I found a video of how an American therapist leads a therapy through videoconferencing. It dawned on me that's what I'd been looking for."
Mai learned how to use the software in one night. Within four days, Mai and her therapists finished preparing for remote therapy. All her customers were notified by phone calls and emails about her clinic's new online therapy service.
"We are the first on-site clinic to offer online services, and occupational therapy is the only kind that works as an online service. Now I know why I started it a year ago! Our income and expenses are balanced pretty well now.
"I don't wish for more money during this special time. I made work assignments for my therapists with minimal benefit to myself. I don't require them to work 8 hours a day but leave them enough time to take care of their family, especially those with school-age children. It's a win-win situation for both my therapists and my company."
Mai added, "I read Zhuan Falun every day. The content of the book often comes to my mind and reminds me how to treat others and how to work effectively. Following Master Li's (the founder of Falun Dafa) teachings is the key to my management. It's that simple."
From Opposition to Cultivator
Mai's parents came from Vietnam to visit Mai a month ago. Influenced by the Chinese Communist Party's propaganda, her parents used to oppose Mai's cultivation. Her mom sternly told Mai to stop practicing. However, they personally witnessed Mai's and their granddaughter's improvements in health and personality during their visit. 
"They saw how I faced the challenges to my business and overcame the difficulties with wisdom, thoughtfulness and strong determination. These are the qualities that they couldn't imagine in me before I began practicing and cultivaing myself," Mai said.
Mai's parents completely changed their view of Falun Dafa. Her dad encouraged her mom to practice too. Her mom gets up early every morning to do the exercises with Mai and plans to continue when she returns to Vietnam.
Many of Mai's customers and acquaintances ask what her secret is to growing younger and prettier. They often think Mai underwent plastic surgery. Mai tells them, "It's because I practice Falun Dafa and follow Truthfulness-Compassion-Forbearance. My heart has become pure and simple."
Before the coronavirus outbreak, Mai held free Falun Dafa workshops in her clinic every month, giving many people in her community a chance to learn about Dafa.
Conclusion
Mai said, "Without Master and Dafa, I could not have gotten far. If I didn't learn Dafa, I could not have changed the way I lead my company or the way I think. I would be stuck due to the pandemic, but instead our company is expanding its business."
Mai said she was grateful to be a Falun Dafa practitioner. "The principles of Truthfulness-Compassion-Forbearance remind me how to live, work, and deal with others. Thanks to these, I am able to be calmer and the entire staff have positive thinking and are not scared about the virus. I hope many business owners who are leading their companies and facing a lot of stressful challenges every day from the pandemic can benefit from the principles of Truthfulness-Compassion-Forbearance," she said.