Alpharetta, Georgia: Rally Calls for Restoring Traditional Values
Dec. 7, 2020
|
By a Minghui correspondent
(Minghui.org) During a Stop the Steal rally in Alpharetta, Georgia on December 2, attorneys Sidney Powell and Lin Wood called on Americans to step forward to counter the election fraud and defend traditional American values. 
Powell said we are defined by our love of freedom and the upright, which is the foundation of this nation. She said we should return to the values of God, family, and country. 
In the recent U.S. presidential election, however, the Chinese Communist Party (CCP) invested heavily to manipulate the voting process, said Powell. She said that hackers from mainland China, Hong Kong, Iran, and Serbia participated in the fraud.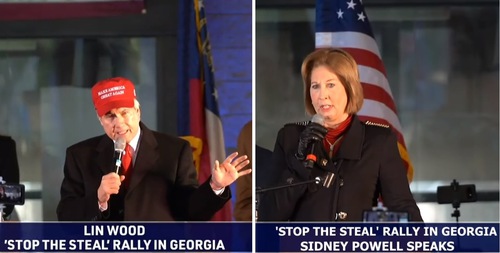 Sidney Powell and Lin Wood at a rally in Alpharetta, Georgia, on December 2, 2020
Wood: A Battle Between Good and Evil
During the rally at Wills Park, Wood said he and other event participants are sending a message to the Georgia state capitol and all the way to Beijing China that "it is 1776 in America again, and you are not going to take our freedom, we're gonna fight for our liberty... it will never happen on our watch."
He urged people to read newspapers like The Epoch Times to learn what is really going on. "They tell you the truth: It is a battle between good and evil; this is a battle between truth and lies," he remarked, "This country belongs to the people."
Recalling his early years of life and career, tears choked his words. At age 16, his mother died and his father went to jail, leaving him with nothing. He credits his success to America, because he was blessed with courage. And that is also why he is fighting hard to protect freedom.
He said the U.S. constitution starts with "We the People" and defines that all power are from the people themselves. That is, the government cannot suppress the people. 
Powell: Unprecedented Fraud 
Powell thanked everyone for their support and prayers. She said this motivated her and others to move forward every day and speak out truth. 
As an attorney and former federal prosecutor, Powell became well known for defending Trump's former National Security Advisor Michael Flynn. She said what Flynn and Trump had suffered in the past few years were unfair and unimaginable. 
She knew the swamp is very deep, but the reality is worse than what she had thought. There is a lot of work needed to drain the swamp, which is why some officials and news media exhausted ways to try to remove President Trump from office. During this process, they had resorted to all dirty, dangerous, and illegal means. It is truly vicious.
Nonetheless, Powell said we would not be influenced by communism, socialism, or any other dark forces. To achieve that, we need all patriots to step forward and voice their opinions.
Born in the 1950s, Powell said the downward trend of American society is shocking. The nation was at its peak in the 1950s and she could make friends safely with children of all skin colors. Back in her younger days, people were not judged by what their race. Rather, they were defined by their actions for freedom and upright principles, which are the principles on which the nation was built upon. She said that we should return to such values of God, family, and country. 
Powell also added that every tax payer should be able to vote for their favorite candidate and should never have their votes stolen. Unfortunately, the election fraud happened in this presidential election and the scale was unprecedented.