Florida: Introducing Falun Dafa at Tampa's Body Mind Spirit Expo
Dec. 4, 2020
|
By a Falun Dafa practitioner in Florida
(Minghui.org) Falun Dafa practitioners participated in the Body Mind Spirit Expo held at the Florida State Fairgrounds November 21 - 22, 2020. They set up a booth, passed out flyers, demonstrated the exercises, and collected signatures on a petition calling for an end to the persecution of Falun Dafa in China.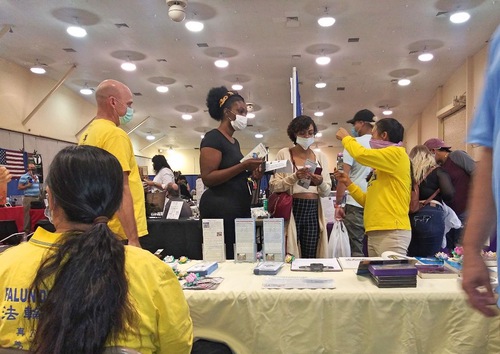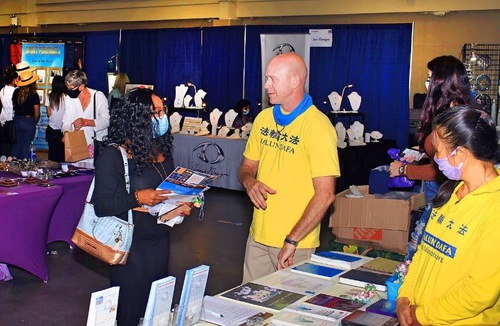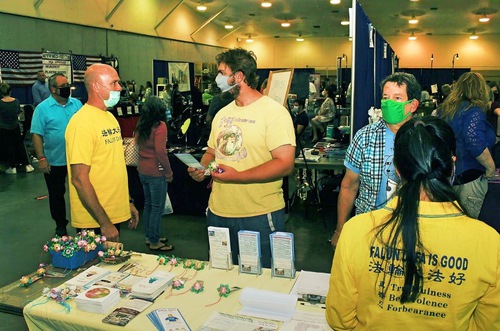 Practitioners participated in the Body Mind Spirit Expo held on November 21 and 22 in Tampa. Many people were interested in learning about Falun Dafa.
Even though the event was not as large as in the past due to the CCP virus (coronavirus), hundreds of people attended.
Practitioners spent hours beforehand making colorful origami lotus flowers; attached to each flower was a card saying "Falun Dafa—Truthfulness, Compassion, Tolerance." They walked around the venue carrying baskets of flowers, and offered one to each attendee. The practitioners then explained that a lotus flower grows out of the mud to blossom beautifully, and similarly, with Falun Dafa cultivation, we grow up out of the mud of society and its attachments and notions to blossom into our true selves.
Almost everyone accepted a flower and stopped to listen. Practitioners talked about why people practice Falun Dafa, and helped those interested find local practice sites. People who were interested in learning more were told about the practice in greater depth, and then about the persecution in China. 
One couple said that they knew about Falun Dafa and had heard about the persecution. They wanted to buy a copy of Zhuan Falun and learn to practice. Practitioners told them they could save their money and download the book for free instead. They were amazed and said that the Falun Dafa booth was "the only one that is real." They even asked if they could donate money to Falun Dafa. When practitioners thanked them but kindly refused any donations, they were deeply moved. 
Three girls from Russia stopped by the Falun Dafa booth. They said that based on their experiences in Russia, they knew how truly evil communism was. All three immediately signed the petition calling for an end to the persecution. 
Practitioners demonstrated the exercises during the Expo and gave a more in-depth explanation of the practice at the Expo seminar area. During the question-and-answer period, many people asked deep and probing questions about cultivation.
While one practitioner was taking a break outside the venue, two visitors walked by with the lotus flowers they'd received at the Expo. One was reading the words "Truthfulness, Compassion, Tolerance" written on one of the lotus flowers. She told her companion, "We came here for this."