Taiwan: Falun Dafa Practitioners in Yilan Express Their Gratitude and Respect for Master
Dec. 29, 2020
|
By Minghui correspondents in Taiwan
(Minghui.org) With the new year approaching, Falun Dafa practitioners throughout Yilan County gathered at the Yilan Cultural Center on December 26, 2020. They practiced the exercises and wished the founder, Master Li Hongzhi, a happy New Year. They sincerely thanked Master for his compassionate salvation.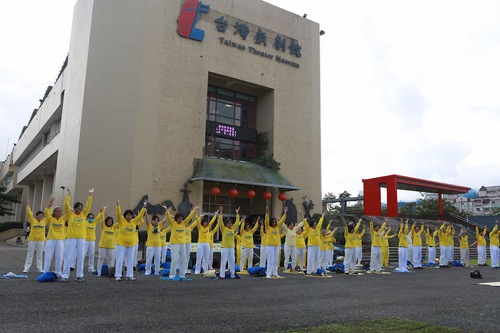 Practitioners from Yilan County practice the Falun Dafa exercises together.
Falun Dafa (also known as Falun Gong) was introduced to the public by Mr. Li Hongzhi in 1992. By following the guiding principles, Truthfulness-Compassion-Forbearance, and the five sets of exercises, practitioners uplift their morals to become better people. Falun Dafa is practiced in over 100 countries and regions, by more than 100 million people.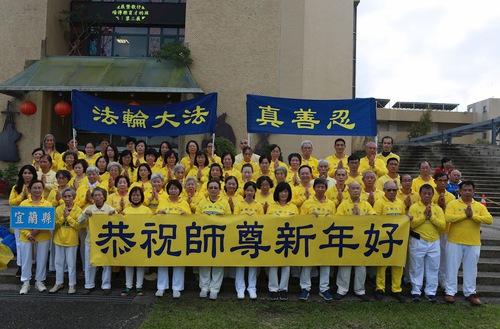 Falun Dafa practitioners in Yilan County wish revered Master a Happy New Year.
Practitioners in Yilan County are from all walks of life, including university professors, public servants, physicians, nurses, engineers, teachers, college students, housewives, etc. They all share the same feeling—that their lives have been rejuvenated by the practice. Some had to rely on medicine but are now disease-free and feel light-hearted. By following Truthfulness-Compassion-Forbearance, many practitioners have also improved their family relationships.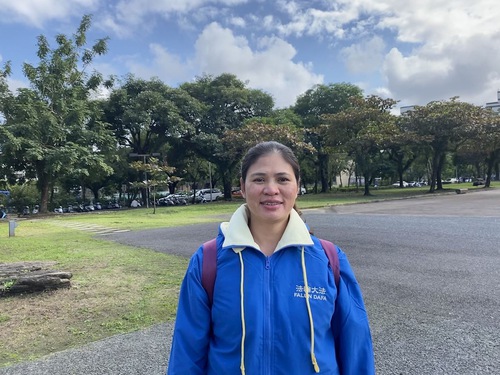 Ahe from Vietnam has practiced Falun Dafa for more than three years. She is healthy, happy, and feels that her life is now meaningful and fulfilled.
Ahe from Vietnam learned about Falun Dafa from her younger brother who works in Taiwan. She said that after she began practicing three years ago, her life developed new meaning, her health improved, and she feels happy and fulfilled. She goes online every morning to read the phonetic version of Zhuan Falun in Chinese with practitioners in Vietnam.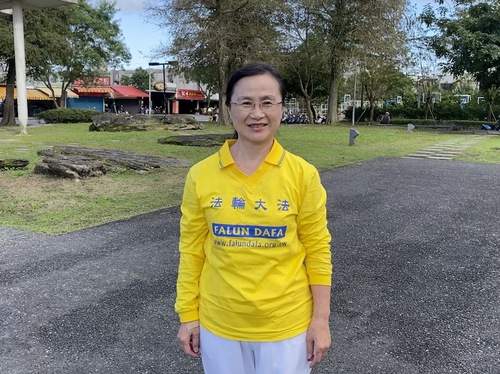 Ms. You, a civil servant, said that she feels fortunate to get such a precious gift, Falun Dafa.
Ms.You, who works in the traffic supervision department, was told about Falun Dafa by her sister-in-law in 2000. She said she was in poor health before she began practicing, but became healthy and cheerful after starting. "I learned to look within when confronted with conflicts," she said, "I think about how I can improve and do better next time." She said she felt very lucky to be able to come across such a precious, high-level practice. She hopes that the persecution of Falun Dafa will soon end and practitioners in China can regain their freedom to openly practice.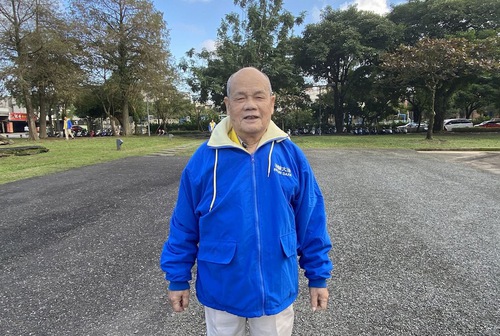 Mr. Lin, eighty-five years old, has practiced Falun Dafa for over 20 years.
Mr. Lin is a retired suit tailor. He began practicing Falun Dafa in May, 1997. Soon afterwards, the pain in his finger joints, body aches, and stiffness disappeared, and his complexion became rosy and healthy. He also gave up his addiction of smoking two packs of cigarettes every day. Black hair grew on the top of his bald head, and he no longer needed to take the Chinese medicines he had been taking for more than 40 years. Although he is already 85 years old, he sees and hears clearly, and moves vigorously.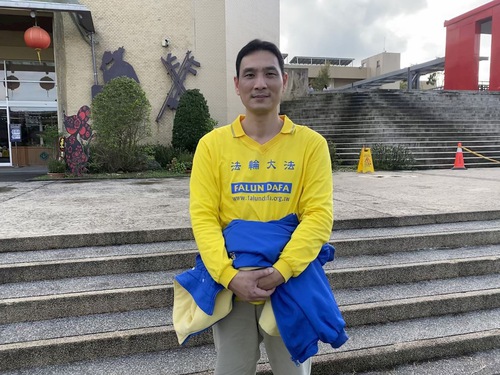 Mr. You recovered from lumbar disc herniation that tortured him for years, after he practiced Falun Dafa for two months.
Mr. You runs a silverware shop in Luodong, Taiwan. He began to practice Falun Dafa in March, 2000. One of his friends suffered from stomach problems but his condition was rectified just three months after he began practicing Falun Dafa. His friend advised Mr. You to try it. Two months after Mr. You began practicing the lumbar disc herniation that had tortured him for many years was resolved. His wife and family were extremely happy and surprised.
Mr. You follows the principles of Truthfulness-Compassion-Forbearance in his business dealings. He is honest and considerate of others and does not care about petty gains. His business even survived the economic downturn. His parents live with his family, and he also helped resolve conflicts between his mother and his wife. His family of five is now healthy and happy.
Every New Year, Falun Dafa practitioners from Yilan gather to pay their respects to Master and express their gratitude. Their voices rang in chorus: "Respectfully wishing revered Master a happy New Year" and "Falun Dafa is good, Truthfulness-Compassionate-Forbearance" conveyed the sincerity and gratitude of Yilan Falun Dafa practitioners for Master's grace.