(Minghui.org) On December 9, 2020, the day before the 72nd anniversary of the declaration of International Human Rights Day, the Canadian Falun Dafa Association and Raoul Wallenberg Centre for Human Rights held an online webinar about human rights abuses in China. Alex Neve, former Secretary General of Amnesty International in Canada, delivered a speech and condemned the Chinese Communist Party's persecution of Falun Gong, which has been going on for 21 years and counting.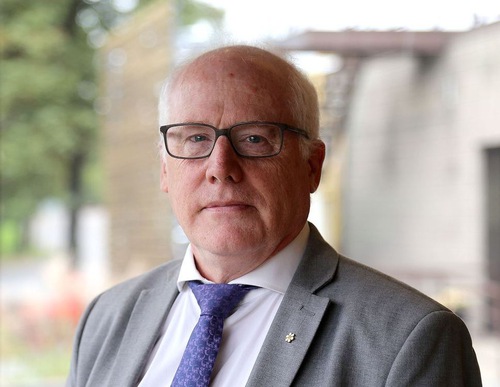 Alex Neve, former Secretary General of Amnesty International in Canada
Alex Neve, who had just left office after spending 20 years at Amnesty International in Canada to advocate for human rights, said that since the Chinese Communist Party ordered the persecution of Falun Gong in 1999, 22 Human Rights Days have come and gone, yet the persecution still continues in China.
He said that throughout that entire time, year in and year out, the unrelenting, cruel and systematic human rights violations by the Chinese government against Falun Gong practitioners and their family members have only deepened and continued unabated.
"Over those years, I have frequently joined Falun Gong practitioners here in Canada, who have gathered on Parliament Hill and in front of the Chinese Embassy in Ottawa to draw attention to this cruel and unending human rights crackdown. I have stood with so many family members here in Canada who have been gravely worried about the fate of their loved ones imprisoned in China. I've always been bolstered by the conviction and clarity of practitioners and their loved ones by their resilience, by their determination to press on, and certainly by their strength and absolute courage in refusing to be silent," he said.
He remarked that people have their right to life and that all of these human rights abuses must end. "That certainly means that the Canadian government has to increase its efforts to work both bilaterally and multilaterally to significantly intensify the pressure on the Chinese government to relent," he said.
"That also means that human rights must come first in our relationship with China, central to all of our engagement across the entirety of government and all business dealings. That means that human rights cannot take a back seat, for instance, to trade and investment."
He added that the persecution has continued for far too long. "We absolutely need to see intensified efforts within the international community, working with a broad array of governments, as broad an array as possible, to make it clear that China's atrocious human rights record needs to be addressed."
He said the Chinese communist regime has become notorious for its suppression of the people, including two decades of persecution against Falun Gong, the deteriorating situation in Hong Kong, the concentration camps holding Uyghurs, the abuses against Tibetans and Mongolians, as well as the constant repression of human rights lawyers, advocates and activists. He also mentioned Falun Gong practitioner and Chinese Canadian Sun Qian, who is now serving an eight-year term in China, and said he is worried the torture and abuses that Sun certainly faces in the Chinese prison.
Neve also said that over the last three years, the Chinese Communist Party has extended its suppression and abuses onto the Canadian soil and that it has been felt by all human rights communities and groups in Canada, including Falun Gong practitioners, Hongkongers, Uyghurs, Tibetans, and pro-democracy activists and human rights advocates.
"Falun Gong practitioners across Canada have been subject to that full range of interference and attacks," he said.
"The threats extend to individuals in Canada, as well as their family members who still live in China. It takes place on social media through surveillance, monitoring and hacking of phones, computers and websites; in print and broadcast media on university and college campuses at public rallies and cultural events."
Those individuals responsible for the threats often remain anonymous or invisible. But it's clear that they are "directed, supported or encouraged by Chinese officials," he said. The threats are bullying, racist, and bigoted; some direct threats of violence included sexual violence and even death.
In response to such harassment, threats and interference, Amnesty International issued a report in May 2020 detailing the violent offenses against human rights defenders in Canada. The report also documented China's worsening human rights record.
Neve said there are geopolitical challenges of pressing the Chinese government to refrain from grave human rights violations, but that those challenges can never be an excuse for inaction or a half-hearted and scattered approach to addressing human rights violations in Canada with direct or indirect connections to the Chinese government. "It is time for action," he said.
He said the opposition party in Canada has introduced a motion requesting the government to respond to the immediate challenges. "What we certainly want to see is that the government puts in place a response in consultation with the groups and individuals who are experiencing the abuses and intimidation. That will include a combination of law reform… [or] some institutional and policy changes."
"It is time for the world to find its voice with respect to china's abysmal human rights record," Neve said.