(Minghui.org) Matthew DePerno, an attorney from Michigan, revealed to Newsmax's evening news host Greg Kelly on December 11 that he had led a technical team to investigate 16 Dominion voting machines last Sunday. They found that the voting data could be altered through its software, Dominion Voting System.
Based on a request from Michigan resident William Bailey, 13th Circuit Court Judge Kevin Elsenheimer granted him a preliminary injunction on December 4 and allowed him to take forensic images of Antrim County's 22 precinct tabulators and review other election-related materials.
During the presidential election in Antrim County, preliminary results showed that Biden had won the county. After investigation, it was identified that 6,000 votes for Trump were erroneously tabulated for Biden. As a result, Trump was found to have won the county.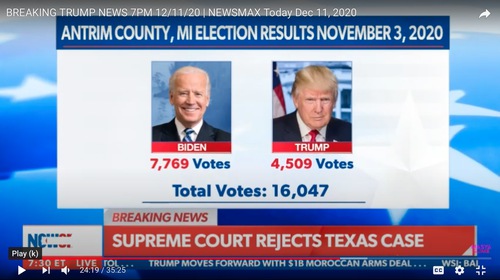 About 6,000 votes for Trump were flipped to Biden.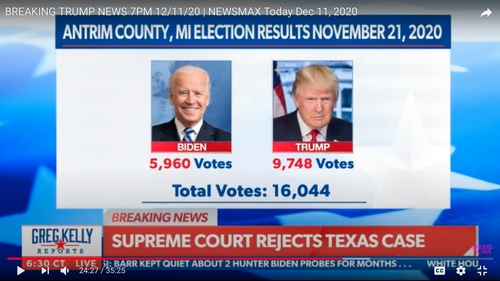 Numbers after the "glitch" was corrected.
"Big win for honest elections," wrote Rudy Giuliani from Trump's campaign legal team on Twitter, "Antrim County judge in Michigan orders forensic examination of 22 Dominion voting machines. This is where the untrustworthy Dominion machine flipped 6,000 votes from Trump to Biden."
Independently of this incident, many witnesses had testified previously that they had experienced vote switching from Trump to Biden.
With a court order, Bailey, his lawyer DePerno, and IT experts were allowed in the county building on December 6, and they spent nearly 8 hours collecting evidence of election fraud.
Michigan Secretary of State Jocelyn Benson said earlier the vote switching was a human error. DePerno remarked, "We discovered that's not true, that's a lie. It didn't happen by human error. It happened by a computer program called Dominion Voting System... And through our lawsuit we were able to get access to the Dominion Voting System program and my team went on last Sunday and we took forensic images on that computer system, 16 CF data cards, 16 thumb drives, and we got the forensic image of the actual tabulation machine in the Antrim County clerk office."
As a result, DePerno sued the State of Michigan on December 7, arguing that fraud from the Dominion machines had impacted the election result. His team has analyzed the data since then.
Jenna Ellis from Trump's campaign legal team said on December 7 that an independent team had participated in forensic audit of the voting machines and equipment in Antrim County. She said the information would help investigators learn more about the voting machines.
"This is incredibly important to the election integrity effort as a whole because this isn't just the Trump campaign that's interested in having answers to these machines," she continued, "Were they connected to Wi-Fi? Why did these so-called glitches happen? What really is the system that is behind all of this?"
County spokesman Jeremy Scott said in a press release that Antrim County Clerk Sheryl Guy, county administrator Pete Garwood, county attorney Haider Kazim, three county commissioners, a county IT technician and a member of the Sheriff's department also took part in the forensic audit.
Sidney Powell, attorney and former federal prosecutor, filed lawsuits in Michigan and Georgia on November 25. The lawsuits claimed "massive election fraud" and included sworn affidavits from cybersecurity expert Navid Keshavarz-Nia.
Keshavarz-Nia said tools are available to attack voting machines "including Dominion Voting System (DVS) Democracy Suite and Systems and Software (ES&S) voting machines without leaving an electronic fingerprint. As such, these tools are used by nefarious operators to influence voting systems by covertly accessing DVS and altering the results in real-time and without leaving an electronic fingerprint. The DVS Democracy Suite Election Management System (EMS) consists of a set of applications that perform pre-voting and post-voting activities."
Furthermore, he identified major exploitable vulnerabilities in these systems. "The backdoor enables an operator to access to perform system updates and testing via the Internet without detection," he explained. "However, it can also be used to conduct illicit activities such as shifting votes, deleting votes, or adding votes in real-time (Source: DVS Democracy Suite EMS Manual, version 5.11-CO::7, P.43). These events can take place through the Internet and without leaving a trace."
A copy of Dominion "Democracy Suite EMS Results Tally & Reporting User Guide (Version: 5.11-CO::7)" is available from the website below:https://www.sos.state.co.us/pubs/elections/VotingSystems/DVS-DemocracySuite511/documentation/UG-RTR-UserGuide-5-11-CO.pdfInstructions on the entry and deletion of results can be found in Chapter 8.