The Current Trend in U.S. News Reporting Raises Serious Concerns
Nov. 23, 2020 | By Ying Zi
(Minghui.org) The Fourth Estate's Journalism Code of Practice is among the most respected guidelines for the U.S. news media. It sets ethical standards of journalism, including accuracy, independence, impartiality, integrity, harm minimization, engagement, and accountability.
However, over the past several years, many mainstream news media outlets in the United States have deviated from the standards. Biased, and, sometimes distorted information, has made its way through various platforms – often in a concerted way – to mislead the public and undermine more conservative values. 
"This Matters to Election Integrity and It Matters to the Future of Our Nation"
In a press conference on November 19, the Trump campaign's legal team presented an overview of information concerning voter fraud during the recent general election. 
"What I'm describing to you is a massive fraud," said former New York City mayor Rudy Giuliani. He cited sworn affidavits from U.S. citizens in Pennsylvania and Michigan. For instance, one affidavit said that thousands of people in Pittsburgh showed up to the polls to find that votes had already been cast in their names because poll workers were told to assign mail-in ballots without names to random people.
"This is basically an opening statement so the American people can understand what the networks have been hiding and what they refuse to cover, because all of our fake news headlines are dancing around the merits of this case and are trying to delegitimize what we are doing here," said Trump campaign senior legal adviser Jenna Ellis. "Let me be very clear that our objective is to make sure to preserve and protect election integrity."
"If your fake news network is not covering this or allowing you to cover it fairly and accurately, you should ask yourself why," she continued. "The facts matter, the truth matters and if you are fair reporters, you will cover that fairly and appropriately and you will allow coverage... of our legal team."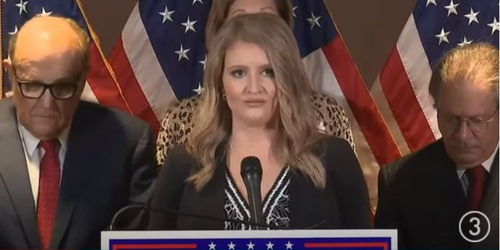 Trump campaign senior legal adviser Jenna Ellis at a press conference on November 19, 2020
Ellis also encouraged journalists to faithfully report the event and evidence. "If you are not willing to talk about the evidence that has been presented, then that is absolutely unacceptable for journalistic standards," she said. "The American people deserve to know what we have uncovered."
"You, the press, should cover this fairly and should know that this matters to election integrity and it matters to the future of our nation," Ellis added. 
Online Censorship
Devin Nunes, U.S. Representative from California, agreed that much of the mainstream news media have misled the public. He said that these media outlets called the general election for the democratic candidate when there are still a large number of legal challenges posed by the Trump campaign yet to be resolved. 
Nunes also criticized high tech companies and social media platforms, such as Facebook and Twitter, for censorship. As a result, people are unable to obtain factual, uncensored information. 
In fact, Twitter has censored him for four years, he added. 
Nunes is a Ranking Member of the House Intelligence Committee and author of Countdown to Socialism. "It's a mystery what underlies the Democrats' belief that socialism will bring about racial harmony – what socialism excels at creating is economic misery like in Venezuela, fascist-style totalitarianism like China, and murderous purges like in the Soviet Union," he wrote in the book.
Nunes is not alone. In an announcement from Twitter on November 12, the company had labeled about 300,000 tweets as "misleading" in the past two weeks. Some tweets from President Trump on the election fraudulence were also labeled this way. Between November 3 and 6, over one third of the tweets from Trump were flagged for "misinformation." 
Freedom of the Press Under Attack
Tseng Hui-yen has been working as a news correspondent for 38 years in Hong Kong, Taipei, and New York. From her observations, many news media in the U.S. have been controlled by leftists, academic elites, and other liberal groups. Instead of serving the public as objective sources of information, they have become propaganda tools to manipulate public opinion. 
Tseng is worried about the future of American society. As a beacon of freedom, including freedom of the press, the United States is under attack and freedom of the public is at risk, she added. 
For example, CNN claimed that Federal Election Commission Chairperson Ellen Weintraub announced that the democratic candidate had won and denied the existence of election fraud. The fact is that Ellen Weintraub was a former chair, while current chair Trey Trainor had already acknowledged election fraud. 
Another example is a report from the Washington Post on the United States Postal Service whistleblower Richard Hopkins from the swing state of Pennsylvania, claiming he had voluntarily withdrawn his sworn affidavit. ABC, AP, and The Guardian also reported this. The reality is that, USPS agents had talked with him for four hours in efforts to force him to withdraw the affidavit.
Furthermore, when Trump talked about election fraud in a press conference on November 5, all three news network – ABC, NBC, and CBS – cut off the live coverage. "If what he said is not true, you can interview other people to disprove it. You cannot just silence him," Tseng said. "When the U.S. President does not have freedom of speech, the freedom of our ordinary citizens is not protected, either."
Nonetheless, Tseng has trust in the public. "When a news media fails to follow the Code of Practice laid out by the Fourth Estate, it will lose its reason for existence," she explained. "It will be abandoned in the end." She urged journalists to be responsible for what they report.