Americans Demand Election Integrity and Reject Communist Ideology in Unprecedented Rallies
Nov. 19, 2020 | By Minghui correspondent Yingzi
(Minghui.org) Supporters of President Trump held rallies in Washington DC and the state capitals of almost all 50 states at noon on Saturday, November 14, 2020, local time. The rally attendees demanded a fair and open election, and more importantly, many expressed their concern about the U.S. becoming a communist country and called on society to uphold America's founding principles and traditional values.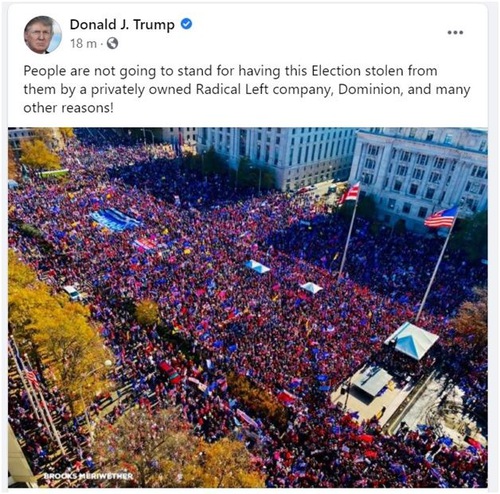 Screenshot of President Trump's Twitter message on the massive rally in Washington DC
In Washington DC, hundreds and thousands of Trump supporters gathered at Freedom Plaza and marched to the Supreme Court, the crowd stretching several blocks. Many arrived early; some drove for several hours or overnight to attend the event. President Trump drove past the event site and waved to supporters.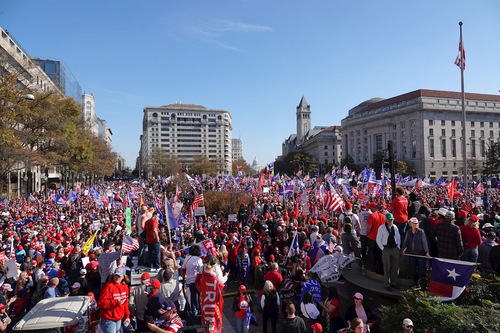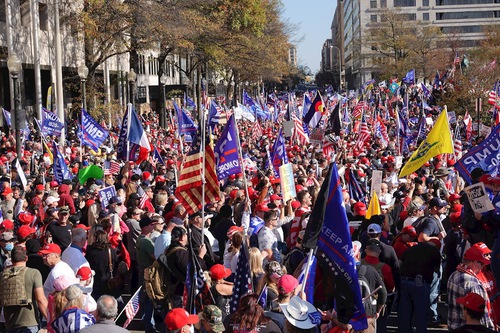 "Stop the Steal" and "Millions of People Support Trump" rally in Washington DC
Representative Louie Gohmert from Texas, Representative-elect Marjorie Taylor Greene from Georgia, and prominent public figures gave speeches at Freedom Plaza. They condemned voter fraud and demanded that every legal vote be counted. They called on fellow Americans to reject Communist and Marxist ideology and protect traditional values, freedom, and democracy. 
Refuse to Be the Generation to Lose Freedom
Marjorie Taylor Greene, U.S. Representative-Elect from Georgia, said in her speech that one of the major parties in the U.S. has changed to a party of socialism, as is demonstrated in the unprecedented amount of voter irregularity in the election. She reminded people, "What kind of generation of American are we? There are generations who fought to save our freedom, fought to give us our freedom, fought to preserve our freedom. If we are complacent, in our time, we will be the generation to lose our freedom. I refuse to be a part of that." 
"Let Us All Carry the Torch of Freedom"
Debbie Kraulidis, Vice President of "Moms for America," spoke at the rally about how her organization encouraged moms across the country to register and vote for their values. "We told moms that if you loved God, if you cherished freedom, you respected life, and you treasured family, you must vote because our country is at stake," she said.
"America is at a crossroads and the greatest threat to our republic is playing out," she warned. "The election has been hindered by illegal votes. The crime must be exposed, must be corrected, and must be stopped."
Kraulidis also said, "As mothers, we have to pass the torch of freedom, and if the torch is extinguished, there is no hope. The flame must burn bright and illuminate the way for our families. The light must shine in the darkness, and as mothers, we will fight for the torch of freedom. Because without it, our children and our grandchildren will not be able to radiate and live in America."
Women for Trump Executive Director Kylie Kremer, one of the organizers taking part in the event, also expressed concerns about election integrity and demanded transparency. She said, "If we allow fraud in this year's election, this will happen in every election." 
"Don't Want to Be Destroyed by Communists"
Megan Barth, the founder of ReaganBabe.com, said in her speech, "I am not going to watch my country destroyed from within by Communists, Marxists, Socialists." She said that communist ideology has found a home in the Democratic Party. "We do not want to fundamentally transform this country. We will defend this country with our lives, this president with our lives."
Conservative Activist Courtney Holland was one of the organizers of the event from Nevada. She said that we can no longer be the silent majority, and that we need to be the loud majority. "What we are witnessing today is a modern-day coup to take over this country," she said. She called on the American people to fight for the president. 
Michael Coudrey, a conservative activist, praised the president. "Trump is an absolute warrior, he is a fighter. He fights everything they throw at him. He fought off the Russian hoax; he fought off all the media slander." 
Coudrey expressed his support for the president, "We will fight for our president. He is the legitimate president. We will not allow this election to be stolen. We will be out, we will fight, we will make our voice heard."
Alex Bruesewitz, a conservative political strategist and CEO at X Strategies, criticized the mainstream media. "I have a message for the enemy of the people – the fake news media. You do not decide who the president of the United State is. We the people do." He called the recent election the greatest scam in the history of the nation.