Trump Lawyer: "Our Country Is at War with Communist China, a War of Good v. Evil"
Nov. 15, 2020 | By Minghui correspondent Ying Zi
(Minghui.org) Lucian Lincoln "Lin" Wood, a U.S. lawyer, recently joined President Trump's legal team in response to the large scale voter fraud in the presidential election. 
During a press conference by the Republican National Committee in Georgia on November 6, 2020, Mr. Wood emphasized that the U.S. is having a Constitutional crisis and "if we don't get it right," people would lose their Constitutional rights.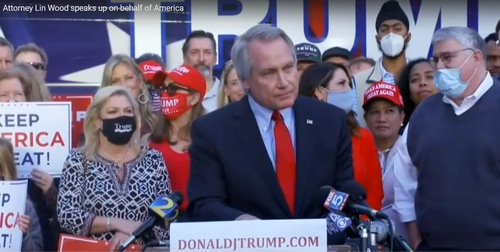 Attorney L. Lin Wood at the RNA press conference on November 6, 2020
During the press conference, Mr. Wood said that President Trump was having a historic landslide victory on election night, when all of a sudden, his lead disappeared and most major networks, including Fox News, began to report that Joe Biden won the election.
"There is a cloud over this country. And if we don't get it right and we don't figure out what happened that night, that cloud is going to get darker and darker, until it turns into a storm cloud and we are going to lose our freedom. So it is time to fight back," he said.
"This is a Constitutional crisis. If we don't fix it and find out what happened and get it right, we are going to lose our Constitutional rights."
Attorney Wood said that during his 43 years of practicing law, he never dreamed that people would be censored in the United States. He said if they take away people's right of speech, then they would limit people's right to go to church, followed by their First Amendment Right, their Second Amendment Right and then due process. After that, people might be put in jail for being "a dissenting voice to the ruling elite" without a jury trial. "This is about truth vs. lies," he said.
Mr. Wood also tweeted that the U.S. is "at war with Communist China" and it's a "war of good v. evil." He said on Twitter that the Chinese Communist Party "has been creeping into our country over decades. Schools, movies, television, Internet, government officials & politicians. Communists brag they will take our country over without firing a shot. Only We The People can stop it." 
In one Tweet, he said that the Chinese Communist Party (CCP) spent two decades infiltrating media, as well as local, state and national government officials through ideology, money and extortion. Then the CCP unleashed the Covid-19 pandemic to attack the U.S., before getting involved in the mail ballot fraud. Additionally, the CCP also has connections with the Dominion company, whose vote counting system was reported to have switched 2.7 million Trump votes to Biden. 
Attorney Wood called on the American people to "think for ourselves," "fight for our freedom" and "don't be manipulated."