(Minghui.org) Last week, Falun Gong practitioners in Sofia, Plovdiv and Varna—Bulgaria's three largest cities—organized events marking the 20th anniversary of the persecution of Falun Gong (also called Falun Dafa) by the Chinese Communist Party (CCP). On July 19, they held a peaceful protest in front of the Chinese Embassy in Sofia.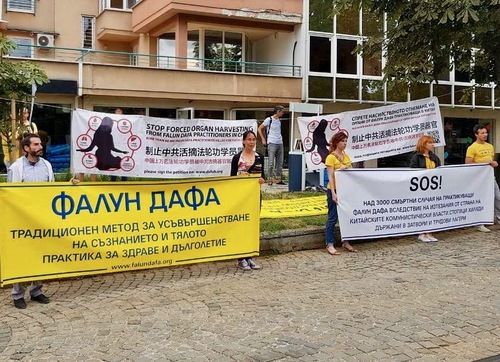 "Falun Dafa teaches us to be truthful, and when a person knows the truth, he should be ready to speak up and defend it!" That is how Kalina from Peshtera explained why she was taking part in this protest. She also added that, in their efforts to defend the truth, Falun Dafa practitioners in China have endured all kind of challenges and suffering as a result of the persecution. They have done this without deviating from the righteous path and without compromising their moral values.
"I believe that a person can oppose evil by being kind and maintaining his or her sense of right and wrong," Kalina said. "Our appeals for the persecution to end have continued for 20 years already, and they have always been peaceful and compassionate. This is how we show the Chinese government and the whole world that Falun Dafa is good. This is the way we prove that genuinely good things are not subject to politics and personal biases, lies, time and distances, and that they cannot be destroyed in spite of the brutal crimes of repression, funded by the Chinese government. I am here to honor the memory of the millions of lives lost and ruined."
The peaceful presence of many people dressed in yellow shirts emblazoned with "Truthfulness, Compassion, Forbearance" in Sofia's city center caught the attention of passersby. Learning about the persecution and the reason for the protest, they expressed their support and readily signed the petition to bring Jiang Zemin, former Chinese leader, to justice for his crimes against Falun Gong. The informative banners were seen by drivers, onlookers and public transport passengers.
At Sofia's South Park the following day, young people who knew nothing about the real nature of communism were shocked to learn about the extent to which people's religious freedom could be violated, as well as about the atrocities committed by the Party to break their spirit. A senior couple agreed that Truthfulness, Compassion, and Forbearance were universal principles and that any communist regime was evil.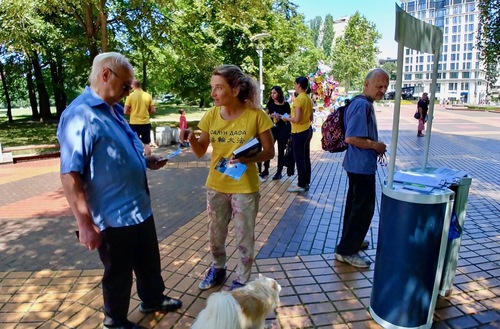 On July 20, hundreds of visitors, guests, and residents of the European Cultural Capital Plovdiv learned that the CCP has been persecuting the followers of the spiritual discipline Falun Dafa for 20 long years and even subjecting them to forced organ harvesting. A man from France already knew about Falun Gong thanks to the performing arts show Shen Yun and shared his admiration of the practitioners' event.
Young people from Spain learned about the persecution, and some of them signed the petition calling for its end. A Syrian family had a long conversation with the practitioners. They compared Bulgaria, where Christians and Muslims live in peace, and China, where almost all religions are persecuted. "We know what communism is capable of," was the reaction of many. A Bulgarian man who used to live in Taiwan shared his view of the Party's culture in China, where people have no rights and human life has no value.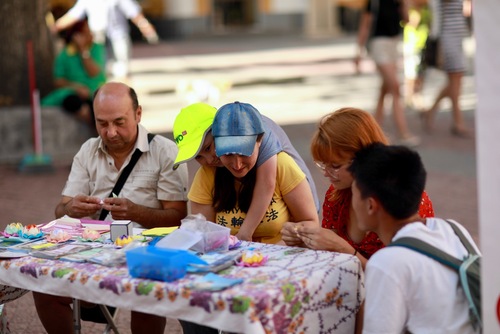 Numerous tourists from China stopped to read the practitioners' banners. Some refused to take informative flyers, but others accepted them. A young Bulgarian man of Chinese descent and his girlfriend spent some time with the practitioners discussing Chinese culture and making origami lotus flowers. He took informative materials in Chinese for his parents and grandparents. He said that he was fond of China and would love an opportunity to move there one day.
Parents learned about the persecution of Falun Gong in China and signed the petition while their kids were making origami lotus flowers.
A couple of young men were stunned to learn about the persecution taking place in China today. Their friends also offered their support after learning the facts.
People of all ages came to sign the petition when they saw the banners. A young boy had a long and profound argument with his mother, who at first wouldn't let him sign the petition. In the end the boy managed to convince her and added his signature. Dozens of people expressed their interest in the practice and inquired how to learn more about it and where to buy Zhuan Falun, the main book of Falun Dafa.
There are two translations of Zhuan Falun in Bulgarian. The latest, updated version was published in 2017 and is available from the Ciela Publishing House bookstores in Bulgaria as well as on the Tianti Bookstore's website.
In the city of Varna, many citizens and tourists read the banners about the persecution and came over to ask what they could do to help. One young woman was very interested in the spiritual benefits of Falun Dafa. When she learned the facts about the ongoing persecution, she could not stop repeating, "It's impossible for things like this to happen NOW!"