(Minghui.org) As part of recent events to celebrate the 27th World Falun Dafa Day, five thousand Falun Dafa practitioners from around the world gathered on Governors Island in New York on May 18 to form a giant Falun (Law Wheel) symbol and the Chinese characters for Truthfulness, Compassion, and Forbearance.
Several of the practitioners took a moment to talk about their cultivation experiences and to share their joy in the practice.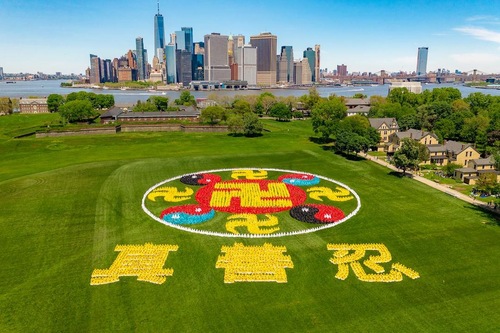 On May 18, 2019, 5,000 Falun Dafa practitioners gathered on New York's Governors Island to form a large Falun symbol and the characters for Truthfulness, Compassion, and Forbearance.
IT Company Owner: "Falun Dafa is very important."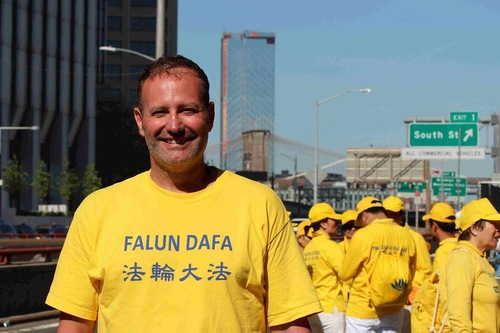 Rudy Michelon from San Diego owns an IT company. He said, "I have benefited so much from Falun Dafa. I want to tell others so that they can benefit too."
Rudy Michelon, 52, from San Diego owns an IT services company. He participated in the event to let people know what Falun Dafa is as he feels that the practice can help people in today's tense lifestyle.
Before he began practicing, Rudy had Crohn's disease and had trouble digesting food. His doctor planned to remove his necrotic intestine. Two years ago, a friend recommended he try practicing Falun Dafa.
"My symptoms disappeared. The doctor said that he didn't understand what happened, but I recovered," Rudy said. He realized the importance of Dafa for everyone.
He wants to spread the beauty of Falun Dafa and let more people know about this ancient spiritual practice. "I have benefited so much from Falun Dafa. I want to help others so that they can also benefit," he said.
"Before I began practicing, people thought that I was very successful. I have an expensive house and fancy cars, and take exotic vacations. They thought that I was living the American dream and I had everything. Everyone said that I should be happy, but I didn't feel happy.
"After I started practicing Falun Dafa, I woke up and realized that material possessions can't bring me happiness. When you find a higher purpose, when your body, mind, and soul are united, that's when you get what you really want."
British Actress and Model: "Chinese people are the victims."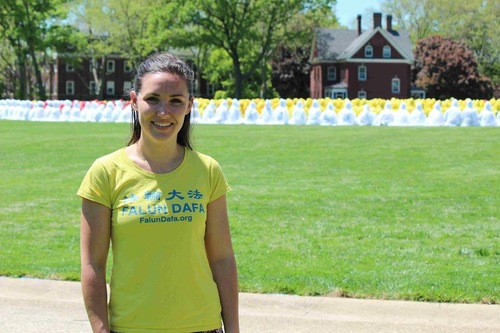 Victoria Ledwidge says that the people who persecute practitioners are also victims.
Victoria Ledwidge, 32, is an actress and professional model living near London. She has practiced Falun Dafa for 14 years. She said she participated in the character formation activity because, "Dafa is brutally persecuted by the Chinese regime. Participating in such activities can show the world that Falun Dafa is so beautiful. I want to let people know that the Communist Party has no reason to persecute practitioners, and we hope that the persecution ends very soon.
"Our faith is Truthfulness-Compassion-Forbearance. This is so pure and peaceful. I and other Falun Dafa practitioners love China, love traditional Chinese culture, and support Chinese traditional culture. We cherish all of this. We just want to tell the world that Falun Dafa is so beautiful."
Victoria is deeply concerned about Chinese people. She said, "I care about the Chinese and China. My faith is closely connected to China. There is no difference between me and the people who have the same faith in China. My faith is being persecuted in China. Of course I have to stand up and help stop the persecution. The Chinese people I most care about are the ones who are carrying out the persecution, because they have been deceived by so many lies. I hope that they have the opportunity to learn the truth."
"My heart is calm and happy."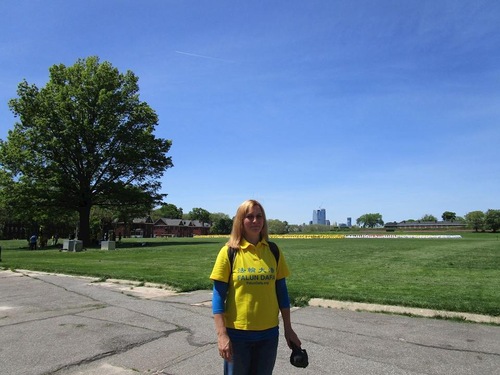 Debbie Muford from London said she stopped feeling depressed and angry after she found Falun Dafa.
Debbie Muford, also from London, said she was very happy to participate in the May 18 event and felt full of energy.
Debbie said that she flew thousands of miles to New York to participate in these special activities, including the character formations, for two reasons: to meet with practitioners from all over the world and listen to their experiences; and, through such a grand event, to give more people opportunities to know about Falun Dafa.
Debbie began practicing Falun Dafa after she picked up a flyer about the practice at a local community event. She said that before she found Dafa, her life was difficult, boring, and stagnant.
"After I began practicing, I became a better person. Before, when others hurt me, I would be depressed and angry. Now, I try to stay calm and check to see if I am following the principles of Truthfulness-Compassion-Forbearance. My heart is calm, rich, and happy. I feel that I am continuing to grow in cultivation and that my heart's capacity is constantly growing, and my heart is more open."
Nurse: "Falun Dafa taught me forgiveness."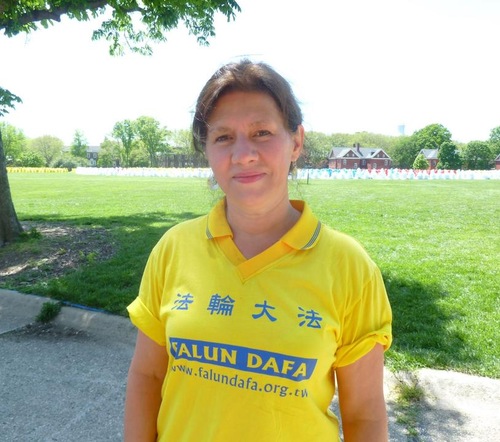 Karin from Belgium said that Falun Dafa taught her tolerance and forgiveness. Her husband, daughter, and son began practicing Falun Dafa in 2006.
Karin said, "The joy that Dafa brings me has profoundly changed me. When I was a child, domestic violence caused me deep pain. I was unable to forgive my father for many years. I couldn't even talk to him. I could not endure the pain, and I didn't understand why it happened to me. What was the meaning of life? This went on until I started practicing Dafa.
"Truthfulness-Compassion-Forbearance expanded my capacity. I learned to be tolerant and to forgive, and I understood our karmic relationship. I was able to put down the hatred mentality. Since then, our family relationships have improved. I'm so grateful that I found Falun Dafa.
"Before I began practicing, my emotions were easily provoked. I became angry over small things. Practicing Falun Dafa changed me. I can now control my temper when conflicts arise. I'm a nurse. I used to get very angry if others did not do well on their shift; now I help my colleagues and our relationships have improved."
Carpenter: "Dafa has helped me to become healthy and patient."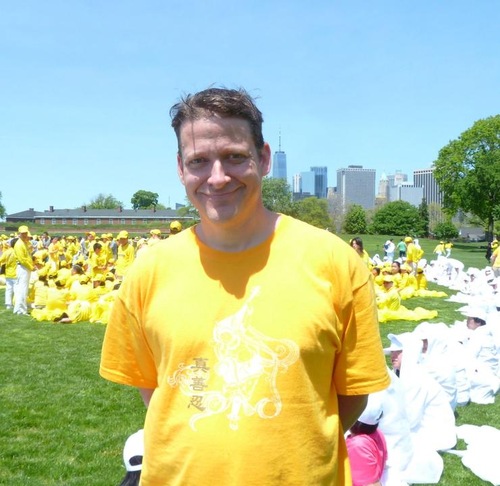 Tom from Arkansas said that after he began practicing Falun Dafa 18 years ago, he became healthy and patient.
Tom, a carpenter, said, "I'd been seeking answers since I was a child. Who am I? Where am I from? There are countless unsolvable problems in the young mind. Fortunately, 18 years ago I heard about Falun Dafa, and after I read Zhuan Falun (the main book of Falun Dafa), all of my questions were answered.
"I was always sick before I practiced. The power of Dafa is amazing. After I practiced the exercises and studied the teachings, I became healthy. I didn't have to take medicine or see a doctor. My temperament has improved a lot. I've become happy, peaceful, and calm. I know this practice is unique and powerful.
"I still remember that one day at work I was doing a very complicated job. My supervisor and the company's boss came to inspect our work. They were both amazed at my work and thought that I was doing incredibly well. l believe that Falun Dafa gave me the wisdom."
Teacher: "The universal principles have never changed."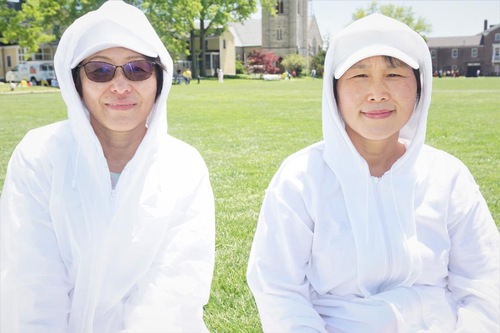 Ms. Zhang (right) and Ms. Chen from Taiwan
Ms. Zhang from Taiwan started practicing Falun Dafa in 2002. As a teacher, she was confused by the changing social norms and the downslide of society.
"The rules and standards keep changing. People want society's standards to change. But as a teacher, I believe that we have to have a fixed standard, against which we measure students' behavior. Only if we have fixed rules can students know what's right and wrong. I was confused until I read Zhuan Falun."
Ms. Zhang said, "After I read Zhuan Falun, all the complex situations became simple. I learned that the universal principles, Truthfulness, Compassion, and Forbearance, have never changed. Instead, society's moral standards have been changing and declining."
She added, "I used to do Tai chi. When I first started to practice Falun Dafa, I immediately knew it was special. I could feel the strong energy."
Businessman: "I've become tolerant and compassionate."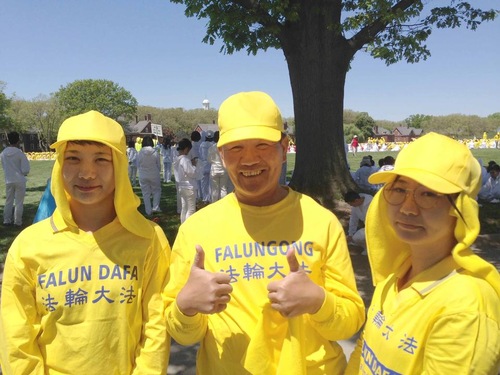 Mr. Lin and his daughters traveled from Taiwan to participate in the activities in New York.
Mr. Lin's entire family practices Falun Dafa. He used to smoke and drink, but just a few days after he began practicing, he was able to quit both addictions. His diabetes also disappeared after he began practicing.
Lin said that he's become tolerant and compassionate, "Now when I run into conflicts or difficulties, I first examine myself. When others criticize me, I no longer fight back, but look at myself to see if I caused the problem.
"I've become calm and peaceful. I'm a businessman so I was always nervous and worried that my items would not sell. But now I understand that as long as I do well what I need to do, everything will happen naturally. I don't need to pursue anything."
Additional article in ChineseAdditional article in ChineseAdditional article in ChineseAdditional article in Chinese