Switzerland, Ireland, and New Zealand: Commemorating the April 25 Peaceful Appeal and Raising Awareness of the Persecution in China
April 28, 2019
|
By Falun Gong practitioners in Switzerland, Ireland, and New Zealand
(Minghui.org) April 25, 1999, is an important date for China and Falun Gong practitioners. Approximately 10,000 Falun Gong practitioners went to Beijing on that day to appeal to the regime's leadership after practitioners in Tianjin were illegally arrested for their belief.
The Tianjin practitioners were released following the peaceful appeal, but three months later, on July 20, 1999, Jiang Zemin, who was head of the Chinese Communist Party (CCP) at that time, launched a nationwide campaign of persecution against Falun Gong practitioners that continues to this day.
To commemorate the April 25 appeal, Falun Gong practitioners all over the world hold events to raise awareness of the CCP's persecution, including the state-sanctioned organ harvesting from living practitioners.
Switzerland: Raising Awareness in Downtown Geneva
Falun Gong practitioners set up an information booth on both ends of the busy commercial pedestrian street in downtown Geneva on April 24, 2019. They told people about Falun Gong and the fact that it is being persecuted in China.
Signing a petition to protest the persecution of Falun Gong
A gentleman who has worked at the United Nations for 25 years commented on the fact that the persecution in China has continued for such a long time and said it was regrettable that other countries and international human rights organizations did not take substantive action to stop it.
He said that hearing and seeing Falun Gong practitioners in public raising awareness for so many years moved him. He encouraged them to continue their efforts until the persecution ends.
A uniformed gentleman who stopped by said that he was at work, but he still listened to the practitioners' information. He said, "Now the Western countries only want to do business with China and forget the human rights issues. China should stop this persecution."
Ireland: Group Practice Outside the Chinese Embassy
Falun Gong practitioners did the exercises together outside the Chinese embassy in Dublin on April 24, 2019, to commemorate April 25 appeal.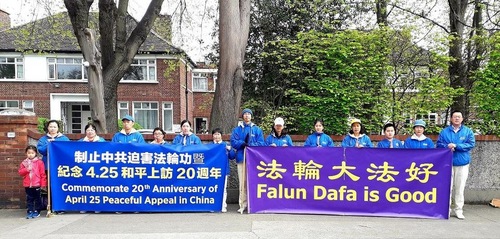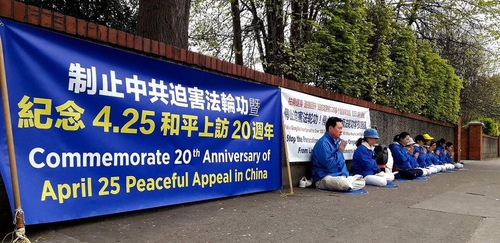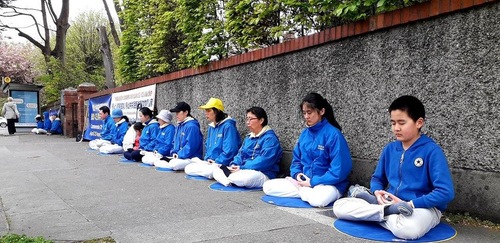 Outside the Chinese Embassy in Ireland to commemorate the April 25 appeal
Practitioner Ms. Dai said, "For 20 years, Falun Gong practitioners have lived by the principles Truthfulness-Compassion-Forbearance and worked to raise awareness of the Party's brutal persecution. We hope kindhearted people throughout the world work together to stop the persecution."
Seeing the Falun Gong practitioners doing the exercises in unison, drivers in passing vehicles honked their horns to pay tribute and show their support. An Irishman who applied for a visa for his daughter said, "I know that the CCP is persecuting Falun Gong and other groups. That is too bad."
New Zealand: Raising Awareness of the CCP's Persecution
Falun Gong practitioners held a rally next to the World War I Memorial Bridge in Christchurch on April 20, 2019, to commemorate the April 25 appeal. They demonstrated the Falun Gong exercises and disseminated truth-clarification information to both locals and tourists. They told people about the CCP's persecution and state-sanctioned organ harvesting from living practitioners.
At the rally, they gave details about the persecution of Falun Gong practitioners. They explained that it included torture, injection of and feeding of toxic drugs, humiliation, forced labor, brainwashing, and so on, with the goal of forcing the practitioners to give up their belief.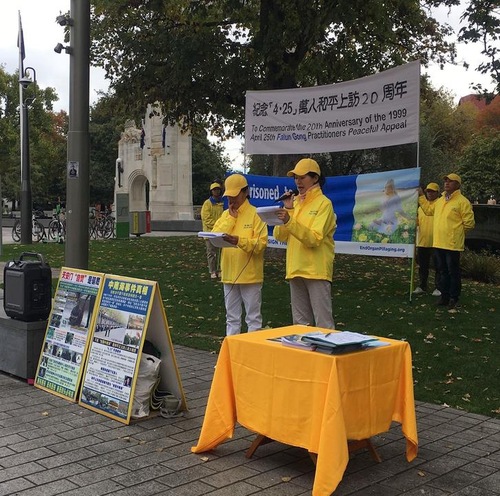 Rally exposing the CCP's persecution of Falun Gong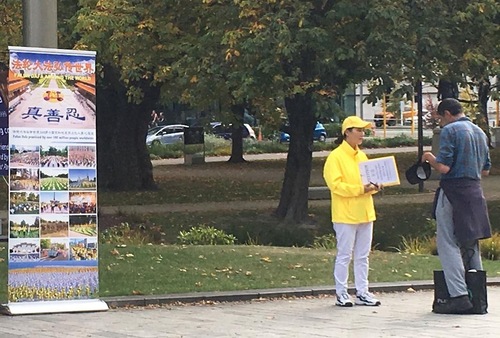 Telling passersby the facts about Falun Gong
When two women in their 30s passed by the booth, a practitioner told them about the CCP's organ harvesting from living practitioners. They were appalled and immediately signed the petition calling for an end to the persecution.
The practitioner said, "I am very fortunate to be able to come to this beautiful and free country. People here are very kind and friendly. Unfortunately, my friends in China are still being persecuted in the prisons." She had tears in her eyes as she spoke and so did the two women. They hugged her and left, only to return a short time later with two of their friends. One said to the practitioner, "I have told them (about this), they also want to sign the petition. We must help you." They signed the petition and took two fliers.
A young Chinese student distributing advertisements listened to a practitioner tell him about Falun Gong and then asked what it meant to "withdraw from the CCP." The practitioner told him about the CCP's history of violence during its 70 years in power and how it has deceived and suppressed its own people. The young man understood and agreed to quit the Youth League and the Young Pioneers, two CCP youth organizations.
Relevant articles in Chinese:Group practice in front of Chinese embassy in IrelandRaising awareness of the persecution in New Zealand