(Minghui.org) Following the first screening of Letter from Masanjia at the New South Wales Parliament House Theatrette in Sydney, Australia, at the end of October, audience members asked local Falun Gong practitioners to host additional screenings of the powerful documentary.
Letter from Masanjia tells the story of a Falun Gong practitioner, Sun Yi, who wrote an SOS note and placed it inside Halloween decorations he was making in a notorious labor camp in China. A woman in the United States found the note after she purchased Halloween decorations at her local Walmart. She posted a photograph of the note on her social media, and it made international headlines.
Two additional screenings of the film were held at the Mitchell Theatre in downtown Sydney on Friday, November 29, and Friday, December 6, 2019. Many influential members of the greater Sydney community attended the screenings and spoke out about the importance of taking action against the human rights abuses that continue in China under the Communist Party.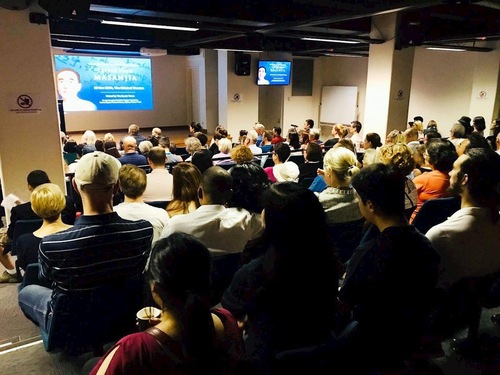 Screening of the film Letter from Masanjia at the Mitchell Theatre in Sydney
Many audience members shed tears during the screenings and actively participated in the question-and-answer sessions that followed each screening.
Audience members spoke about how the film brings to light the crimes committed by the CCP and at the same time reveals the willpower of Falun Gong practitioners to uphold justice. Many of them suggested urging the Australian government to condemn the CCP's crimes and human rights abuses.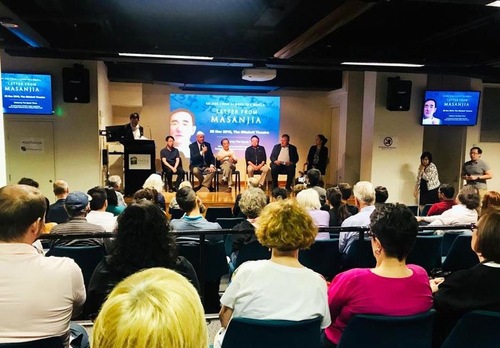 Question and Answer session
Film Reveals the CCP's "Unbelievable Evil"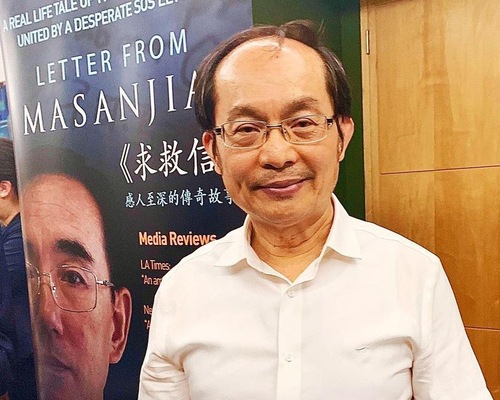 Dr. Feng Chongyi, Associate Professor in China Studies at the University of Technology in Sydney
Dr. Feng Chongyi said the film is successful and moving, and tells a true story through a real person. He saw the documentary as an effective way to educate more people about the persecution of Falun Gong in China.
"It shows the unbelievable evil of the Chinese communist regime, as well as the determination of Falun Gong practitioners to fight for justice," he said.
The focus of Dr. Feng's current research is the political and intellectual changes in contemporary China. He is also examining the increasing awareness of human rights among the Chinese population, as well as the forces pushing for a constitutional democracy. He is also an adjunct professor at the renowned Nankai University in Tianjin, China.
"These labor camps still exist, and the persecution is continuing in other forms as well," he said, adding, "The dark side of it is that they don't need to go through any court or trial process to imprison people.
"Not only Falun Gong, but also Uyghurs and Tibetans, who are suffering from the persecution deserve greater support from the Australian government and public.
"The Australian government and the public should also be able to provide necessary assistance to support media like The Epoch Times … to tell the truth to the world, as much of the information is now being concealed under the economic power of the Chinese Communist Party," he said.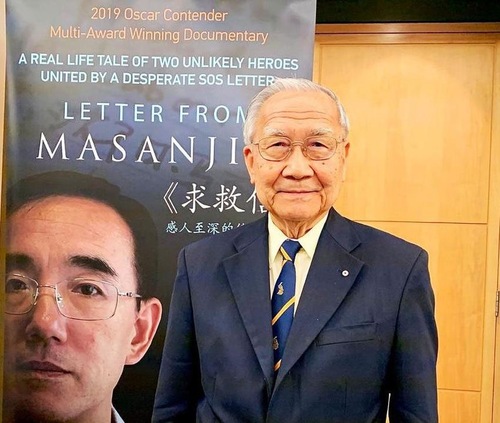 Quang Luu, former head of SBS Radio
Mr. Quang Luu immigrated to Australia in 1975 as a refugee from Vietnam. He had been a senior diplomat stationed in London, Australia, and The Hague for the Republic of Vietnam before Saigon fell to communists.
"I feel sad in a sense that it reaffirms what I did know and do know," he said after watching Letter from Masanjia. "To me it's not new, but it certainly is very important for that story to be told to a wider audience."
After immigrating to Australia, Quang Luu became the country's first Vietnamese barrister, and he later served as a director in Australia's Immigration Department. He then served as the head of SBS Radio for 17 years.
"I would like to congratulate those who were involved in the production of this very good film," he said. "I wonder whether this kind of film would be shown inside China–I don't think so–but the best thing is to show it outside China so that people might be aware of the situation and may have their voice. We can help pass on the message to those who do not know the situation."
Spreading the Message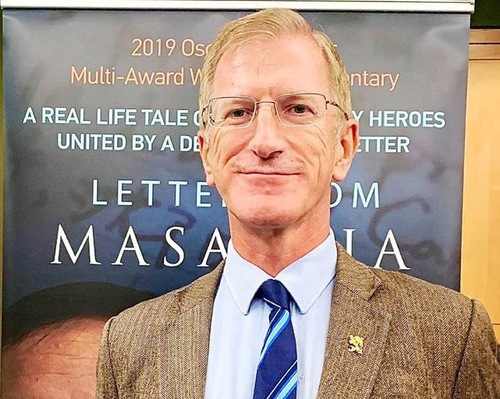 Paul Folley, general manager of Australian TFP (Tradition Family Property)
Paul Folley is the general manager of the Australian TFP (Tradition Family Property), a Christian non-profit organization. He attended the screening because he knew about China's human rights abuses, including forced organ harvesting from Falun Gong practitioners. He hopes that more people in Australia will take action to help end these atrocities.
"After seeing the movie, it reinforces my awareness of how evil this regime is," he said. "Treating people as slaves, abusing people, making profits out of people's suffering, repressing and torturing people at will.
"We should do everything we can to make our friends, relatives, and colleagues at work aware of what's happening in China. We are not dealing with an ordinary regime. We are dealing with an organization which is criminal and has been running that country since 1950," he said.
The Australian Government Should Condemn the CCP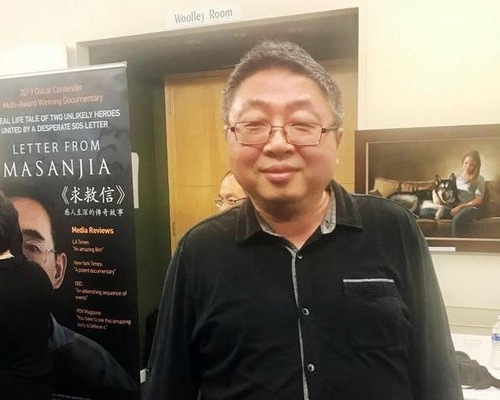 Mr. John Hugh, spokesperson for Australian Values Alliance
Mr. John Hugh is a spokesperson for Australian Values Alliance, a group that has been advocating to end the Chinese Communist Party's influence in Australia. He is a former Parramatta City Councillor who was born in China. He made national headlines last year when was denied entry to Shanghai while traveling with his mother. Their trip was planned to return his father's ashes to his country of birth.
"The film's topic is very familiar to me; I can imagine what happened," he said. "But when someone really tells us about real experiences, about the suffering they have been through, it is still very touching, because most of us couldn't have any kind of direct experience."
He said that many people in Australia see what is happening in China but feel a disconnect to it as it seems very far away, and thus many people do not care. "They still can't imagine the evilness of the CCP," he said.
He said the Australian government should step forward and condemn the crimes of the Chinese regime. "The U.S. Government passing the Hong Kong bill is a good start. Why is the Australian government not taking similar action? We should raise awareness for more people to know the truth. I think film screenings like this are a very effective way to convey the truth," he said.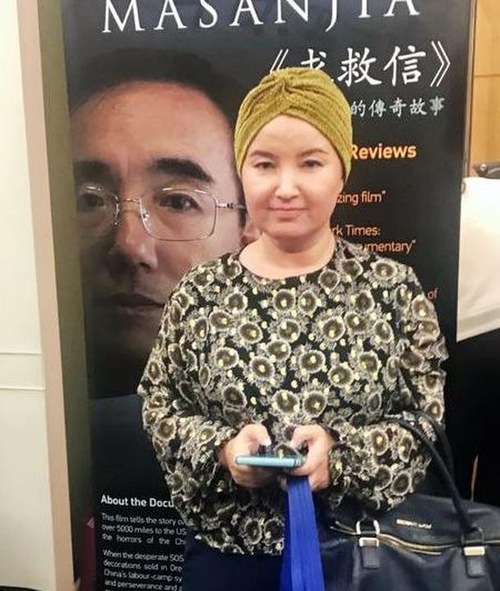 Fatimah-Abdulghafur from Sydney's Uyghur community
Fatimah-Abdulghafur is a member of Sydney's Uyghur community who believes her family in Xinjiang, China, is being held in a concentration camp. She has not been able to contact her family members for more than a year.
"I have seen the documentary. Very touching and heartbreaking, and it is also very true," she said. "It didn't just happen in the past, but it still happens right now. The situation that the Falun Gong practitioners in the film went through is very similar to the situation in the Uyghur community in China now.
"We need to urge the Australian government to take stronger action against the human rights violations of the Chinese Communist Party. We should have many screenings like this to raise awareness and let more people know about the Chinese government's human rights abuses," she said.
She appealed to all Australians to step forward and help. "If you act, you will get results. If not, you will not see results," she said. She added that everyone needs to protect their rights and that helping Falun Gong practitioners who are being persecuted in China will benefit everyone.
We Should Prioritize Human Rights Issues Over Trade
Mr. Chinh Dang, chair of the Human Rights Relief Foundation (HRRF) in Australia
Mr. Chinh Dang, chair of the Human Rights Relief Foundation (HRRF), a Vietnamese human rights group, attended the screening.
"The film made a deep impression on me. A few months ago, we could see that the world's media had investigated quiet invasions by using soft power in Western countries. It is a very serious matter.
"Sacrificing human rights to trade, I think we need to rethink. Because the Chinese government is rich and influential, we need to be alert.
"We should prioritize human rights issues over trade. If each of us can act to combat these human rights violations, we should do so.
"Six months before the Hong Kong protests, people realized the true nature of the CCP. The biggest problem today is the Chinese Communist Party. As long as the Chinese Communist Party exists, the problems will remain.
"We will try to organize a screening of this film for the Vietnamese community. The film is the most effective way to convey the message to the viewers, and more people can support you," he said.