Woman in Her 60s Tortured in Liaoning Prison: Soaked in Cold Water and Beaten
November 18, 2019 | By a Minghui correspondent in Liaoning Province
(Minghui.org) Ms. Xu Guixian, a Jinzhou City, Liaoning Province resident in her 60s, was sentenced to four years for practicing Falun Gong. Ever since she was sent to Liaoning Women's Prison in April 2019, she has been subjected to various forms of torture. This led to her poor health and her family is very worried.
In order to force Ms. Xu to give up her belief, the prison guards made her stay outdoors for a long time during freezing winter. They also poured ice cold water in her clothes and deprived her of sleep. One time, the guards soaked a blanket in cold water and wrapped Ms. Xu in it. She had a severe reaction and had to be rushed to the hospital for resuscitation.
Despite the abuse, Ms. Xu remains firm in her belief in Falun Gong, also known as Falun Dafa, a meditation system based on the principles of Truthfulness-Compassion-Forbearance. The Chinese Communist Party (CCP) began to suppress the practice in July 1999, and a large number of practitioners have been detained and tortured since then.
Arrested for Filing Criminal Complaint
The Chinese Supreme People's Court announced on May 1, 2015 that "all cases must be docketed and all complaints must be processed." Based on that, Ms. Xu filed a criminal complaint against former CCP leader Jiang Zemin for initiating the persecution of Falun Gong. The local police often came to harass her at home after her paperwork was submitted to China's Supreme People's Court and Supreme People's Procuratorate.
On the evening of July 19, 2018, officers from Tiexin Police Station came to her home and took her to Jinzhou Women's Detention Center. Her family went to request her release, and one officer replied, "We are only responsible for arrest, nothing else."
When witnessing another practitioner being abused at the detention center, Ms. Xu said to the guards, "When I get out, I will expose what you did on Minghui.org." For this, guards sent her to solitary confinement.
Abused in Prison
Without notifying family members, Linghe Court sentenced Ms. Xu to four years in early March 2019. She was sent to Liaoning Women's Prison in April and kept at the Fifth Division.
Under the instruction from deputy section head Li Ze, officer Gao Xiaohang ordered inmates to treat Ms. Xu badly. For example, she was forced to stand 24 hours a day without sleep. As soon as her eyes were closed, inmates would come up and pull them open. In addition, they deprived her of restroom use, and she even avoided eating to avoid having an accident.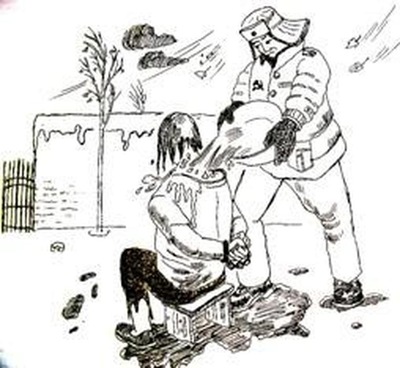 Torturing illustration: pouring cold water
It was still very cold in April in northeastern China, but several inmates removed Ms. Xu's warmer outwear, leaving her in just a thin layer of inmate uniform. They next dragged her to one end of the bed where surveillance cameras could not cover. They forced her to stand with both feet immersed in cold water in a basin, while pouring cold water on her. After her clothes were soaked, they covered her with a winter coat. This continued for six days and Ms. Xu eventually lost consciousness. She was sent to the hospital for rescue, and the doctor said she could have died.
After taking Ms. Xu back to her prison cell, the guards poured cold water on her bed sheet and then ordered her to lie down without giving her a bed cover. Every day, inmates constantly beat, pinched, and swore at her.
When Ms. Xu was admitted to prison in April, she did not have any daily necessities. Officer Gao announced in front of other detainees that no one was allowed to give anything to Ms. Xu, be it food or daily articles.
Contact Information of Participating Facilities:
Liaoning Women's Prison: +86-24-31236329, +86-24-31236316, +86-24-31236317Hot line of prison administration: +86-24-31236096Appealing and complaint: +86-24-31236052Li Aidong, Secretary of the Discipline Committee: +86-24-31236005, and +86-15698805353Jia Fjun, director of the prison: +86-24-31236001, +86-15698808121
Tiexin Police Station: +86-416-4786036
Jinzhou Women's Detention Center: +86-416-3708085
Related Report:53 Older Falun Gong Practitioners Still Held in Liaoning Women's Prison for Their Faith