San Francisco: Falun Gong Practitioners Peacefully Protest on Eve of CCP Anniversary
October 06, 2019
|
By a Falun Gong practitioner in San Francisco
(Minghui.org) Falun Gong practitioners peacefully protested in front of the Chinese Consulate in San Francisco on September 30, 2019 to condemn the Chinese Communist Party's (CCP) persecution of Falun Gong and call on the world's people to help stop the brutality.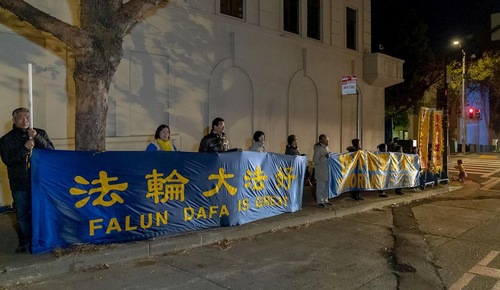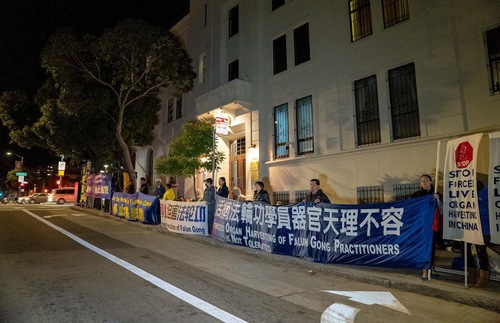 Falun Gong practitioners peacefully gathered in front of the Chinese Consulate in San Francisco on September 30, 2019 to call for an end to the CCP's persecution.
Ms. Zhang said that Falun Gong teaches people to be good by following Truthfulness-Compassion-Forbearance and is practiced in over 100 countries. She explained, "According to Minghui.org reports, the CCP has escalated the persecution before its 70th anniversary. Large numbers of practitioners in many places, including Dalian, Heilongjiang, Sichuan, Hunan, Hangzhou and Shandong, were harassed by police, monitored, detained or imprisoned. We call for the disintegration of the CCP and for an end to the persecution."
Mr. Lou said, "The CCP is an organization that advocates violence against humanity. Since it took power, it has used violence and lies to control the Chinese people. It persecutes Falun Gong practitioners, human rights lawyers, and religious believers. It even conducts state-sanctioned live organ harvesting [from Falun Gong practitioners] for profit. Its crimes are too numerous to count."
Chongming Wang used to be a judge in Beijing. He said, "The CCP has persecuted Chinese people and religions since it took power … and seeks to destroy China's traditional culture. It persecutes not only Falun Gong practitioners but also Uighurs, Tibetans, and the Hong Kong people. All people should stand up to help disintegrate it. Only without the CCP can China truly develop and have a bright future."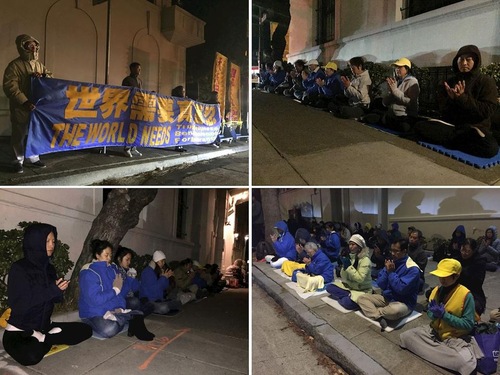 Peaceful protest in front of the Chinese Consulate on September 30, 2019
Lili started practicing Falun Gong in 1997 and went to Europe as a student in 1999. Because she is a practitioner, she cannot visit her parents in China for safety reasons. She said, "For over 20 years, my parents would ask whenever I phoned them, 'When can you come back?' My mother often woke up crying because she missed me so much.'"
She said that after she read Zhuan Falun, the main book of Falun Gong teachings, she began practicing because she felt Falun Gong was extraordinary. Before that, Lili said she was plagued by constant stomachaches and it felt like her head was being pierced by a needle. After she began practicing, her abnormal brain waves and all her illness symptoms disappeared.
She said more people should learn about Falun Gong, and she hopes that the people involved in the persecution will realize the consequences of their actions and renounce the CCP.
A security guard in front of the consulate waited for the practitioners to conclude the event that night. He pressed both hands in front of his chest and said, "Thank you for coming. You bring peace and brightness every time you're here." He said he could feel the practitioners' strong energy.