(Minghui.org) The 19th European Society for Organ Transplantation (ESOT) Congress was held in Copenhagen, Denmark, from September 15 to 18, 2019. The Chinese Communist Party's (CCP) organ harvesting from living prisoners of conscience again received wide attention.
ESOT is the umbrella organization under which transplant activities are structured and streamlined in Europe and worldwide. Held every two years, the ESOT Congress attracts organ transplant leaders and experts from all over the world. More than 3,500 leading professionals in the field of organ transplants attended this year's ESOT Congress in Copenhagen on-site, and more than 1,500 participated online.
Exhibitions from the organ transplant field were held at the congress venue for the entire duration of the event. China Organ Harvest Research Center (COHRC), a non-profit organization that conducts and presents authoritative research on organ transplant abuse in China, including the killing of prisoners of conscience for their organs, participated in the exhibition.
Organ Transplant Abuse in China Receives Wide Attention
A COHRC research report on China's organ transplant abuse, and its on-demand transplants while lacking organ donors was selected to be part of the digital exhibition. The research findings stated China's astonishing development of its organ transplant industry, extremely short waiting periods, large numbers of organ transplant hospitals and surgeries, its lack of voluntary donations, and in sharp contrast its large-scale of on-demand surgeries.
The report was available for browsing on the digital screens as well as the app of the Congress, which also lets users interact with the authors of the report.
Two presentations on this topic, Abuse of Brain Death Definition in Organ Procurement in China by Huige Li of the Johannes Gutenberg-Universität Mainz Medical Center, and COHRC's Organ Transplant Abuse in China (2): Unethical Procurement Continues Despite Claims of Reform, were selected in the form of the Elevator Pitch [short description] summary on September 17.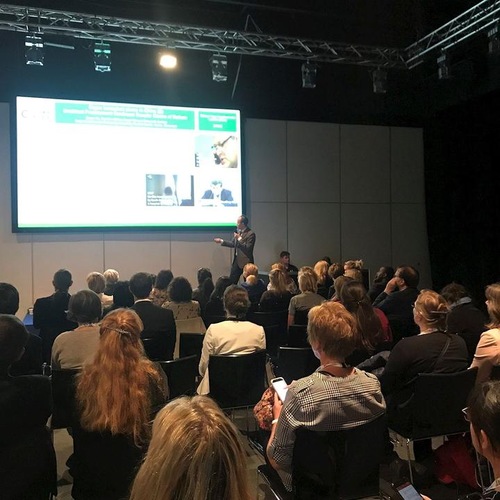 Huige Li of Johannes Gutenberg-Universität Mainz Medical Center gives a presentation during the ESOT Congress.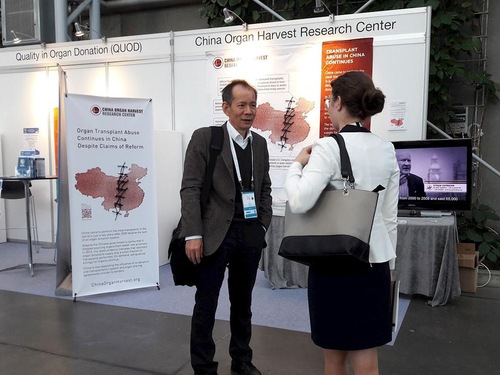 After hearing Dr. Huige Li's (left) presentation, a doctor discusses with him options that could be done when it comes to the organ harvesting issue.
Renowned human rights attorney David Matas gave a presentation on Mandatory Reporting of Transplant Tourism on September 16. He pointed out,
"Transplant abuse occurred undercover in the darkness. Perpetrators gave out as little information as possible. Participants in the abuse are typically willfully blind. Shining a light on the abuse is an important aid in ending it." "...Mandatory reporting is critical as a first phase to get at the scope of the problem."
Matas stressed that it was unreasonable to expect doctors to talk about what they know from their patients, because of the obligation of doctor-patient confidentiality, which was why mandatory reporting was necessary.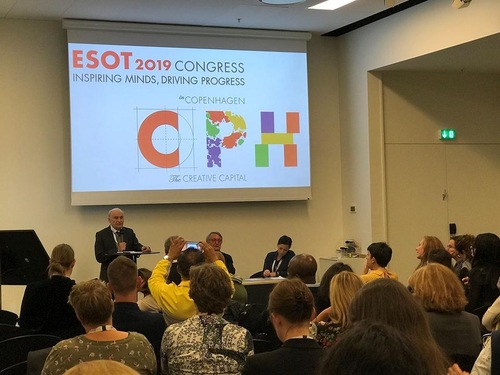 Renowned human rights attorney David Matas gives his presentation at ESOT Congress.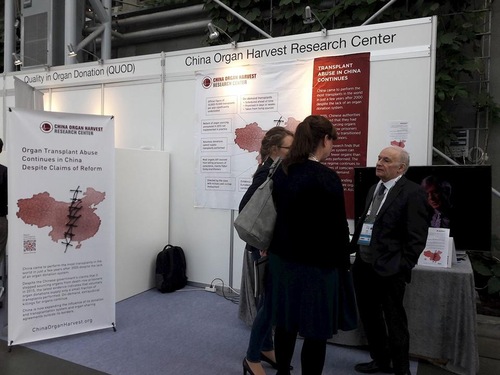 Medical professionals were provided additional information on the Matas' presentation topic.
COHRC representatives submitted the latest research findings to ESOT President Steffan Scneeberger. Evidence was analyzed about China's on-demand transplants, its continued growth after exposure, the scale of the organ transplant industry, the latest development, victim groups, and so on. The report concludes that despite its claim that donations have become the sole organ source since 2015, China continues to perform transplants on-demand on a scale far greater than its official figure.
The COHRC report has brought a critical message to medical professionals, that the CCP continues to kill on-demand for an organ transplant, and that Falun Gong practitioners, Tibetans, Xinjiang Uyghurs, and house church members are the major sources of the living organ bank.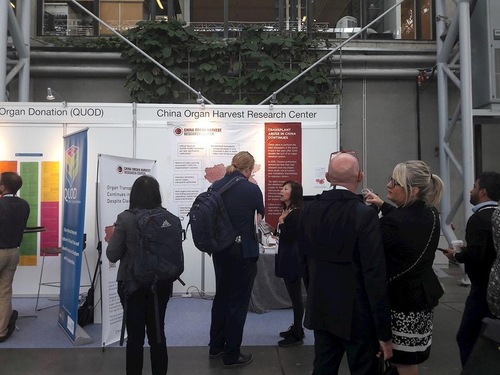 COHRC booth at ESOT Congress
Feedback from Organ Transplant Experts
Louis, a surgeon from Belgium, said he had watched a documentary called Human Harvest, which exposed the CCP's atrocity – organ harvesting. He was shocked by the evidence. He said that organ seizures in China had been commonly known in the organ transplant field, but there were no statistics. He was happy to also receive a detailed report on investigation findings and thought it was very valuable. He planned to read it carefully.
Steffen, a leader of an organ transplant center in Germany, said he thought China would stop the practice after 2015, because the Chinese doctors in training at his center had told him that they didn't have anything to do with organ harvesting from prisoners of conscience. Steffen said that thinking back made him understand this simple logic: If no organ harvesting had existed after 2015, it would be absolutely impossible to have a growth of 10,000 transplants each year according to China's official report. However, it is believed that the actual number must be much higher.
Vihaan, a surgeon from India, said that patients in India could legally purchase kidneys as long as they had legal documents. A COHRC representative told him that the situation in China was different from organ trade because it was a state system utilizing state organs including the military, armed police, prisons, hospitals, and medical professionals. Vihaan was surprised by these facts, and asked what he could do to help stop it. The COHRC representative said legislation could ban organ tourism, and prevent the training of Chinese organ transplant doctors unless they promise not to use unethical organ sources. Vihaan kept nodding on hearing these suggestions.
Tim, a medical professional at the exhibition, talked with COHRC representatives on this issue in detail. He said it was unprecedented and very serious. He planned to read the report, and tell his colleagues about it. He expressed his admiration for Falun Gong practitioners who follow the principles Truthfulness-Compassion-Forbearance and peacefully resist the persecution. He wanted to find out more about Falun Gong too.
Gaia, a researcher of organ transplant from Greece, said she used to have doubts about organ harvesting when she first heard about it, but she was surprised by the detailed research findings. She kept talking about it with her colleagues. She told COHRC representatives that this was a matter for the whole world, and she wanted to bring the latest report to her university and hospital.
Brian is the manager of a large American medical instrument company. He said that China had bought part of his company and his company had sold equipment to several Chinese organ transplant hospitals. Brian wanted to learn more about the CCP's organ harvesting. He also had doubts about his company's decision. He said most of the representatives would probably quit if they knew their Chinese customers were involved in organ harvesting.
Martin, an organ transplant surgeon from the U.K., said that organ harvesting was an issue of basic humanity, and highlighted the parallels between the Chinese doctors and Nazi doctors from WWII. Martin said that we humans shouldn't repeat our mistakes, and after World War II, we had said no such thing would happen again, but it happened again! Martin stressed that we must find out the facts and face them.
Veceric from Slovenia was appalled to hear about the CCP's organ harvesting crimes, but she said she knew the evilness of the Communist Party, because the people in her country had lived under a communist dictatorship, and were persecuted too. She sincerely hoped the Chinese people would eliminate the Communist Party and return to freedom soon!
Ethnic Chinese Doctors Show Concerns
Among the conference participants were many ethnic Chinese doctors and medical professionals. Some were originally from mainland China, but lived overseas. They showed great concern over the CCP's organ harvesting from living people.
Ms. Sun, a medical researcher, had lived in Europe for 20 years. She found the COHRC booth at the exhibition after seeing the program. Her first question was, "Do you have any evidence?" After talking with the COHRC representative and reading the data and analysis in the research report, she was silent for a while. She finally said that she had heard about it from different channels, but she couldn't believe that such a terrible thing had happened. She said that she would find out more about it.
Mr. Chen, a medical student from Taiwan, said some of his friends who worked in the medical field had told him that many Taiwanese had gone to mainland China for organ transplants, and the matching of organs was found shockingly fast. Mr. Chen said the CCP had spent a huge amount of money to infiltrate media in Taiwan and deceive the Taiwanese. He was very worried about the future of Taiwan. He thanked COHRC for telling people about organ harvesting at this exhibition.
Dr. Li from the U.S. said that American patients had to wait for a long time for an organ, and the American laws and regulations were pretty thorough in this field. He stated he believed the CCP had harvested organs from living people.