Fremont, California: Falun Dafa Workshop Held Due to Popular Demand
August 03, 2018
|
By Minghui correspondent Wang Ying
(Minghui.org) About 40 people attended the Falun Dafa workshop on July 31 at a public library in Fremont, California. After a Falun Dafa workshop held in early July, many more people asked how they could learn the exercises and thus this session was added to accommodate them.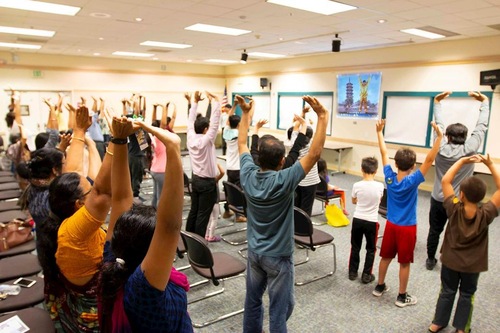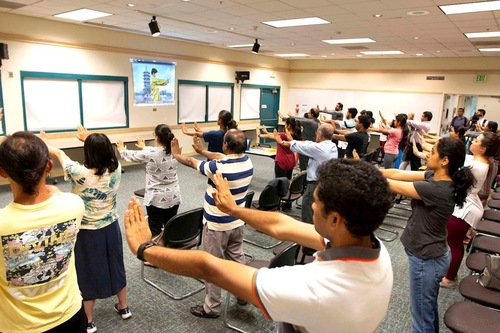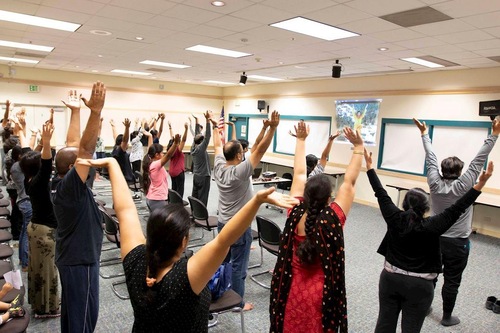 Residents learn Falun Dafa at a public library in Fremont, California.
Outstanding Health Benefits
"It was easy to learn and helped me feel relaxed," said Hillary, one of the participants.
Having heard about the suppression in China from news several years ago, she said she couldn't understand why anyone would persecute such a peaceful practice. "Falun Dafa helps people and has outstanding health benefits. The persecution is totally wrong," she added.
Relaxed and Energized
Phargav from India said she could enter deep tranquility when meditating during the workshop. "I felt energy fill my body," she said.
When she first arrived at the class, Phargav felt drowsy. After doing the Falun Dafa exercises, she saw a dramatic change. "Now I feel relaxed and energized," she said.
Her friend Aadita felt the same. "My body was stiff and the meditation rejuvenated me. I feel so good," she said.
Chinese: No Longer Believing the Regime's Hate Propaganda
Mr. Ren, who came to the U.S. from China recently, found Falun Dafa very easy to learn. Following the exercise video, he learned the movements quickly.
The news he read in the U.S., along with the workshop, gave him a new perspective on Falun Dafa. "What the Communist Party portrayed in its propaganda is not true. What the news said in China are defamatory lies," he said. He decided to take a stance against the regime's persecution by renouncing his memberships in Communist Party organizations required of youth in China.
Ms. Li, also originally from mainland China, came to the workshop very early and said she was glad to find that it was free of charge. "Even when back in China, I knew many people were practicing Falun Dafa in secret and I did not believe the Communist Party propaganda," she said. The exercises helped her to feel calm and she said she plans to continue.
Because of the positive feedback, practitioners are planning to hold a 9-day video lecture session, showing the original lectures by the founder, Mr. Li Hongzhi, on the spiritual philosophy of the practice. More than ten people signed up for the 9-day lecture session during the workshop.