(Minghui.org) Letter from Masanjia, a documentary on the brutality in China's forced labor camps, was screened at the Asian American International Film Festival (AAIFF) on July 28 and was well received, with many in the audience saying it moved them deeply.
Launched in 1978, AAIFF is the nation's first and longest running festival of its kind. The 41st annual festival is taking place in New York City from July 25 to August 4, 2018, and Letter from Masanjia was screened at Village East Cinema.
Brutal Torture Against Falun Gong Practitioners
The story goes back to 2012 when Julie Keith, a woman in Oregon, found a handwritten letter hidden in a box of Halloween decorations that she had purchased at K-mart. She gave the letter to a local newspaper and the story soon drew international media attention. Sun Yi, author of the letter, came forward several years later about the letter and his experience as a prisoner of conscience at Masanjia Labor Camp, explained the film's director, Leon Lee.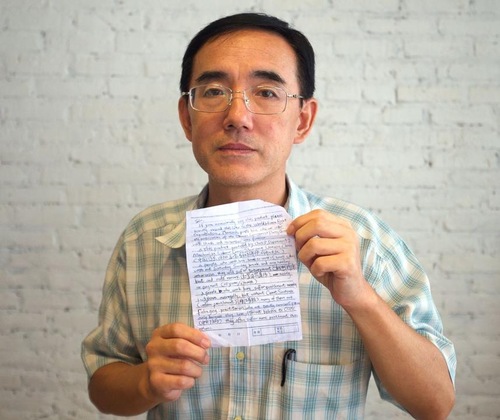 Sun Yi and his SOS letter retrieved from Oregon resident Julie Keith.
For practicing Falun Gong, Sun was arrested and detained at Masanjia Labor Camp in Liaoning Province for two and a half years. For about two years, he was tortured by one method after another; sometimes numerous tortures at once. He had written and hidden about 20 letters seeking help and one of them was found and reported in Oregon.
It took Lee a few years to get in touch with Sun, who was still living in China at that time. Through the internet, they collaborated on the making of the film.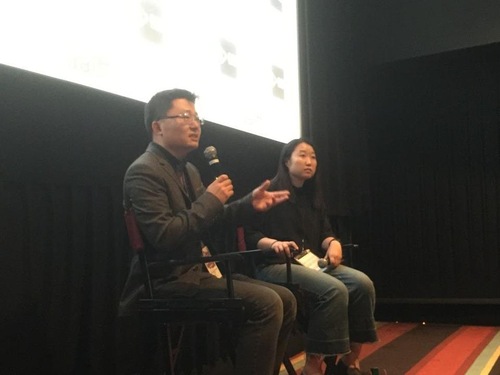 Leon Lee, director of Letter from Masanjia, answered questions from the audience after the screening.
"Sun is not a filming professional. In fact, he knew little about filming in the first place. But after we started talking, he had a strong will to tell this story and share it with the world. That was how the film was made," said Lee. Even after learning how to film, Sun was still facing many obstacles since he was closely watched by the Communist Party officials. Through his hard work, he overcame the difficulty and miracles occurred. He not only finished filming, but also successfully interviewed some detainees and even former guards from the labor camp. Through hand drawing sketches, he also illustrated several tortures he had been subjected to in the labor camp.
"Too Moved to Speak"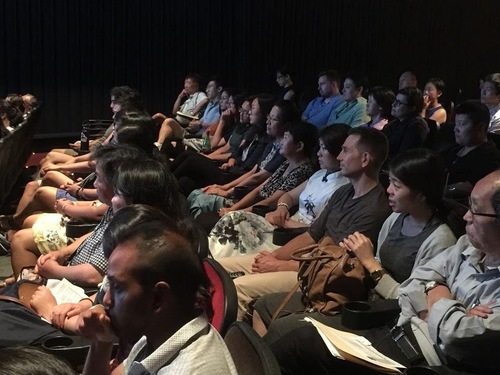 Letter from Masanjia screened at Village East Cinema in New York on July 28.
Ghina Al-Shdaifat said she was very moved by the film.
Ghina Al-Shdaifat said she was in tears while watching the film. She said, "I was too moved to speak." She said the film is astonishing because she learned so much from it. "I think the film changed my life and changed how I look at the world. Just like what Julie [Keith] said in the documentary, we can no longer have a self-centered life. One letter could be effective in changing this world and encourages me to do more. We live in the same world and we need to work on it together," she said.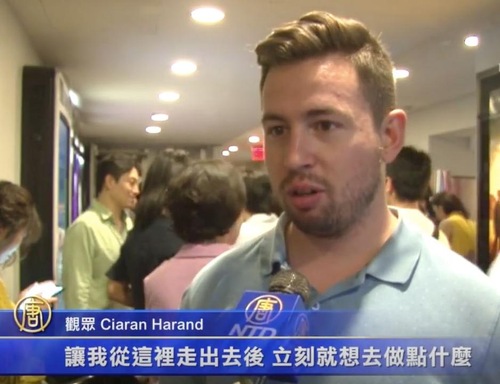 Filmmaker Ciaran Harand said he was inspired by the documentary.
Filmmaker Ciaran Harand said the film is very enlightening. "It makes me feel I need to do something about it. I was planning to produce a drama earlier. Now I want to produce documentaries, to speak up on issues that have been ignored, but are very important," he said.
"I hope the United States government will pass a law to stop the suppression in China," said Alexandra Cribbin, another audience member.
"Everyone Should Come and See This Film"
"Everyone should come and see this film," said 91-year-old Mr. Chen Jian. "He [Sun] is a very nice person and is very determined. Being 91 years old, I witnessed how the Communist Party started, grew, and became like this in China. It damages the environment and makes people's lives miserable. I am confident the Party will collapse before I die."
Another attendee originally from China, Edward Chen, said he was only vaguely aware of this issue before watching the film. Back in China, he was a teacher and hardly knew what Falun Gong was. "I was surprised to see something like this [persecution] could occur in China. It is so unimaginable and should be stopped," he added. He said Falun Gong practitioners are very determined and they represent the future of China.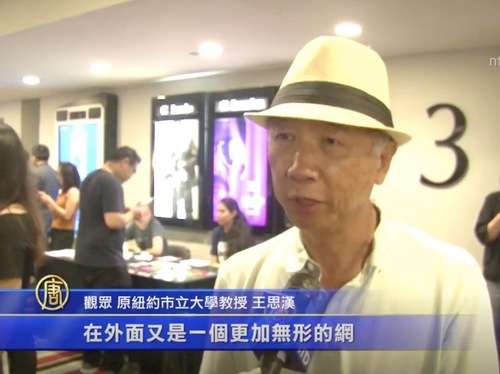 Wang Sihan, former professor at City University of New York, hopes more people will watch this film.
A former professor at City University of New York, Wang Sihan, said, "Although the film is about one person, it powerfully exposes the persecution. I hope more people will watch this."
"The terror [caused by the Communist Party] is everywhere. Other than that inside Masanjia Labor Camp, there is a bigger, invisible terror out there [in China]," Wang added.
Letter from Masanjia will be shown in theaters in the U.S. in early September. The film was screened at Hot Docs, North America's largest documentary festival, earlier this year, and was voted by the audience as one of the top 20 films out of 247 submissions.