Candlelight Vigils in Southern and Eastern Taiwan Mark the Beginning of the Persecution in China
July 21, 2018
|
By Minghui correspondents Sun Bai, Su Rong, and Zi Hui
(Minghui.org) Nineteen years into the unprecedented suppression of Falun Gong in China, which began on July 20, 1999, its practitioners are holding events around the world to commemorate the tragedy and to demand that it end. Below are reports from Tainan and Hualien in Taiwan.
Tainan
Over 1,000 practitioners gathered near a community park in Tainan to do the exercises together and hold a rally on July 14. Coming from six nearby counties, they also put up a poster display and banners that drew people in to stop and learn more.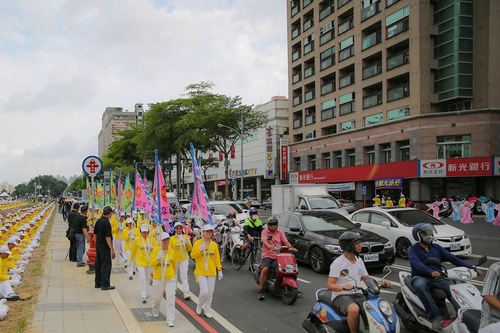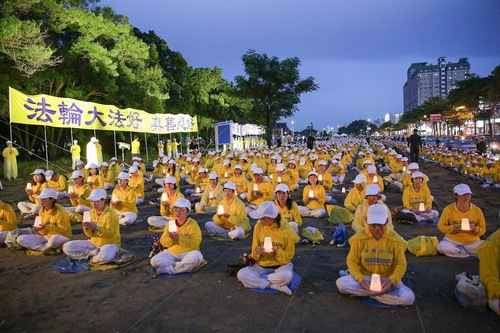 March and candlelight vigil in Tainan City on July 14, 2018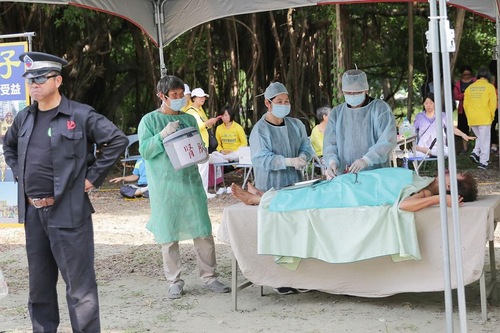 Anti-torture exhibition illustrates forced organ harvesting in China.
Mr. Zheng, a businessman with investments in mainland China, said he often saw practitioners with posters on the street. "I was very moved because everyone looks so healthy. The words 'Truthfulness-Compassion-Forbearance' are very important. If everyone followed them, our world would be a better place. No wonder so many people practice Falun Gong outside of China," he said. He was shocked to learn about the brutalities practitioners have endured for their faith and expressed his hope that the suppression will end and that the perpetrators are brought to justice.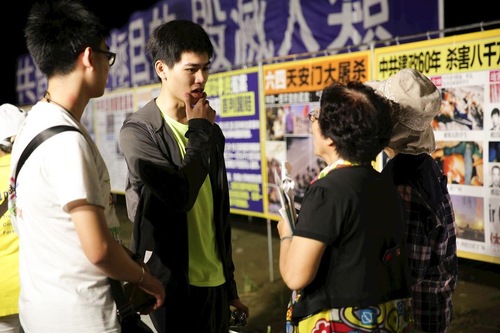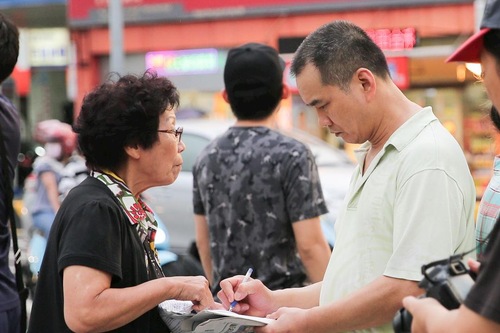 Pedestrians talk with practitioners, study the posters, and sign petitions.
Mr. Su, who lives nearby, said he was touched to see practitioners continue to meditate and host their event despite the rain. "It is wrong for the communist party to ban Falun Gong because the exercises are so good. The more people practice it, the better it would be for the society, just like it is here in Taiwan. It seems I want to practice Falun Gong, too," he added.
Xiu Que, a practitioner at the rally, said she used to not get along with her mother-in-law. After learning Falun Gong, she looked within to improve herself and their relationship greatly improved. Over the past five years, she has often gone to a nearby shopping area to tell Chinese tourists the facts about Falun Gong. "I hope the persecution will end soon. Then practitioners can freely practice their belief, and more people will be able to benefit from this practice."
Hualien
The rally in Hualien took place at the train station on July 14. By doing the exercises and setting up posters, they raised awareness of the severe human rights violations in China.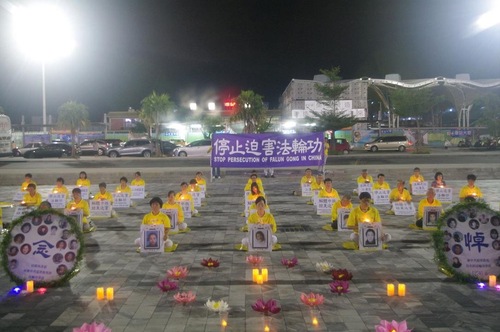 Candlelight vigil at Hualien Train Station on July 14, 2018
Many government officials attended the event. Chen Jingfeng from Party Headquarters in Hualien said that "basic human rights are universal." He hopes that people in mainland China can also have freedom of belief.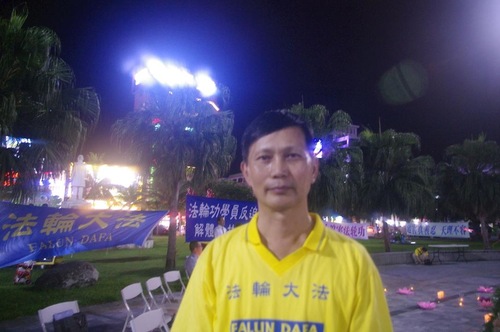 Former high school principal Liao Weicheng wants Jiang Zemin to be brought to justice for persecuting Falun Gong.
Former high school principal Liao Weicheng has practiced Falun Gong for 15 years. "I used to have a bad temper and my entire family was unhappy because of me. Practicing Falun Gong changed everything, and my family is very supportive." He said the principles of Falun Gong also helped him in his profession, enabling him to understand students better and be more considerate of others.
"Falun Gong helps both practitioners and the society raise their standards. The systematic persecution has led to the deaths of thousands of practitioners, so many broken families, and even forced organ harvesting. Nineteen years have passed, and it is time to stop this crime," he said.
Related article in Chinese:http://www.minghui.org/mh/articles/2018/7/16/七二零前-台湾花莲学员呼吁共同制止迫害(图)-371093.html