Japan: Introducing Falun Gong at Sobue-cho Ginkgo Festival
November 29, 2018
|
By a Falun Gong practitioner in Japan
(Minghui.org) Falun Gong practitioners participated in the 21st annual Ginkgo Festival in the town of Sobue-cho, Inazawa City, Aichi Prefecture on November 23 and 24, 2018. Sobue is Japan's top producer of ginkgo nuts, and is famous for its numerous ginkgo trees.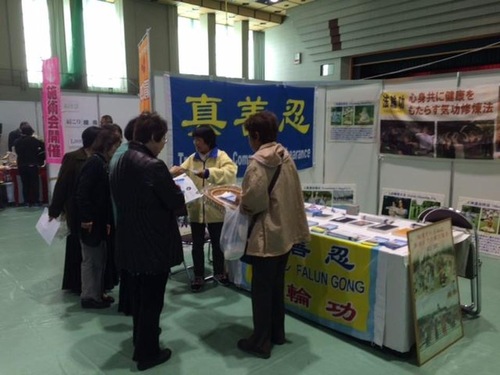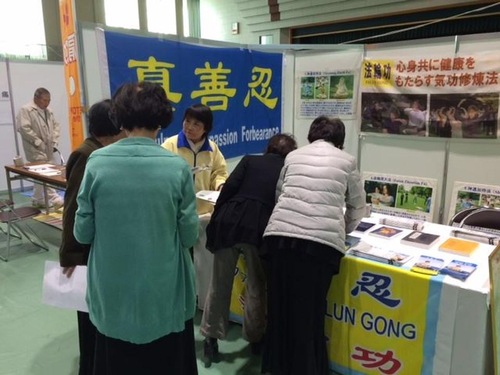 Falun Gong display at the Ginkgo Festival in Sobue.
Practitioners set up a display at the festival to introduce Falun Gong. They demonstrated the exercises and provided information about this traditional mind-body cultivation practice from China. Festival attendees loved the beautiful handmade paper lotus flowers distributed by the practitioners.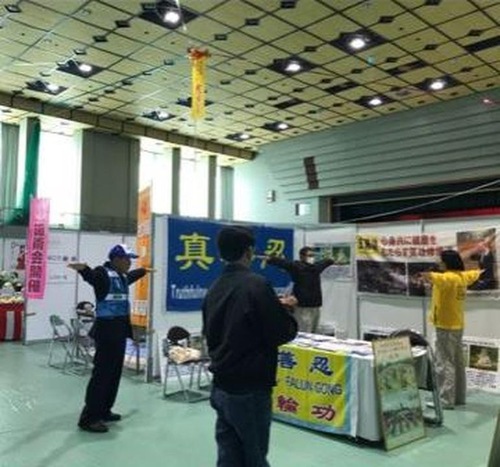 Practitioners teach the exercises at the ginkgo festival.
Mr. Yamada took a flyer when he walked past the display in the morning. He returned in the afternoon to learn the exercises. After he was shown the five sets of exercises he borrowed the book Zhuan Falun, the main book that discusses the principles of the practice. The following day he came to the booth again to watch the exercise video. He thanked the practitioners for teaching him the exercises and said that he planned to continue doing them.