(Minghui.org) A 32-year-old woman in Mudanjiang City was only 13 when her parents were both arrested in 2000 for refusing to renounce Falun Gong, a spiritual discipline being persecuted by the Chinese communist regime.
She was dealt another blow when her parents were arrested again for their faith three years later, not long after being released. Police forced her to watch her parents being tortured and also made her stand under the scorching sun for hours on end. She was driven insane while a teenager and has since remained incapacitated.
Family Broken By Persecution
When Yuanyuan was little, her parents were both plagued with health issues. Her father suffered from blurred vision and had trouble walking after surviving a stroke in 1996. Her mother went through several surgeries and lost the ability to work or even take care of herself.
The couple, however, both returned to health after they started practicing Falun Gong in 1998. A once desperate family was full of hope again.
But their happy days didn't last long. They became targets when the Chinese communist regime launched the nationwide persecution against Falun Gong in July 1999. Millions of practitioners like them have seen their lives turned upside down.
Yuanyuan's parents were arrested when they went to Beijing to appeal for Falun Gong in July 2000.
After the couple was taken back to Mudanjiang City, they were held at the local detention center, force-fed, and tortured.
Yuanyuan had to bear all the hardships by herself, but she didn't complain. Her strong love for her parents gave her strength to endure the unimaginable sufferings not deserved by a person of her age. She was waiting for her parents to come home and reunite with them.
A Young Girl's Determination to Deliver Dumplings to Father
On a long weekend without class, she made some dumplings by herself. She rode her bicycle to the Mudanjiang City Detention Center in the suburb, where her father was detained. She was disappointed to learn that he had been taken to Sidaocun Forced Labor Camp to serve one year of forced labor – none of their family was informed of the term.
Missing her father so much, she rode a bicycle from the detention center to the labor camp, and was completely exhausted by the time she arrived.
The guard at the gate initially refused to allow her to see her father. She persisted and told the guard how she missed her father and how she wanted him to taste the dumplings she made for him.
The guard was touched, and Yuanyuan was so happy to be granted the visitation. Her father was choked up upon taking the cold dumplings from her.
Not long afterward, Yuanyuan learned that her parents, Mr. Hou Guozhong and Ms. Cheng Xiuhuan, had been given one and two years of forced labor, respectively.
While they served the terms at the labor camps and were subjected to inhumane mental and physical tortures, Yuanyuan was left at home alone with no one to take care of her.
In the freezing winter in Heilongjiang Province, she stayed at their empty apartment, with no electricity or heat, nor did she have enough blankets to keep her warm at night. Her neighbors often saw her walking alone on the street wearing slippers.
Police Chief: "Beat Them to Death!"
Only a few months after Yuanyuan's parents returned home from the labor camps, they were arrested again on April 19, 2003 for distributing Falun Gong related materials.
The police ransacked their home and took away all of their cash and the few valuables they still had, including their TV and some gold jewelry left by Yuanyuan's grandmother. The police didn't even spare Yuanyuan's VCD player that she used to study English. When she ran after the police to ask for the VCD back, they pushed her to the ground and left.
At the police station, a dozen officers took turns torturing Yuanyuan's parents. They savagely beat them, tied them to a tiger bench torture device, stretched their arms, legs, and head at the same time, and suspended them with their hands tied behind their backs.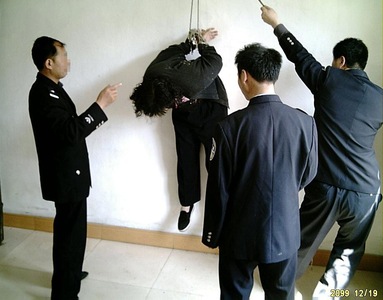 Torture reenactment: Suspended with hands tied behind the back.
The police also repeatedly force-fed bottles of mustard oil into their noses and mouths and then covered their heads with several heavy-duty plastic bags to suffocate them. After they fainted, the police poured cold water on them to wake them up.
At night, the police placed a powerful, 200-watt light in front of their faces to prevent them from falling asleep.
Sheng Xiaojiang, the deputy chief of Aimin Police Station, often shouted while directing the tortures, "Beat them to death! It's fine to beat them to death!"
Daughter Forced to Watch Parents Tortured
The police also brought 16-year-old Yuanyuan to the police station and forced her to watch her parents being tortured. The young girl was deeply traumatized by the experience.
For nine days, the police didn't allow Yuanyuan's mother, Ms. Cheng, to sleep for even a moment. Her body was covered with bruises and injuries. Her belly was swollen after being force-fed with mustard oil. Her hair had been pulled out by the police, patch after patch.
She was on the verge of death when the police took her to the Mudanjiang City Detention Center. She wasn't able to stand up for more than 50 days. The injuries on her legs and back soon festered. Because of the tying and hanging, her hands and arms were weak and didn't have strength for over six months. She developed scabies and often suffered from an abnormal heartbeat.
Teenager Driven Insane
After 1.5 years of being captive at the detention center, Ms. Cheng was taken to Harbin Women's Prison on August 3, 2004 to serve her seven-year term. The Aimin District Court originally sentenced her to six years in prison, but the judge later increased her term by one year after she appealed the sentence.
Meanwhile, Mr. Hou was taken to Jianshanzi Prison with an unknown term.
The prison guards often threatened the couple to target Yuanyuan if they refused to give up their faith.
Yuanyuan's neighbors told a Minghui correspondent that the police often forced her to stand at the entrance of their apartment building on hot summer days without moving for hours. They threatened to beat her parents if she dared to move.
Fearing that her parents would suffer more tortures, Yuanyuan stood there still, until her feet became swollen and turned purple.
The fear of being persecuted by the police, the anxiety and helplessness in carrying on a hard life on her own, and the traumatic mental shocks from watching the merciless tortures against her beloved parents took a toll on the teenage girl. Once an outstanding student, she quit school and began to wander about. Without any income, she picked food from garbage bins.
After her parents were released, they were devastated to see that their darling daughter had gone insane.
Now at 32 years old, Yuanyuan cannot take care of herself and has to be watched by her parents at all times.