Hong Kong: Falun Dafa Rally and March Held on New Year's Day
January 04, 2018
|
By Zheng Yuyan, Minghui correspondent in Hong Kong
(Minghui.org) Falun Dafa practitioners in Hong Kong gathered at Edinburgh Place on New Year's Day 2018.
After a performance by the group's Tian Guo Marching Band, they took group photos to wish the founder of the practice, Mr. Li Hongzhi, a Happy New Year.Next, a rally and march were held to raise awareness about the practice and the ongoing persecution of its practitioners in Mainland China.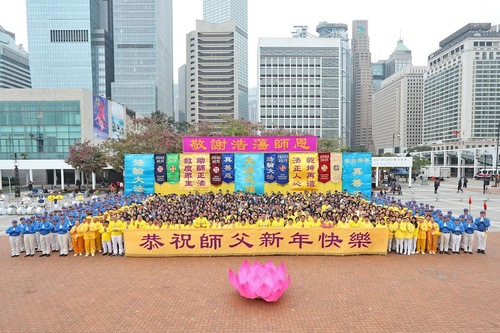 Falun Dafa practitioners in Hong Kong gather at Edinburgh Place on January 1, 2018, to wish the founder of the practice, Mr. Li Hongzhi, a Happy New Year.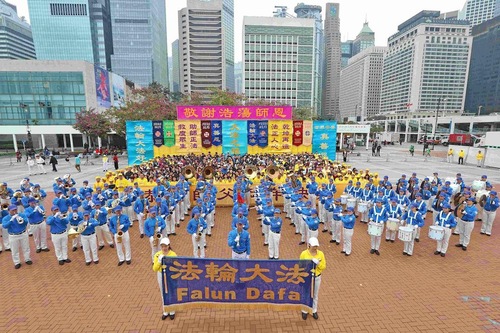 The Tian Guo Marching Band performs before the New Year rally.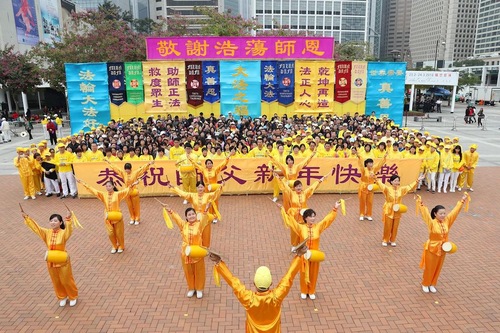 Members of the Falun Dafa Waist Drum Band wish the founder, Mr. Li Hongzhi, a Happy New Year.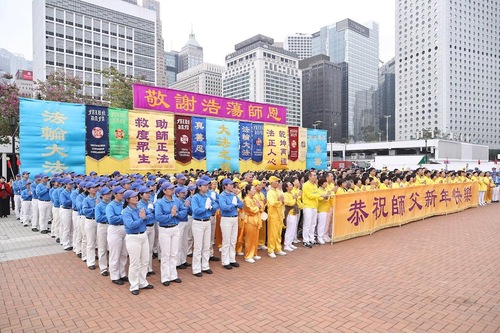 Falun Dafa practitioners take a group photo to wish Master Li a Happy New Year.
Falun Dafa Association Spokesman: Stand Up Against the Communist Party's Attack on Traditional Values
Mr. Kan Hung Cheung, spokesman of the Hong Kong Falun Dafa Association said at the rally that the practitioners wanted to wish their Master a Happy New Year and at the same time tell the world about the benefits of the practice. "We believe that the values of Truthfulness, Compassion, and Forbearance may one day bring world peace," he said. He further talked about the Chinese Communist Party's attack on traditional values, calling for an immediate end to the persecution of Falun Dafa in China.
Chinese Tourists Condemn the Persecution
For two men from northern China, this rally was their first live encounter with Falun Dafa. Both of them knew that the Chinese regime was vicious and had instigated members of a pro-communist group in Hong Kong to sabotage Falun Dafa's events. During this event, they both agreed to quit the Young Pioneers of China, a group associated with the Chinese Communist Party (CCP).
Ms. Tian and her coworkers came from Sichuan. They were surprised, but happy to see that Falun Dafa practitioners were free to hold activities in Hong Kong and express their opinions freely.
A mother and son from Shenzhen saw the parade and said, "In China, one would never see anything like this. If one heard anything, it was all the CCP's propaganda defaming Falun Dafa."
Practitioners Glad to Freely Take Part in Falun Dafa Activities
A practitioner who had come to the event from Guangzhou was excited to actually take part in a public Falun Dafa activity. She was in tears, saying, "One is not allowed to do this in Guangzhou. For many years, we've wanted to freely express our gratitude to Master." The practice has given her good health, she said. "I feel peaceful in everything I do and I have become more considerate," she said.
Another practitioner at the rally, Zhen, was once incarcerated and tortured in China because of her belief in Falun Dafa. She was glad to be able to share her personal story and help more people understand the severity of the persecution in China.
Ping, a practitioner from mainland China who has lived in Hong Kong for three years, said, "It's very free here. I get to tell people what Falun Dafa is and what the CCP is and why the CCP persecutes Falun Dafa practitioners."
New Year's Day Falun Dafa Parade Turns Heads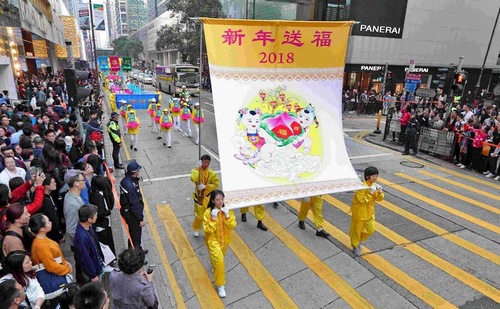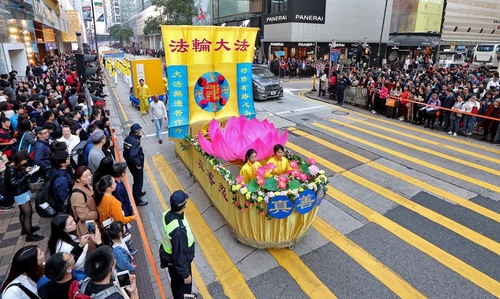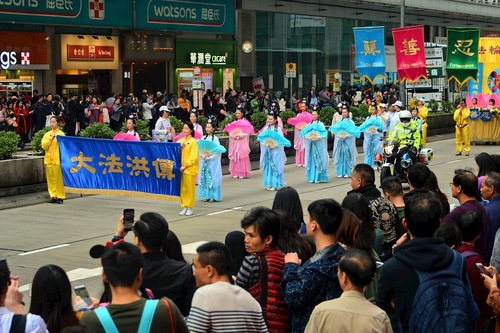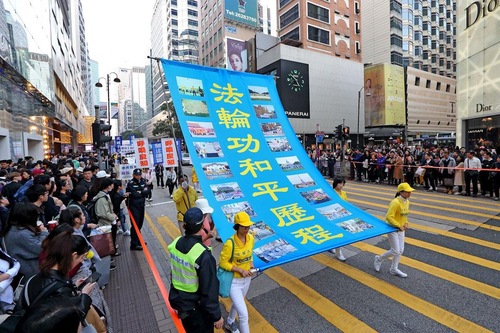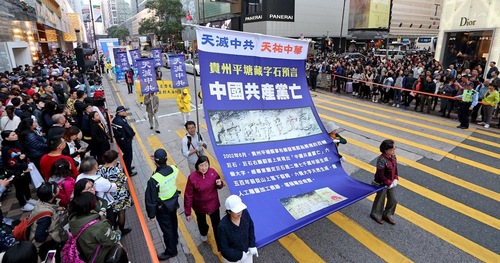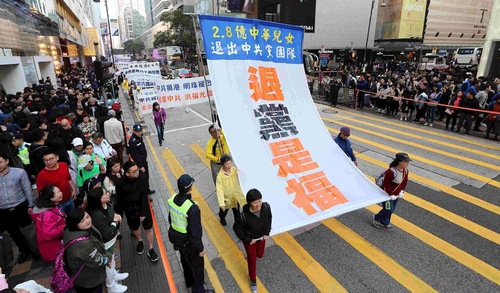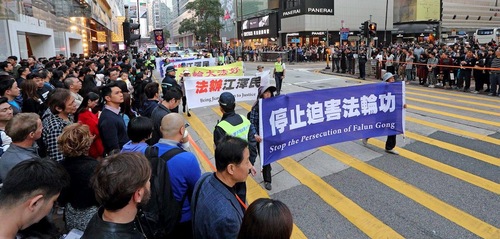 Falun Dafa practitioners march through the streets of Hong Kong to deliver the message of Falun Dafa and call for an end to the persecution in China.
The Falun Dafa march on New Year's Day passed through the busy streets and areas of downtown Hong Kong. Many spectators happily took information and photographed the parade.