Ms. Wang Haiying Goes into Hiding after Release on Bail to Avoid Further Persecution
July 09, 2017
|
By a Minghui correspondent in Hebei Province, China
(Minghui.org) Falun Gong practitioner Ms. Wang Haiying from Zhangjiakou City, Hebei Province, was arrested at her hair salon on May 22, 2017, for telling people about Falun Gong on social media.
She was detained, tortured, and force-fed, which left her extremely weak. She was released on bail on the 18th day of her hunger strike. She then went into hiding to avoid further persecution.
Arrest
Officers from the Domestic Security Division of the Qiaoxi Police Department stormed into Ms. Wang's hair salon on May 22, 2017. Plainclothes police, showing a search warrant, ransacked her salon and her apartment. A desktop computer, a laptop, a Samsung Tablet, a USB, and eight cell phones, including her daughter's, were confiscated. Her bank cards, identification and keys were also taken.
The confiscated goods were valued at 20,000 yuan. The police refused to provide a list of the items they confiscated.
Ms. Wang was taken to the Qiaoxi Police Department before being transferred to the Zhangjiakou City Detention Center on May 23.
Torture and Forced-Feeding
After Ms. Wang did Falun Gong exercises to ease her back pain on May 29, she was beaten by the guards and put in handcuffs and shackles. To protest the abuse, Ms. Wang went on a hunger strike.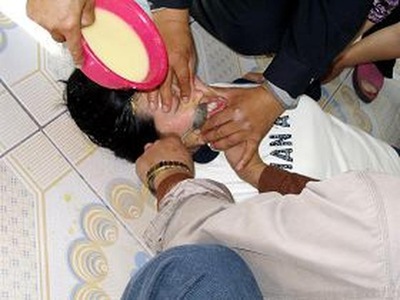 Torture re-enactment: Force-feeding
The guards ordered the inmates to force-feed Ms. Wang. The inmates dragged her to the restroom, where they tortured her.
They pulled her hair, punched her in the face, and kicked her in the stomach while stepping on the shackles, then poured dirty cold water over her body. When she shouted "Falun Gong is good," they stuffed a dirty cloth into her mouth.